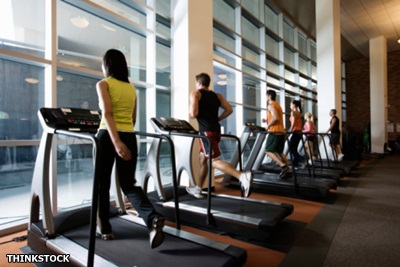 Going for gold – Gold's Gym, Venice Beach, US
After featuring in Pumping Iron, the documentary on bodybuilding that helped turn Arnold Schwarzenegger into a household name, Gold's Gym in Venice Beach, California, became known as the 'Mecca of bodybuilding'. It's now almost 50 years since the gym opened its doors for the first time and since then Gold's has become the place to train for those who want to live the bodybuilding dream.
You're cruising – The Stella Australis, Patagonia
Personal trainers want to concentrate on what their clients are doing rather than what's going on outside the gym, but that could prove to be a little tricky if you're giving a training session on board The Stella Australis. The ship not only has enough room to accommodate 210 passengers, a restaurant and bar and a sky lounge, it also has a fully-equipped gym on the top deck, complete with full-length windows offering panoramic views of breathtaking glaciers and the Cape Horn National Park.
Get out your gold card – Athletes' Performance, Phoenix, US
Athletes' Performance was set up to offer training, nutrition and physical therapy for elite and professional athletes. It now also caters for business professionals who want to keep their bodies in top shape. But entry doesn't come cheap. According to Business Insider, annual membership for the centre's Premier Executive Training Program costs $30,000.
Celeb spotting – Tracy Anderson's, Studio City, LA
When it comes to training pop stars and Hollywood's A-list, Tracy Anderson holds key. Household names who subscribe to her programme include Madonna, Courteney Cox, Maggie Gyllenhaal and Gwyneth Paltrow. The fitness entrepreneur also has centres in The Hamptons, New York, Brentwood and London.
No waiting – Stephen Price at 3 Jubilee Place, London, UK
Standing around waiting for a piece of equipment to become free is never an issue at 3 Jubilee Place in Chelsea. It opened in 2007 and has a "carefully controlled" membership – limited to just 30 clients at the opening – and has been described as "the world's most exclusive gym". 3 Jubilee Place is home to "Europe's most advanced 'altitude chamber'", according to the firm, capable of mimicking conditions at 12,500 feet to help clients burn more calories, faster.
A family affair – Nike World Headquarters, Oregon, US
Get a job at Nike and you'll be able to work out in style at the sportswear brand's world headquarters in Oregon. What's more, the campus' two sports centres, which cover almost 110,000 sq ft, can also be used by family members. With everything from free weights to climbing walls and an outdoor running track, there are plenty of options when it comes to keeping fit. Just make sure you don't walk in wearing Adidas.
Fully-loaded workout – DeFranco's, New Jersey, US
When the tagline for a gym is "turn your body into a weapon" you know there'll be no half measures. DeFranco's claims to have "pioneered the hardcore, warehouse-type training centres", without a juice bar or television in sight. And there's absolutely no easy listening music!
Give me some space – Greenwood Athletic and Tennis Club, Denver, US
If you like to have plenty of room when you're doing a workout then the Greenwood Athletic and Tennis Club in South Denver is the place to head for. Covering an area of 153,000 sq ft, this whopping great facility is ideal whether you're into bodybuilding, weight loss, kickboxing or especially tennis.
The king of cool – DavidBartonGym, Miami Beach, Florida, US
Lit like a nightclub and designed to look "nothing like anything else in the outside world", DavidBartonGym in Miami Beach is one of a kind. As well as having the largest gym floor on South Beach, it boasts two floors of cardio, tons of free weights and a swimming pool. According to the gym's founder, David Barton: "It is a landscape for the senses, carved out of my imagination and built with one objective; to get your heart racing before you ever step onto the treadmill."
Accept no excuses – Gymbox, London, UK
In the words of Gymbox: "Look around you on your way to work tomorrow, if getting a badass physique was easy everyone would have one. It's up to you to make a decision to do something about it. Don't wait until January 1, do it now." With its black walls, neon lighting and a DJ booth, there's no mistaking the fact that Gymbox offers a different kind of workout. There are five branches around London, each with its own personality and feel. Facilities include Olympic boxing rings, resident DJs and movie walls, punch and kick bag stations, Olympic lifting areas and much more.