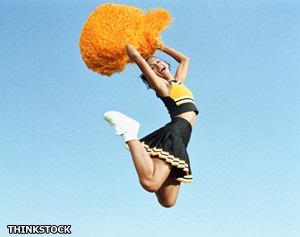 Fantastic news! There are just a few months left until cheerleading teams from across Europe come together in Glasgow for the 2013 European Cheerleading Championships, and the event is set to be a major boost for clubs all over Britain.
As a proud supporter of the UK Cheerleading Association, and the sport in general, we're really excited to see such a big event come to Britain. The competition will be held in the new Emirates Arena, which was built for the Glasgow 2014 Commonwealth Games and opened just a few months ago.
Cheerleading clubs from all over the UK are set to play a role in hosting the European Cheer Union (ECU) event on June 29 and 30, and organisers hope that it will result in a £1.3m boost for the local economy. Almost 3,000 competitors from 34 countries across Europe, along with as many as 2,000 coaching staff and supporters, are expected to descend on the city for the two-day event.
Cheerleading is a sport that's growing in popularity all over the UK and it is thanks to high profile events such as the European Cheerleading Championships that more people are becoming interested in taking up cheerleading. As well as being a fantastic form of exercise, cheerleading is great fun – it's not known as the sport of smiles for nothing!
Of course, as with all sports there are dangers too, which is why having comprehensive cheerleading team cover is essential. The team at insure4sport work with clubs, coaches and individuals involved in the sport all around the UK to provide sports accident and equipment insurance for just this reason. Just visit our main site to discover how easy it is to organise cheerleading insurance from insure4sport.
Hopefully the Glasgow championships will help to get even more people interested in cheerleading and bring the sport to a whole new audience.