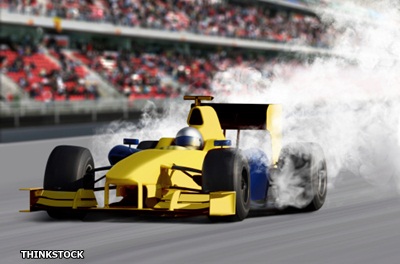 There's no way that Formula 1 is ever going to be considered a safe sport. Driving around corners at speeds of up to 150 miles per hour and going toe-to-toe with another driver at 200mph is inherently dangerous and nothing is going to change that. Legendary drivers including Gilles Villeneuve and Ayrton Senna lost their lives taking part in the sport they loved, while many other racers have miraculously walked away from crashes that have left commentators and spectators shaken.
When the first Formula 1 race was held at Silverstone in 1950, speed was the name of the game and safety was a distant afterthought. There was no experienced medical back-up and none of the safety features like gravel traps and roll bars that we take for granted today.
It was in the early to mid-60s that roll bars, fire protection for fuel tanks and full-face visors were introduced. Safety was starting to be taken more seriously, but serious injury and death were still common in the sport. It was the Flying Scot Jackie Stewart who helped to campaign for major safety advances and during the late 70s and early 80s, wholesale changes affecting driver and track safety were introduced.
In 1980, permanent medical centres at circuits become compulsory and a year later cars' safety cells had to be extended to include the driver's foot area. Medical helicopters came in during 1986, while the first official Formula One safety car was put on standby in 1992.
In the 20 years that followed, a huge number of additional safety advances were made, although at times it was starkly clear that serious accidents could still occur in the blink of an eye. Stricter safety standards have made it less dangerous for marshals to enter the race track, numerous circuits have been reconstructed, refuelling during races has been banned and crash tests have become more rigid than ever.
If any evidence was needed as to the impact recent safety improvements have had on the sport, one need only look at Mark Webber's crash during the European Grand Prix at Valencia in 2010. The Australian's Red Bull came into contact with the Lotus of Heikki Kovalainen and after clipping the car was launched skywards, summersaulting backwards before landing upside down, bouncing back over and flying into a tyre wall at high speed. Incredibly Webber walked away from the 190mph accident without injury.
Accidents and crashes are a part of Formula 1, but there is no doubt that drivers' lives are far better protected in 2013.