Most people would agree that Easter egg chocolate is by far superior to every other kind of chocolaty treat out there. Unfortunately, there is one thing that all Easter eggs have in common, whether you're tucking into a £2.99 egg from Thorntons or a £90 version from Fortnum and Mason – calories.
The average Easter egg contains more than 500 calories on its own. Start tucking into the extra chocolate treat that's lurking inside most eggs though and now you're looking at more like 1,000 calories. That's half the total calories that the average woman needs in a whole day, and not far off half of what the average man requires.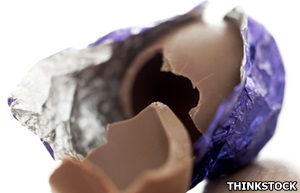 So, if you like the taste of Easter eggs – and let's face it, who doesn't – you'll be no doubt looking to find ways of shifting all those excess calories that you've been consuming. Getting fit is a great idea, not just as a short-term measure for getting rid of a bit of excess weight around your tummy, but as part of a wider lifestyle change. Maintaining a healthy weight and becoming more physically active can have a huge impact on your general health, helping to reduce your chances of suffering from a wide range of conditions from type 2 diabetes to hip fractures.
The thing is, getting active is something that's become much harder now that most people's jobs do not involve moving about very much. Research has suggested that many adults spend more than seven hours a day sitting down, whether that's at work, commuting or during their leisure time. Following a personal fitness regime and taking up a sport is one of the best ways to have fun and get fit at the same time. Plus, if you're exercising while doing an activity you enjoy, you're far more likely to stick at it.
insure4sport's range of sports insurance packages keep all sorts of people safe while they're exercising, providing peace of mind when it's needed most. We offer everything from running insurance to badminton insurance and if you're keen to stay protected while you get fit, then taking out a policy is essential. The truth is though that it doesn't matter what kind of exercise you get involved in as long as it gets your blood pumping. Why not have a look at the huge range of policies we offer and see if an activity covered by insure4sport appeals to you.