The temperature's dropping, the days are getting shorter and the supermarkets are awash with festive offers. It can only mean one thing – winter is coming. The solution? Get active!
With that in mind, here are our picks of the world's most popular winter sports (all of which we cover, you'll be pleased to know!)
Snowboarding (on-piste)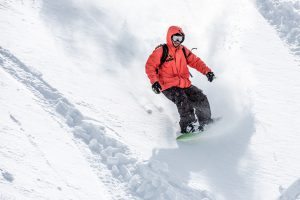 Snowboarding has always been a popular winter sport, but its stock has risen sharply over the past decade, thanks in part to indoor snow centres such as Manchester's Chill Factor and Milton Keynes' SNOZONE.
It's considered one of the more 'hardcore' winter sports, due to the agility required to execute tricks. In fact, when learning to snowboard, beginners can expect to spend just as much time on the ground as on the board – but don't let that put you off!
If you book a lesson from an experienced snowboarding instructor and stock up on protective equipment, your time on the mountains should be thoroughly rewarding.
Skiing (on-piste)
Similarly to snowboarding, there's a common misconception that skiing is an outdoor sport limited to the snowy slopes of mainland Europe. But this isn't the case – you can enjoy a full skiing trip in Scotland if you go at the right time of year!
As explained, there are plenty of indoor snow centres to practice at, meaning you can enjoy skiing all year round, wherever you are.
Whether you're going to be skiing up a mountain or round your local indoor centre, don't forget skiing insurance from Insure4Sport, essential to protect yourself from any unexpected accidents that may take place.
Ice climbing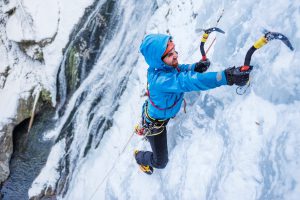 Want to experience the same thrills and beautiful views as rock climbing, but with a cold, gnarly twist? Ice climbing is the sport for you. Aficionados would describe it as more of an art form than an activity.
It's a demanding sport which requires just about every physical and mental attribute imaginable – including skill, strength, balance, and determination.
Much like snowboarding and skiing, indoor ice climbing facilities are an excellent starting point for novices, allowing you to gauge your mental and physical boundaries without the intense pressure of outdoor ice climbing. Once you feel ready to take on natural surfaces, go forth and ascend!
But be ready for a challenge from the weather – as indoor ice climbing instructor Kevin Shields points out: "When you're on the ice outside, the whole route can be there in the morning and gone by the afternoon."
Ice skating
It's impossible to write about ice skating without thinking of the Will Ferrell film Blades of Glory. The comedy about two men's struggle to succeed at the sport sums up ice skating nicely. When well executed, it epitomises elegance and grace. When poorly executed, it epitomises embarrassment.
Thankfully, there are indoor and outdoor ice skating rinks all over the UK where you can build up your skills, before becoming the next Torville and Dean. Just make sure you've taken out ice skating insurance in case you slip on the ice and injure yourself or someone else.
Curling
Although it's most popular in Canada, curling was actually invented in medieval Scotland – with players sliding granite stones towards a circular target painted on the ice.
Nicknamed the 'Roaring Game' because of the rumbling sounds made by the stones, curling gets its name as a result of its players using brushes to sweep the ice in curling motions, smoothing the stones' path to their target area.
Curling's been an official sport at the Winter Olympic Games since 1998, so there's never been a better time to try it out.
If you want to try out curling, you're in luck if you live in Scotland, where there are 22 curling rinks – compared to England, where there's only one!
Ice hockey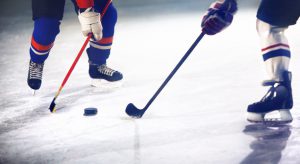 Although another sport with strong Canadian associations, ice hockey is extremely popular all over the globe. Ice hockey federations are reported to exist in 73 countries and the sport is growing rapidly in popularity in the UK.
While no sport is without dangers, it's important to bear in mind that hockey is a fast-paced contact sport which requires good levels of skill, speed and endurance. Insure4Sport offers a range of specialist insurance policies which are geared towards the accidents that can occur while playing ice hockey.
The above sports, while enthralling to take part in, obviously come with high levels of risk. As such, it's vital to cover yourself with specialist winter sports insurance from Insure4Sport. Get an instant online quote with us today and you'll be feeling cool as ice, whatever winter sport you're taking part in.