The health and fitness industry has never been more popular. The number of gym members in the UK has just broken the 10 million mark and the industry is now worth more than £5 billion for the first time.
With this unprecedented growth comes an increased demand for personal trainers, therefore it might have crossed your mind to become a part of this thriving industry.
There are a few key things you need to know before getting started, though. We've broken down how to become a personal trainer in 5 easy steps.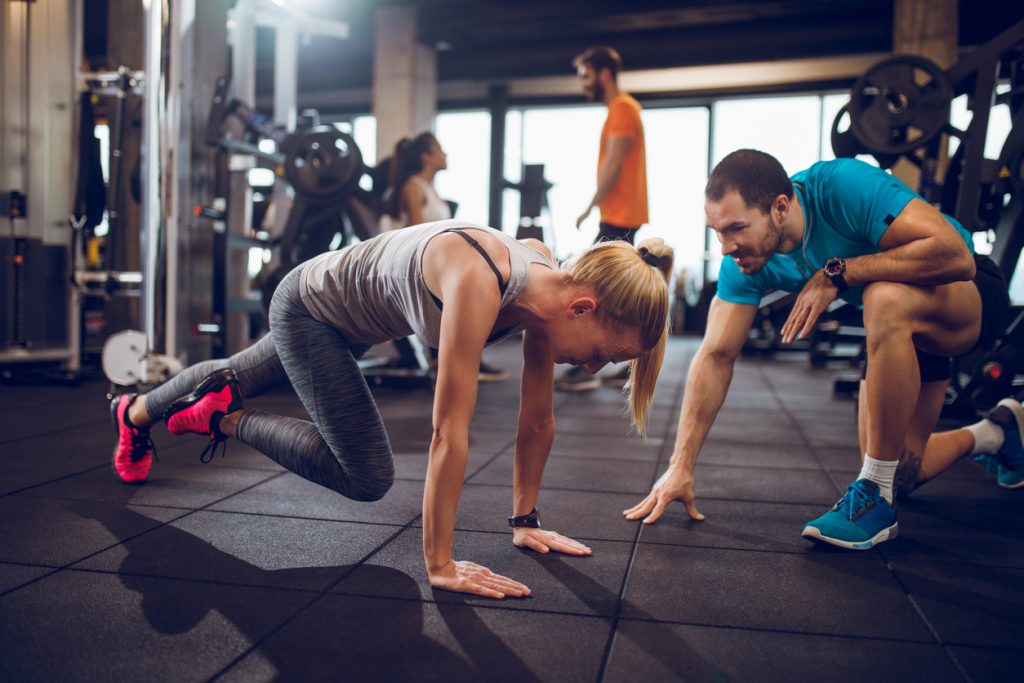 Research the job
Before you commit yourself to becoming a personal trainer, you need to do your homework and decide if it's the right job for you.
Here are some of the things you need to consider:
The qualifications required to become a personal trainer
How much it will cost you to get qualified
How long it will take you to get qualified
The difficulty level of the courses
What the career prospects are like once you are qualified
What the reality of the job is actually like
Weigh these demands up against your personal responsibilities, temperament, personal skills, and interests. Personal training is as much about knowledge of fitness and exercise as it is about being motivational, organised, patient, and enthusiastic. You need to make sure the move is the right one for you.
Odds are you already go to the gym or are active with sports clubs, so approach PTs and fitness instructors in person and ask them what it's like. You could even reach out on social media to any personal trainers you follow; they got into the business to help people, after all!
Figure out your niche
You can go in many different directions as a personal trainer. Your areas of expertise could include bodybuilding, athletics, weight management, physiotherapy, senior training, junior training, pre and postnatal training, and women's/men's training.
You can always undertake additional qualifications to branch out into other areas at any point in your career, but while you're establishing yourself you should have a particular niche in mind. It'll more clearly define your identity in the marketplace and dictate the direction of your career. You should factor it all in before making a decision.
It's quite common for personal trainers to pair fitness qualifications with related qualifications in fields such as nutrition. This can really give you an edge in the marketplace, as it shows that you offer a more comprehensive service to prospective clients.
Some qualification programs guarantee interviews with gyms at the end of the course too, so if you're settled on the idea of working as an in-house PT, these might be of interest too.
Get qualified
You don't need a degree to be a personal trainer, but it'll help you stand out when applying for jobs.
The core qualifications are a Level 2 Certificate in Fitness Instructing and a Level 3 Certificate in Personal Training.
The minimum qualification required to work in the fitness industry is a Level 2 Certificate in Fitness Instructing, which teaches you the basics of human physiology. Holding this qualification enables you to be an instructor in a gym or sports centre.
The Level 2 qualification also gives you access to Level 3 Certificate in Personal Training, which is the formal qualification you need to be a personal trainer.
The average cost of becoming a personal trainer in the UK is around £2,500, though this isn't typically all paid at once. It all depends what extras are included, accreditation status, and whether the course is conducted online or in person. Many courses also include first aid training as well, as this is a legal requirement once you're working as a PT.
It's important to ensure any qualifications you attain are accredited by an awarding body such as CYQ or Active IQ and recognised by CIMSPA (Chartered Institute for the Management of Sport and Physical Activity). If you're uncertain, the National Register of Personal Trainers has a full list of respected awarding bodies.
The most intensive of the qualifications can see you become a qualified PT in as little as four weeks, but that can equate to a 40-hour week Monday to Friday with work to take home in the evening. Therefore, it's worth reviewing your options and finding a schedule that works best around your existing commitments.
Set up your business
You might want to get the ball rolling on setting up your own business while you're in the process of getting qualified. Once you are qualified, the next step is to define your business and start generating interest in your services.
In defining your business, these are some of the key questions you need to answer:
What will you call your business?
What services will you offer?
The chief factor that'll inform the answers to these questions is how you want to operate as a personal trainer. Do you want to be self-employed or work in a gym? Each approach has its pros and cons.
Being self-employed means you'll choose your own hours, generate your own network of clients, dictate your own fees, and train how you want to train. However, this comes with equipment overheads and potentially less stable income.
Alternatively, working in-house at a gym will mean you work contracted hours, are guaranteed clients, and will have equipment provided for you. However, it can take away some of your freedom as a trainer.
Whichever path you choose, it's important you build a profile for yourself and your services. Even in a gym, you need to attract clients. Given the personal and physical nature of fitness, social media is a great way to engage with a pool of potential clients. There's a huge fitness subculture on Instagram. Offer consistently valuable insights into fitness and exercise, share the results, and show your personality.
Related: What To Include In Your Personal Trainer Business Plan
Get personal trainer insurance
Personal trainer insurance is essential if you're training clients and using a range of specialist equipment.
Let's look at some of the key components of a typical personal trainer insurance policy…
Public Liability
This is the most important form of personal trainer insurance. This covers your potential legal costs if you accidentally injure someone or damage third party property during one of your sessions and a claim is made against you. Most gyms or fitness centres you train at will ask for proof of Public Liability before even allowing you to work there, such is its importance.
At Insure4Sport, we provide up to £5 million of Public Liability, which also includes £1 million of free Professional Indemnity cover. This protects you from claims made against you because of advice you've given during a session.
Related: What Is Personal Trainer Liability Insurance?
Equipment Cover
Equipment Cover is another core element of personal trainer insurance. This covers you if your equipment is damaged, lost, or stolen, both in and out of the home. It's a no-brainer, given how much equipment you'll use throughout your career and how often you'll transport it to and from a gym or client's home.
Personal Accident
There's also the risk of you injuring yourself on the job, which is why Personal Accident cover and Loss of Earnings cover are also worth considering.
Think about it – you're going to be on your feet, bending, twisting, and lifting for the best part of 8 hours a day, or more. As fit as you are, that could take its toll.
You won't get sick pay if you're a personal trainer and you suffer an injury. Therefore, you could find yourself in a bind when it comes to your income vs. your health.
However, Loss of Earnings and Personal Accident cover will safeguard your income and cover costs while you recuperate. When you take out our Personal Accident cover, we offer up to 52 weeks of Loss of Earnings cover as an optional extra to help keep you ticking over if you suffer a serious injury.
Here at Insure4Sport, we offer competitively priced personal trainer insurance which can be tailored to your needs. We offer options for all of the above, a best price guarantee, and a 20% introductory discount for new customers.
Get an instant online quote with us today and get your personal trainer career off to the best possible start.