To tie in with Coaching Week, we took to Twitter to ask our audience what they consider to be the most essential attributes of a great coach.
Here's what they came back with…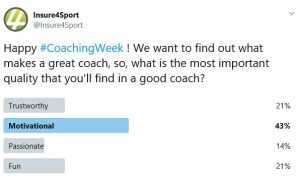 Being a great motivator is the number one quality our respondents felt a coach should have. Unsurprisingly, trust is another vital attribute, as is being fun.
Surprisingly, though, passion finished with only 14% of the votes. Then again, if you're able to motivate a class of people, your passion will no doubt come through in your personality!
What do you think about these findings? Do you agree with them? Are there are any other qualities you think a coach should have? Let us know on Twitter using the hashtag #whatmakesagreatcoach or leave a comment below.
Check out some of our related content: 
How To Be A Great Swimming Coach