When Sebastian Ferrari became a personal trainer, he set about doing things a little differently to the norm.
His gym, FitStudioZ in Greenwich, is a gym with a difference. It offers seven private personal training booths which are fully equipped with the latest gadgets and around 200 trainers are signed up to use the gym.
Sebastian himself is a personal trainer with a difference. He's not always been the figure of health you see today – he lost 40kg with the help of a personal trainer, and so began his passion for fitness.
Sebastian defies convention when it comes to personal training, which is why he's the latest winner of our quarterly Personal Best Award.
We sat down with Sebastian to chat about his incredible journey so far and find out what the future holds.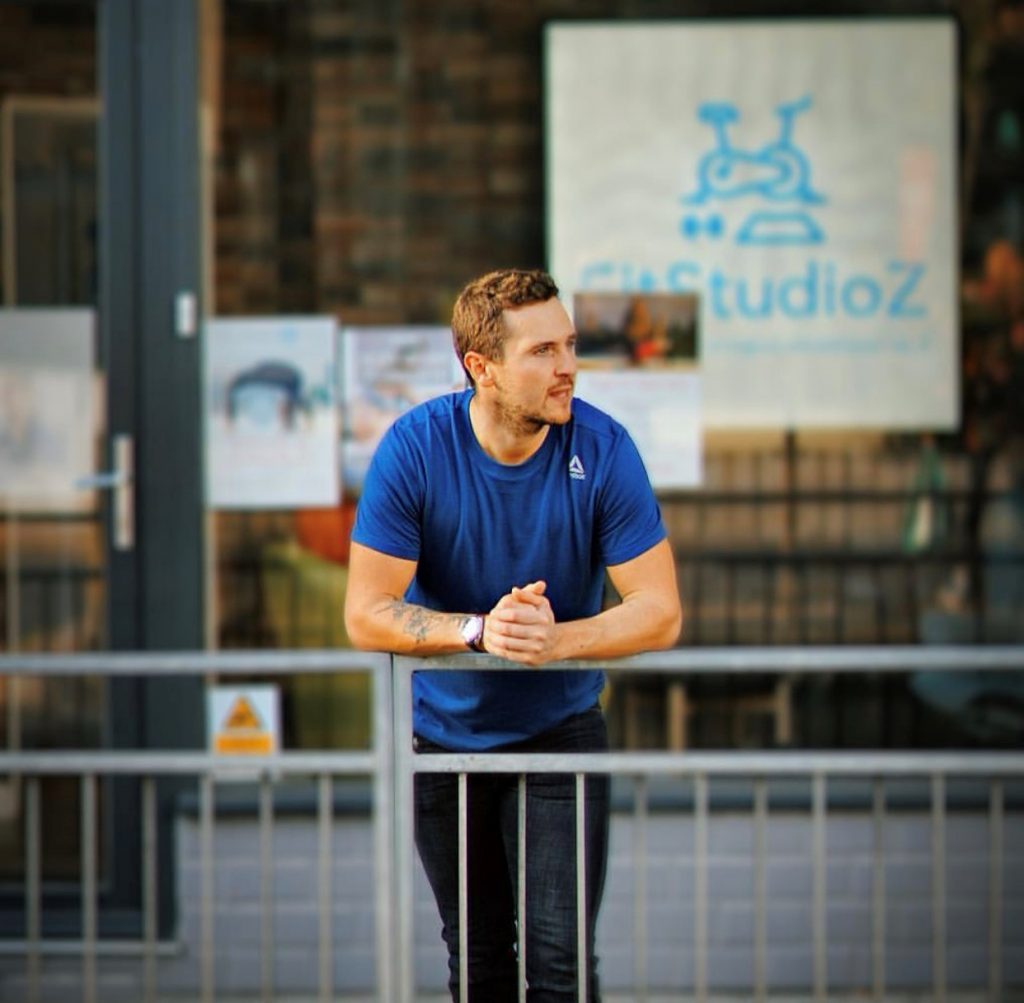 Early beginnings
Before becoming a personal trainer, Sebastian co-owned a business in the motorsport industry, building race cars – which is appropriate, given his surname!
In Sebastian's words, it was a 'fun and glamorous' job – the only problem was, he founded this business during the recession.
It was during this stressful period that Sebastian's weight ballooned, and the jumpsuit became his best friend.
"I'd always been overweight, even through school, but I'd just learnt to live with it. But when I was working in the motorsport industry, doing really long shifts, it got a bit out of control.
"I knew I had to sort myself out, so I got myself a personal trainer and trained with him for a year."
Studying personal training
It was while working with his personal trainer that Sebastian gained a fascination with all things exercise. This curiosity led to reading a few articles, then to studying to become a certified personal trainer.
"After a year with the personal trainer, the results were amazing. I managed to lose 40kg and people would often ask me 'what's your secret?' and in all honesty, I just did what he told me!
"Then I started reading up on the science behind it and I then understood why he told me to do all that.
"I got really interested in physiology and my brother said why don't you give it a go and see how you get on?"
Realising he could make more money from personal training than working in the motor industry, Sebastian decided to turn his passion into a career.
He studied for an NVQ in Personal Training and Business Development at Future Fit while also working as a personal trainer on the side.
It's safe to say Sebastian learnt a lot in his early days as a personal trainer – and this experience has stood him in good stead in the years since…
Breaking into the industry
"My first day as a personal trainer was quite daunting and I'd be lying if I said I didn't doubt myself initially.
"I wasn't the sporty boy at school, I wasn't captain of the football team, I wasn't maybe what you expect when you think of a personal trainer.
"But I found the strength from somewhere to make it work. I was lucky to be at Future Fit, which is a fantastic school and taught me a lot of the interpersonal skills you need to be a personal trainer."
Sebastian set himself apart by doing what any good personal trainer should do – establishing a niche. His niche was weight loss, an obvious choice given his own struggles.
"I would train clients who had similar issues to me before I became a personal trainer, like stress eating and low self-esteem. I think they liked that I'd been there and could relate to me."
Before he knew it, Sebastian was picking up more and more clients who wanted to lose weight, and his career started to take off.
Gaining business experience
Upon graduating from Future Fit, Sebastian became the director of Proven Personal Training in Greenwich. Here, he learnt a variety of business skills which have proven invaluable throughout his career.
"A lot of personal trainers lack the necessary business skills to survive in the industry once they've become fully qualified.
"They don't hold themselves like businesspeople and they struggle with things like billing, taxes and invoices. Thankfully, I had previous experience of running a business, so this helped me set up my personal trainer business.
"I learnt from setting up Proven Personal Training that you can be supportive of your clients and even be mates with them, but you've also got to be professional and accountable. It's a fine balancing act."
Unfortunately, during this time he fell ill with a ruptured appendix and had to take several weeks off to recover.
Due to personal reasons, Sebastian then parted ways with the gym and set off on his next venture. It was here that the concept for FitStudioZ was born.
Taking his experience to new heights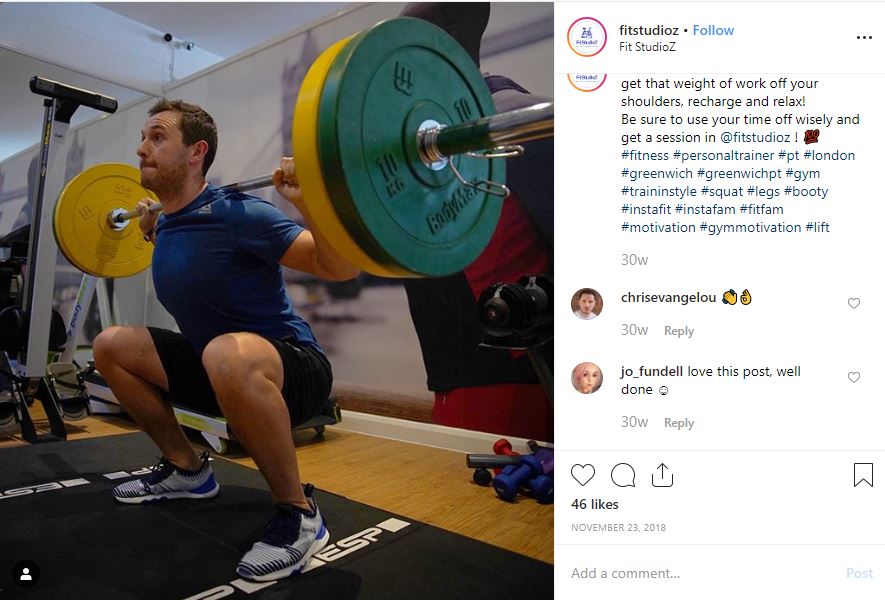 "I went travelling for a couple of months and cleared my head – it was amazing. I came back and set about finding somewhere to set up a new business.
"I found a small studio underneath an estate agent in Greenwich high street and brought my old clients with me.
"I worked from here for two months and one client said they liked how private it felt and came up with the idea of a concept which is similar to what I've got now.
"I was a bit arrogant at first and dismissed the idea, but he said one word and then I gave in – 'community'.
"Airbnb has become a huge online community and gyms sometimes need more of a community feel to them. We talked about it in more detail and the rest, as they say, is history."
In January 2018, Sebastian officially opened FitStudioZ, in a much bigger space than where he was working previously.
FitStudioZ is based in Greenwich high street and offers one-to-one personal training in seven private, fully equipped training booths, each of which contains a treadmill, an upright cycle, a rowing machine, a cable machine, squat racks and much more.
It also includes private changing rooms and showers with GHD facilities. A far cry from the studio below an estate agent!
Making a difference
Not every personal trainer has the luxury of working in their own private booths with a client – but Sebastian is determined to provide them with opportunities which they otherwise wouldn't have.
"I'm on a mission to revolutionise the industry and give personal trainers the working environment they deserve.
"They deserve somewhere to run their business properly, without the constraints that normally come with being employed by a gym.
"At FitStudioZ, they don't have to do 25 hours of groundwork and pay £6-700 a month, come rain or shine. All they do is book their booth online and pay us by the hour. We then invoice them 10 days later.
"In an industry where it's very hard for personal trainers to 'make it', I'm trying to show that we've got the best interests of personal trainers at heart and will give them everything they need to succeed. We couldn't be more there for them if we tried."
FitStudioZ charges personal trainers between £8 and £12 per hour, a significant drop from the going rate of £45 an hour in Greenwich. The more hours they work, the cheaper the hourly rates – those working 20 hours or more pay £8 an hour.
In addition, any personal trainers that use the facilities at FitStudioZ do so on a 'pay as you go' basis, meaning they're not paying for space they're not using.
This shrewd business model and the unique working environment at FitStudioZ are a reflection of Sebastian's journey and hard work over the years, which is why we chose him as our Personal Best Award winner.
Gaining recognition
While Sebastian's main aim is to keep his personal trainers and their clients happy, he's delighted to have gained this latest piece of recognition.
"It's a big honour to win this award, and to be recognised by one of the big players in the personal trainer industry for the work we do.
"It's been a really tough but enjoyable journey. I see FitStudioZ as very much a gym with a difference, so it's hugely encouraging to know that we're following the right path.
"I don't necessarily fit the mould of a personal trainer, but receiving awards like gives me the drive to keep going and keep making a difference.
"I'm very grateful and want to say a massive thanks to Insure4Sport for seeing the value in what I do."
Looking ahead to the future
Far from resting on his laurels, Sebastian is now looking at taking FitStudioZ from strength to strength.
"We plan to offer personal trainers a network of approximately ten FitStudioZ locations across London. We are aiming to open our next location in November 2019.
"This will enable personal trainers to offer their services across London and will position us as industry leaders from both a personal trainer and client perspective.
"It will also enable personal trainers to network within a greater community and travel from place to place at no extra cost.
"On top of this, we're hoping to launch a 'FitStudioZ Academy' covering the less addressed areas of the industry, such as business development, accountancy skills, trainer-to-client accountability and marketing."
The future certainly looks bright for Sebastian's business and we think you'll agree – he's a worthy winner of our award!
If you're inspired by Sebastian's story and want to follow in his footsteps, you can enter our Personal Best Award. We'll be announcing our next winner in September. Best of luck!
---