If you're looking to become a qualified personal trainer or fitness instructor, you have a wealth of options in terms of training course providers.
We've selected the ten best personal trainer courses in the UK and spoken to each provider to find out what makes their courses so appealing.
Table of contents
1. Premier Global NASM
2. OriGym
3. Future Fit
4. YMCA Fit
5. HFE
6. Train Fitness
7. Diverse Trainers
8. AMAC Training
9. Study Active
10. The Training Room
Courses include:
Formed as a merger of Premier Training International and the National Academy of Sports Medicine (NASM), Premier Global NASM boasts a hugely experienced team. In fact, the team has more than 50 years of combined experience in developing the next generation of health and fitness professionals.
Premier Global NASM is built on the ethos that behind every great personal trainer is a 'master' coach, and the business is committed to equipping students with the skills and knowledge required to break into the industry.
Dan Rees, Managing Director of Premier Global NASM: "We're constantly evolving our services to reflect ever-changing market conditions. We also create educational packages which empower our learners to effectively self-manage their professional development.
"Fitness professionals who train with us are welcomed into a community that offers support throughout their entire career.
"For example, our new Online Training Bundle combines our business accelerator course and a 12-month subscription to our Edge app – which PTs can use to manage their clients' programmes and progress.
"This medley of products equips personal trainers with the skills, tools, and strategies they need to operate a successful online coaching business."
Premier Global NASM also works in close partnership with several multisite operator employers across the leisure sector. Recent course graduates have gone on to secure full-time trainer roles with Nuffield Health, Pure Gym, and Virgin Active.
Courses include:
Online personal trainer
Standard personal trainer
Specialist fitness courses
CPD fitness courses
Teaching and assessing courses
OriGym qualifies more fitness professionals than any other course provider, with more than 9,000 graduates each year.
With tutors based nationwide, OriGym offers tailored learning methods to suit all styles – be it online or in the classroom.
Luke Hughes, CEO and Co-Founder of OriGym: "Our online learning platform is designed by fitness professionals, for fitness professionals, and is fully interactive, packed with videos, eBooks, online lectures, and engaging learning material.
"Every staff member at OriGym is a qualified fitness professional in their own right, so we've all been where you are."
OriGym also offers free resits on both its practical and theory exams, so students aren't punished financially if they don't pass first time.
The business has also produced some great, educational YouTube content for budding trainers – check it out.
Courses include:
Personal trainer
Pilates instructor
Health, wellbeing, and nutrition courses
As two-time winners of ukactive's Training Provider of the Year award, the team at Future Fit know a thing or two about personal training.
Future Fit's courses are Ofqual-recognised and are designed to offer the most comprehensive training packages possible. They also focus on business development skills if this is an area you want to learn more about.
Carl Richards, Future Fit's Head of Education: "We lead the way when it comes to providing innovative and impactful training, and this expertise is reflected through our industry reputation.
"All of our courses are continuously developed in-house by leaders in the fields of health, fitness and nutrition. We don't just offer a quick-fix qualification – we're fully committed to supporting the wellness industry's continued evolution by giving students the skills and confidence they need to make a positive impact in their communities."
Future Fit graduates also benefit from lifetime support from expert tutors.
Courses include:
Personal trainer
Gym and fitness instructor
Sports massaging
Yoga instructor
YMCA Fit is one of the UK's oldest fitness training providers. From humble beginnings, the YMCA was founded as a charity in 1844 and expanded into the fitness industry with the formation of YMCA Fit in 1984.
Today, more than 120,000 fitness professionals nationwide are YMCA alumni. Almost every UK gym has a YMCA-qualified member of staff on its books.
YMCA Fit instructors believe that fitness training improves your quality of life – a quality that you can share with those around you.
Robin Gargrave, Executive Director of YMCA Fit: "Our ethos is simple – we want to provide high-quality training and fitness education to help our students grow. We're a not-for-profit charity, so our main focus is to see our students succeed and give them the best experience.
We understand there's not one set pathway into the fitness and exercise industry. We also understand that as individuals, we learn in different ways. Therefore, we provide courses in various forms to cater for people's different goals."
Courses include:
Personal trainer
Pilates instructor
Yoga instructor
Exercise-to-music
Sports massaging
Health and Fitness Education (HFE) is one of the UK's leading fitness and active leisure industry training providers.
With more than 30 venues nationwide open to HFE study, its qualifications are authenticated by specialist fitness industry awarding organisations such as Active IQ.
HFE's unique CV Connect programme is a game-changing recruitment tool that connects newly-qualified fitness professionals and trainers with employers actively seeking staff.
Lee Cain, Managing Director of HFE: "At HFE, we deliver internationally recognised and professionally accredited courses across a broad range of subjects – and our personal training courses are no exception.
"Developed and delivered by experts and industry professionals, our CIMSPA-approved personal trainer courses come with a wealth of resources to ensure students succeed.
"We offer students unrivalled support from dedicated tutors, high quality digital and physical training manuals, and our unique CV Connect programme, which puts recent graduates in front of hundreds of relevant employers.
"We believe it's not necessarily what you get from your qualification, but who and what you become that matters most. That's why we say become more with HFE."
Courses include:
Personal trainer
Gym instructor
Pilates instructor
Yoga instructor
Children's fitness instructor
Train Fitness was first established in Australia and was brought to the UK in the late 1990s – making it one of the oldest in the personal training game.
Driven by the belief that education drives positive change, Train Fitness' industry-accredited courses put human connection first. They combine full-service training with online learning, slick content, and standout tutor support.
Michael Betts, Director at Train Fitness: "As one of the first training providers to offer online education back in 2000, we've continued to use technology to enhance our learning experience.
"We have more than 30 courses, all of which are available both in-person and online.
"Our aim is to give every person the opportunity to start and advance their career in fitness, regardless of their location, situation, lifestyle, or needs."
Train Fitness courses are available UK-wide.
Courses include:
Personal trainer
Gym instructor
Yoga instructor
Exercise-to-music
Sports massaging
Strength and conditioning
Diverse Trainers is a great start point for those looking to make their first steps into the fitness industry.
Proud of its unique fast-track approach to qualifications, Diverse Trainers' goal is simple – to give budding trainers an affordable pathway into the industry.
Whatever your niche, Diverse Trainers has a CIMPSA-recognised course to match, boasting an impressive 99.4% pass rate across its offering.
Chris Green, Business Development Manager at Diverse Trainers: "We aim to provide a positive learning experience which will equip our students with the skills and knowledge required to succeed.
"Diverse tutors have a combined total of more than 50 years of industry experience and are highly committed to helping every student thrive."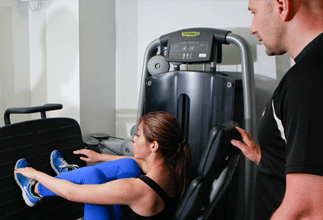 Courses include:
Personal trainer
Gym instructor
AMAC Training is a friendly, family-run company that combines its roots in the education sector with fitness industry expertise.
All AMAC courses and learning resources are produced in-house by its dedicated team, meaning materials are continually adapting to meet students' changing needs.
Through its partnership with the Education & Skills Funding Agency, AMAC also offers Advanced Learner Loans to students alongside various course payment options to make fitness education accessible for all.
Dave Lee, Education and Training Director of AMAC Training: "The most special thing about AMAC Training, for me, is our people.
"They're one of our biggest assets. Most of our course tutors and assessors are graduates themselves and have worked in the fitness industry for many years.
"We're fully transparent with our course offerings, and we tailor our packages to suit our students' individual requirements and interests. Whether you're just starting out in the industry or have an established career in the field already, we offer courses to suit you and your lifestyle."
Personal trainer
Gym instructor
Exercise and nutrition courses
Physical activity and lifestyle courses
Mental health awareness courses
Study Active's renowned Active IQ-approved programme of 'blended learning' between online and in-person teaching is available to students across the UK.
It includes a mixture of e-learning resources, webinars, tutorials, and practical workshops. This flexible approach allows students to work at their own pace alongside other commitments.
James Luscombe, Managing Director of Study Active: "Our team of tutors support students every step of the way and fully prepare them for their assessments.
"Once qualified, our graduates are given the further support and guidance they need to get started in the sector. And, through our relationships with various nationwide fitness operators, we help them to find roles and progress to the next step."
Courses include:
Personal trainer
Health and fitness courses
If you're limited for time, The Training Room offers fast-track personal trainer courses which you can complete in just five weeks.
With a variety of course types available, from Level 2 through to CPD, The Training Room graduates are eligible to register with CIMPSA as a Level 3 personal trainer in no time at all.
What's more, with new courses starting every two weeks, you could be ready to start a new career in just two months.
If that's too quick, though, The Training Room courses are also available part-time (ten weeks) and online (which is fully self-paced).
The Training Room also provides professional training courses and role placements in industries including IT, events management, and accounting.
Chris Peel, CEO of The Training Room: "We specialise in connecting talent to opportunity. For us, it's about more than just the course.
"Accessibility to opportunity is paramount. That's why we offer fully-regulated, in-house funding options that allow people to spread the cost of their learning for up to three years.
"We're also passionate about empowering real and sustainable careers through our outcome-orientated approach, which is why we guarantee to support our learners for three years after enrolling.
"We match them to opportunities within our vast employer base, and if working for a big-name gym isn't for them, our expert tutors and career support staff will help them to establish their own path or business instead."
Whichever training programme you choose, once you're fully qualified, you need to make sure you have the right insurance before taking on any clients. Most gyms and sports centres will require proof of insurance before you can start working on the gym floor.
At Insure4Sport, our specialist personal trainer insurance policies are designed to protect you from potential liability claims up to the value of £10m. They can also cover the damage, loss, or theft of your equipment, as well as loss of earnings if you suffer a serious injury and can't work as a personal trainer for a long period of time.
Find out more about our personal trainer insurance and get an instant online quote today.
Related
The Best Niche Fitness Markets Personal Trainers Can Take Advantage Of
How To Set Up A Cancellation Policy For Personal Trainers