What is the typical salary for a personal trainer in the UK? We did some research to find out – and uncovered some interesting statistics.
According to PayScale, the average personal trainer salary is £19,346 per year, but this is far from a definitive figure. Several factors affect your income and could see you earn significantly more. We've explored some of them…
Experience level
Typical starting salaries for personal trainers who are employed by a gym are around £16,000. With a year or more's experience, though, they can usually expect to earn between £20,000 and £35,000.
This is not a definitive figure though – highly successful personal trainers can make over £60,000 a year. High-end personal trainers can charge over £1000 for six weeks' work with just one client. If you one day become a celebrity trainer, you could find yourself in the six-figure earning bracket.
But as you'll know, a personal trainer salary largely depends on hours worked and the amount you charge – and how much you can charge often depends where you are in the country.
Location
One-to-one sessions in the wealthier parts of London can easily cost £80 to £100 an hour.
In other parts of the UK, £25-£35 an hour is the norm, whereas in more affluent areas you can earn £30-45 an hour.
Depending on the area, hours worked and the standard of service, personal trainers based in affluent areas have the potential to earn between £40,000 and £60,000 a year.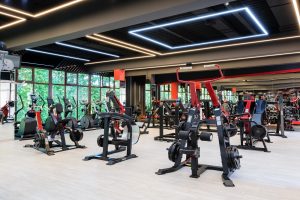 Employment status
The typical personal trainer salary if you're working for a gym chain like LA Fitness or Pure Gym is between £24,000 and £28,000 a year.
However, 80% of personal trainers are freelance and are therefore usually paid hourly for each session they undertake with a client.
The biggest argument in favour of going freelance is that there's no limit to your earning potential. The most successful independent personal trainers can make six-figure sums and employ others to work for them – the perfect example being London-based personal trainer Matt Roberts.
Bear in mind, though, most freelance personal trainers have built up years of experience working in a gym or health club.
Type of wage
Your take-home pay also depends on how your earnings are broken down. Some employers will pay you an hourly wage, while others will pay you a fixed salary. Depending on the financial success of your company, you might also receive a performance bonus. This is partly why the salary in many personal trainer jobs is "up to" a certain amount.
There are positives and negatives to both hourly and fixed wages. On one hand, if you're paid hourly, you need to get a high enough volume of work to receive a handsome wage. On the other hand, if you're paid a fixed salary, you might not earn as much as if you worked slightly longer hours.
This is not to say that you should just book back-to-back sessions for the sake of it. As online personal trainer Scott Ladlier aptly puts it: "If you know someone can afford to buy sessions every day but their body can only take two a week, don't for the love of God oversell your product."
Social media presence
The world of social media is actually more of a money maker than you may think. If one day you become an 'Instagram famous' personal trainer, you can charge up to £20,000 per post. There's actually an online calculator which gives you your estimated earning potential per post, based on your follower count, number of posts and average engagement rate.
However, if you want to make £12 million a year like Joe Wicks, you might have to bide your time. That is, unless you've got a few books' worth of recipes and a couple of million Instagram followers.
Keep the faith, though – as the man himself said in a recent interview with Men's Health: " I posted something like 20,000 tweets before I made a pound from social media."