Kettlebells are among the most versatile exercise tools around. They help build strength, endurance, flexibility and balance all in one.
Given how much you can get out of them, and considering more people are working out at home following lockdown, it's no surprise that more and more people are looking to integrate kettlebells into their home exercise routines.
However, there are so many different types on the market. It isn't always clear which will suit you best. That's why we've put together this list of the 10 best kettlebells for working out at home.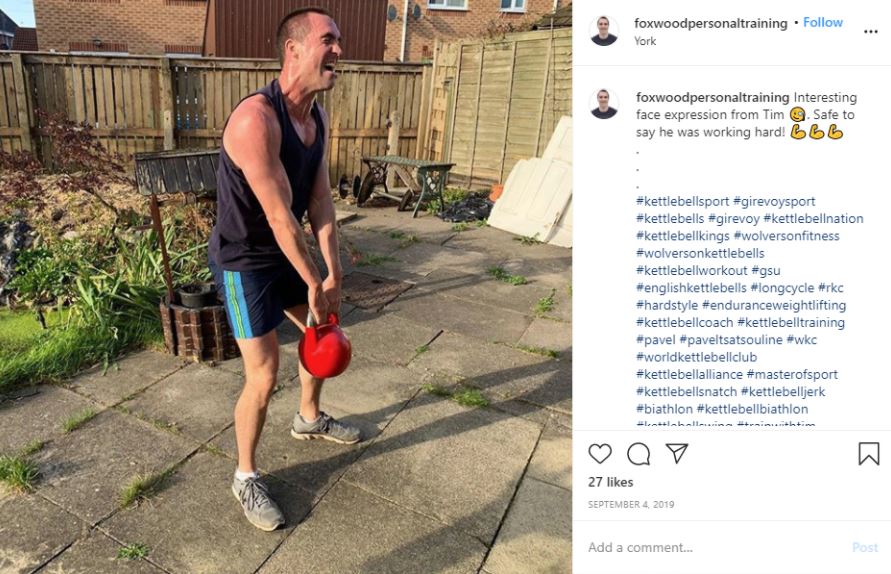 Weight range: 8 – 32kg
Price: from £41.25
Using its experience with the UK National Kettlebell Teams and its history of kettlebell manufacturing knowledge, Wolverson has created a new benchmark in competition kettlebells. They're suitable for Girevoy sport as well as strength and resistance training.
Wolverson's kettlebells are formed from one single piece of metal, meaning there are no joints or welds that might graze or irritate your hands as you lift. Not to mention, there are no weak points, so they're built to last.
With the MK 2 kettlebells, Wolverson has improved the ergonomics by increasing the 'window' (the space between the bell and handle). This accounts for athletes' larger hands or forearms and provides greater clearance for general exercise.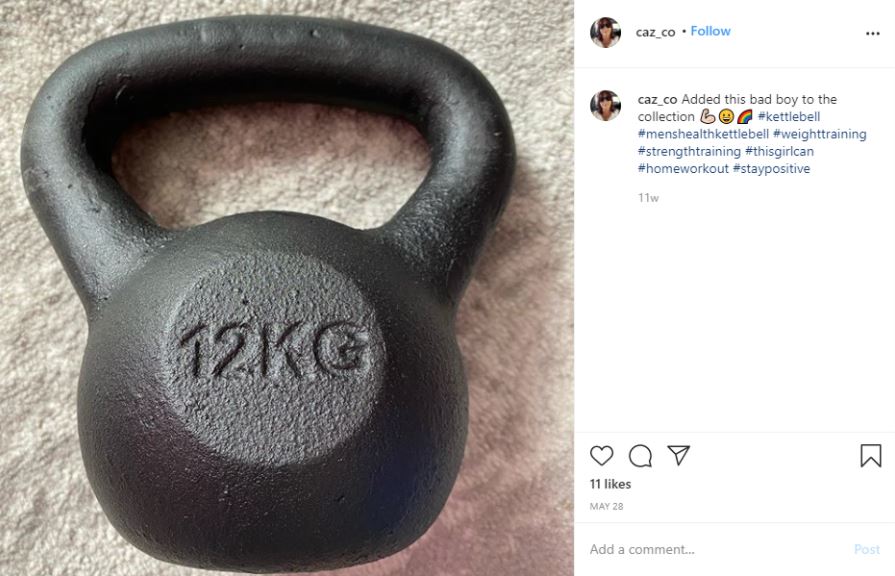 Weight range: 12 – 24kg
Price: from £22.99
Not only are they attached to a trusted brand name, the Men's Health Cast Iron Kettlebells are made using an environmentally friendly process, so they're the complete package.
The hardware itself puts function first and foremost – it's easy to use and doesn't command a big price tag. That said, these kettlebells offer style as well as substance – given that they're matt cast iron, they have an appealing rustic look to them already.
The flat bottom will come in handy, too – these kettlebells won't roll or fall backwards and dent your cabinet. This feature also makes it easier to rest the kettlebell on the floor when switching hands during a workout.
Weight range: 5, 10 and 15lbs (roughly 2.3kg, 4.5kg and 6.8kg)
Price: £29.95
This three-piece kettlebell set is relatively light and so is ideal for anybody who's new to training with kettlebells. This also makes them inexpensive as far as kettlebells go.
If you're new to kettlebell training, your strength might be slightly unbalanced in different areas of the body. This could mean one weight is too light for a particular workout, whereas for another it's too heavy.
Because the Mirafit Kettlebell set comes with three weight variations, you can pick the appropriate weight for your workout and train yourself up, eventually graduating to heavier loads.
The stand is also a nice touch. After all, nobody wants their kettlebells rolling around the floor.
Weight range: 10 – 36kg
Price: £275
The price tag is hefty on this one, but for what you're getting, you're actually saving money. The Ironmaster Quick-Lock Kettlebell Combo allows you to add and remove weight, so you're not just buying one kettlebell; you're buying an entire set running from 10kg empty all the way up to 36kg full.
The biggest benefits here are:
The amount of space you'll save.
The amount of variety you'll have for workouts.
The amount of money left in your pocket versus buying the equivalent in individual kettlebells.
Also, Ironmaster's patented quick-lock mechanism requires no tools, so you can adjust your weight in seconds and get back to training. Though the weights are detachable, Ironmaster's kettlebells have undergone rigorous research to ensure they feel and perform just like traditional kettlebells.
Weight range: 5 – 20lbs (roughly 2.3kg to 9.1kg)
Price: from £10
CAP Soft Kettlebells offer the same full-body workout benefits as any traditional kettlebell, so don't be put off by their appearance. The only difference is these kettlebells are made of hard-wearing, 600-denier canvas and weighted with iron sand instead of being made of cast iron. Your workout won't know the difference.
The softer material appeals to many people, because it's more comfortable to use and there's no risk of denting your floor or furniture. Plus, there's less chance of injuring yourself or someone else.
Besides this, CAP Soft Kettlebells are suitable for novices because their weight range is narrower than other kettlebell sets. Ultimately, you might feel more relaxed knowing that you're not going to drop a 10kg cast iron kettlebell on your floor… or your foot.
Weight range: 4 – 16kg
Price: from £13.84
Studio Kettlebells feature oversized handles with powder-coating treatment to provide substantial grip – and if you have a good grip, you're halfway to having good form.
The vinyl skin around the kettlebells colour-codes them so you can easily distinguish the weight you want next if you own a few. The vinyl skin also protects your floor from scrapes or dents if you set one down a bit too heavily after squeezing out that last rep.
Their affordable price is attractive, too.
Weight range: 8 – 28kg
Price: from £39
A unique feature of Competition Kettlebells is that, no matter which weight you pick, each kettlebell has the same dimensions. This helps you maintain and hone your technique as you progress through the weights.
Each kettlebell is finished with a different colour, so you can identify different weights on-sight.
Competition Kettlebells, as the name would imply, are made to meet competition standards. Competitions have very strict parameters on kettlebell dimensions, particularly of the window (the space between the body and handle), so you might find you prefer to train according to this consistent standard as well.
TRX, known for its flagship product – the suspension trainer – was created by former Navy Seal Squadron Commander Randy Hetrick back in 1997. The company later went on to design military training programs and eventually establish its own fitness academy. Given this breadth of experience spanning over 20 years, you know you're in safe hands.

TRX Kettlebells are produced with gravity cast moulded techniques, which ensures an even, consistent finish. The result is one of the most durable kettlebells on the market, from one of the most trusted brands.
Their flat base increases stability and prevents wobbling, which is always useful when resting between exercises, or storing your kettlebells.
Weight range: 4 – 8kgs
Price: from £12.46
Amazon's own-brand products are renowned for being reliable, functional to the point of frugal and good value for money. These products aren't flashy – their primary function is to do their job well. AmazonBasics Kettlebells are no different.
These are built from solid cast iron as is the kettlebell standard, with a gloss painted finish to improve grip and resistance to corrosion.
Home gym equipment is still in short-supply after people turned to home workouts during the COVID-19 pandemic. But such is the size of Amazon, you can be sure these kettlebells will remain in stock – or at least replenish quickly.
Weight range: 12 – 42 lbs (roughly 5.4 – 19kg)
Price: £229
Besides incredibly trendy advertisements, JAXJOXX KettlebellConnect offers something truly unique – the world's first smart-kettlebell.

To begin with, it automatically adjusts to your selected weight in seconds, with six options to choose from. Simply place it in its holster and select your desired weight on the LCD screen. The weights will lock in and you'll be ready to lift. While this is a nice convenience, it's also practical, as you'll save space compared to owning multiple individual kettlebells.
KettlebellConnect also comes with its own app to track your reps, sets, weights, time and power. If you're fascinated by biometrics and wouldn't be caught dead without your fitness tracker on, this should be right up your street.
Specialist sports insurance from Insure4Sport
As you might have guessed by now, swinging around a kettlebell comes with certain risks. For example, you may injure yourself by dropping the kettlebell on your foot or you might damage third party property, i.e. the floor of a venue that you're using to train. That's why, if you're working out at home, at the gym or with clients, it's crucial you protect yourself and others.
At Insure4Sport, we offer specialist insurance for personal trainers and gym members to cover you for injury (personal and third party), damage (to your equipment or third party property) and theft, so you can exercise with peace of mind.

Find out more by clicking on the links above and get an online quote in minutes.