Nowadays, resistance bands are a staple gym accessory. Personal trainers, fitness enthusiasts, yoga instructors, Pilates instructors, physiotherapists – everyone loves them.
Why? They're versatile. You can use a resistance band to improve your strength, mobility, flexibility and to aid rehabilitation after injury. They use continuous pressure to encourage muscle growth. In fact, scientific research discovered resistance band training is a practical substitute to lifting weights when activating your muscles.
Unlike heavy weights, they're low impact so don't put as much stress on your joints. Plus, they're affordable and convenient.
There are a few different types and brands available. Things to consider when choosing the best resistance bands include purpose, resistance level, size and material. If you're a personal trainer or fitness instructor, you might want to use a few different types with clients with varying goals.
So, we've done the hard work for you and come up with the best resistance bands.
Small looped resistance bands
Best for lower body workouts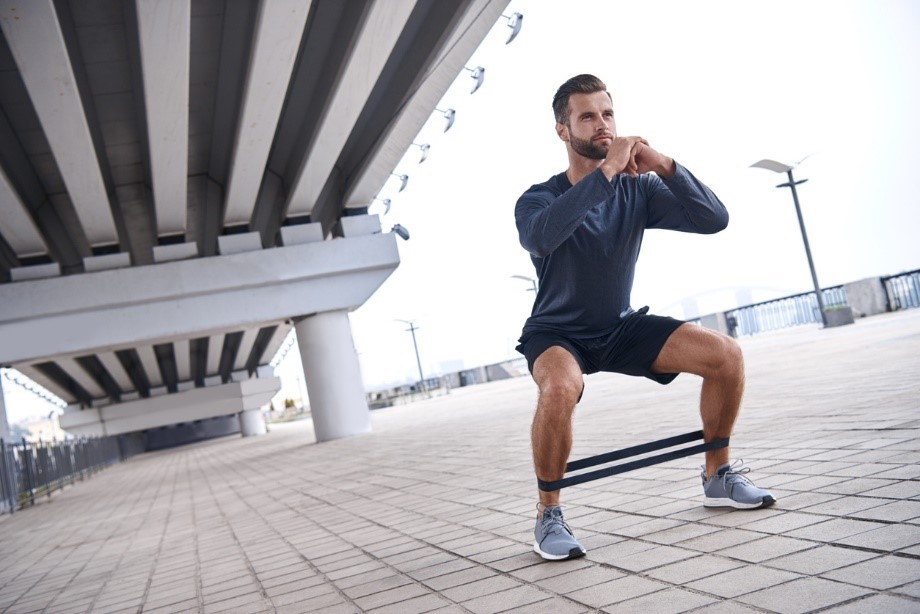 Small looped resistance bands are primarily used for lower body. Why? They help activate and grow the stubborn glutes. So, if you're looking for the best resistance bands for glutes, look no further.
They can be used for lots of different lower body exercises such as squats, hip thrusts, crab walks, lunges and donkey kicks. But, you can also use them with a weight to maintain tension and target other muscles.
So, you might use one whilst squatting to help target the gluteus medius and minimus more. Women in the fitness industry use resistance bands to get the glutes fired up before a lower body session and to add resistance to exercises. Oh and did we mention The Rock uses them too? Enough said.
Here's a small looped resistance band workout to grow your glutes:
B_nd Store fitness equipment is built by a prominent fitness woman, for women – which is evident in the resistance bands.
Normally, resistance bands are primary colours (reds, blues and greens), but B_nd do them in different patterns and pastel colours to bring fashion to gym accessories, not just clothes. That's why we think they're the best resistance bands for women. But bear in mind, the funky patterns sell out extremely fast.
Not only are they bringing fashion to fitness, they're bringing sustainable fashion. The bands are made from polyester, custom cotton and rubber blend, they're vegan and don't contain latex. So, if you're looking for resistance bands that don't roll up or pinch your skin (we've all felt the frustration), they won't let you down. All the short bands are 32cm in length and 8cm wide, and come in a variety of strengths: light, medium, heavy, x-heavy, and xx-heavy. The cotton drawstring pouch makes it easy for you to carry them anywhere.
Plus, you get a free resistant band digital e-book with up to eight months of free workouts when you purchase one of these resistance bands. The e-book includes killer glute activation and glute burnout resistance band circuits to add to your lower-body day.
These are available at B_and Store for £14.
The Bear Grip resistance band is a great choice if you want to strengthen and tone your glute muscles.
This fabric band is made from latex and cotton blend so it won't slide around, it's super thick and comes in medium and large sizes. Certain bands even have extra inner grip, so you can guarantee they'll stay in place.
The design lends itself more to men than other brands. It looks cool with a bear print icon and is available in different stylish colours, such as camouflage, black, black and red, aqua, blue, pink and purple. A carry bag and an e-book with exercises is included too.
You can get one on Amazon from £9.99.
We're including a rubber band here for those that prefer them to the fabric bands. But, from our experience, they can be slightly uncomfortable and tend to bunch up mid-workout.
Having said that, they're still great for physio, Pilates, stretching and exercises which don't involve large movements like clams and abductors.
Short latex loop bands tend to be pretty similar in what they offer. However, we've picked Hybrid because it's great value for money.
You can get a set in a number of different colours and the resistance level is printed on each band. Plus, they come with a free guide and carry bag to put them in. A set has five bands differing in strength: 10, 15, 20, 30 and 40lb.
A set of five bands starts at just £5.95 from Amazon, so they're a good contender for the best budget resistance bands.
Here's a small looped resistance band full body workout:
Large looped resistance bands
Best for pull ups and heavy duty exercises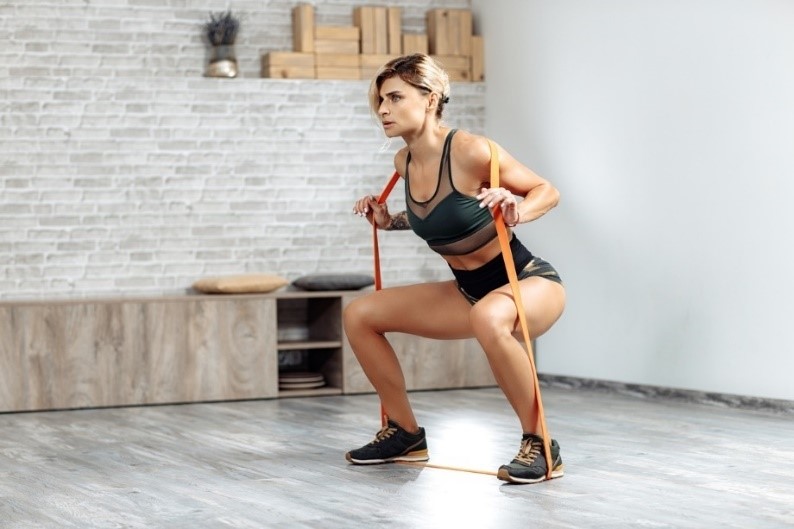 Large looped resistance bands are the most adaptable, but are frequently used to assist a pull-up if you don't have the strength to do one without.
They're also the best resistance band for weight training and big compound movements because they're long and thick, so can be wrapped around weights or your body to add resistance. For example, stand on it and put it around your shoulders to do a squat (as shown above), or combine lower and upper body exercises by squatting into an overhead press. Alternatively, isolate your arms by doing exercises such as bicep curls.
Looking for the best exercises to do with these resistance bands? Here's a large looped resistance band full body workout for you to follow:
Core Zone heavy duty resistance bands are guaranteed to last a lifetime, so you can use them for pretty much any workout. The light bands are great for pull-up assistance or mobility exercises, whereas the heavy ones fit the bill for powerlifting or weightlifting.
They come in six colour-coded resistance levels: Red: 15-35lbs, Purple: 35-85lbs, Orange: 80-255 lbs, Green: 50-125lbs, Blue: 65-175lbs, Black: 25-65lbs. You'll likely need a few different ones for client's with varying goals.
These are available at Core Zone from £7.95 or you can get all seven bands for £129.95.
The Oxy Fitness Training Resistance bands are a popular option, whether your fitness goal is to tone or add mass. Unlike other brands, the resistance level is clearly displayed on the band, so you won't have any surprises when you start your workout. They're made from premium natural latex so they're extra thick and they're available in five colour-coded resistance levels: Green: 50-125lb, Purple: 40-80lb, Black: 30-60lb, Red: 15-35lb, Yellow: 5-15lb.
Plus, you can download their training program e-book here. This has step-by-step instructions of how to perform certain exercises with the bands, such as the band pull apart and press-up.
These are available at Oxy Fitness from £9.95 or you can get them in a set of three, four, or five and get a terrific deal.
B_nd long resistance bands are very different to the others, but we love them.
Their major USP is that they don't contain latex. They're made from polyester, customer cotton and rubber blend which means they're eco-friendly. This also means they're comfortable to wear and there's no chance they'll move around. Overall, they're the best long fabric resistance bands.
They come in five different strengths: light, medium, heavy, x-heavy and xx-heavy, but they sell out fast so chances are they won't all be available. They look a lot more stylish than others on the market, but the brand's target audience is women so their choice of colours, such as baby blue and lilac, usually reflect that. All the long bands are 98cm long and come in a cotton drawstring pouch made from natural fibres.
These are available at B_and Store for £16.
Here's how to use a long looped resistance band for pull-ups:
Open-ended strap resistance bands
Best for stretching and recovery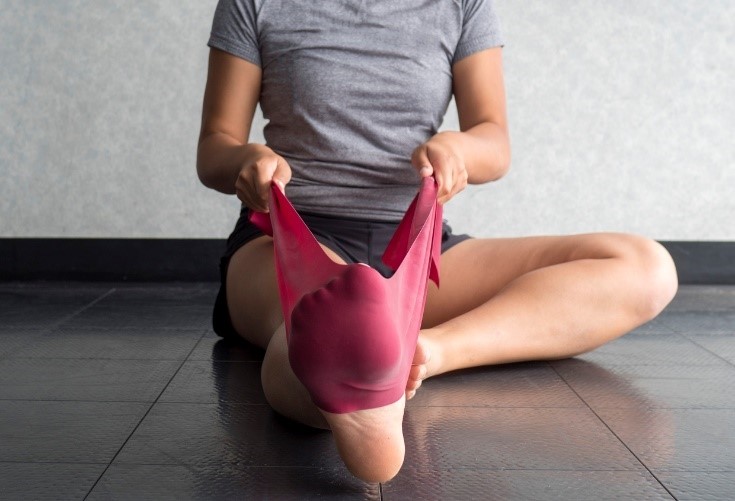 An open-ended strap is the ideal choice if you want a band to help improve your mobility and flexibility.
This is why they're the best pilates resistance bands and are used in yoga, gymnastics and dance. They're also a great accessory to use if you're recovering from an injury or helping clients recover from an injury.
You can use them for strength training, but they're likely to snap and won't last very long – so, we recommend using a type better suited. These are the lightest resistance bands and they roll up to nothing, so you can carry one anywhere in your pocket.
Here's a Pilates workout to show you how you can use an open-ended strap resistance band to improve flexibility, mobility and strength:
Meglio resistance bands are made for many different sports, from running to football.
We love that they're made from Latex-free material, which many similar bands aren't. Compared to the smooth latex products, they're textured to give you a better grip.
They come in five different resistances: extra light: yellow, light: red, medium: green, heavy: blue, extra heavy: black. If you'll use them frequently, on your own or with clients, you can buy an entire roll so to cut them to whatever size you want.
You can choose the 23m roll (£29.99) or the 46m roll (£44.99). Meglio also provide a dispenser rack (£54.00) to put all five rolls into. This is perfect for personal trainers and strength and conditioning coaches with a private room, or physiotherapists with a private clinic.
However, they do have options to buy a single-sized band if that's all you want. Choose between the 1.2m band (£3.99) or 2m band (£5.99).
Theraband is a reputable brand in the industry, so you might have already heard of it.
Their latex resistance bands help to strengthen weaker muscles such as your ankles if you have fallen arches, or improve your functional movement more generally. They're super stretchy so are great for stretching, expanding your range of motion and rehabilitation.
They're 1.5m long and come in different resistance levels. The light set comes in three different colour-coded resistance levels: yellow, red and green. By contrast, the strong set only has two levels: blue and black. Bear in mind, though – there are a few fake Theraband products out there, so if the box or product doesn't say Theraband, don't be fooled.
Price ranges from £10.78 to £38.55 on Amazon, or you can purchase a set for £17 from Performance Health.
Sveltus is a French company and we love its Multi Elastiband for two reasons.
Firstly, it's not latex. It's made from elastodien, polyester and polyamide, which means it's stretchy but stronger than the above.
Secondly, it has nine loops of varying sizes to put your hands and feet into, allowing you to perform a variety of exercises. It hits each core muscle group, accommodates stretching post-workout, and is a favourite among physiotherapists to help a client increase muscle strength after an injury.
The band is 110cm long and has different colour-coded resistance levels to suit clients of all abilities: 10kg: green, 15kg: purple, 20kg: blue, 30kg: black.
Plus, it will last forever because you can wash it at 30 degrees.
It's available at Sveltus from £16.22, Sport-Thieme from £17.50 or Amazon from £15.88.
Here's what you can do with a nine loop band:
Here's a full body workout using just the open-ended strap resistance band:
Tubed resistance bands
Best for upper body workouts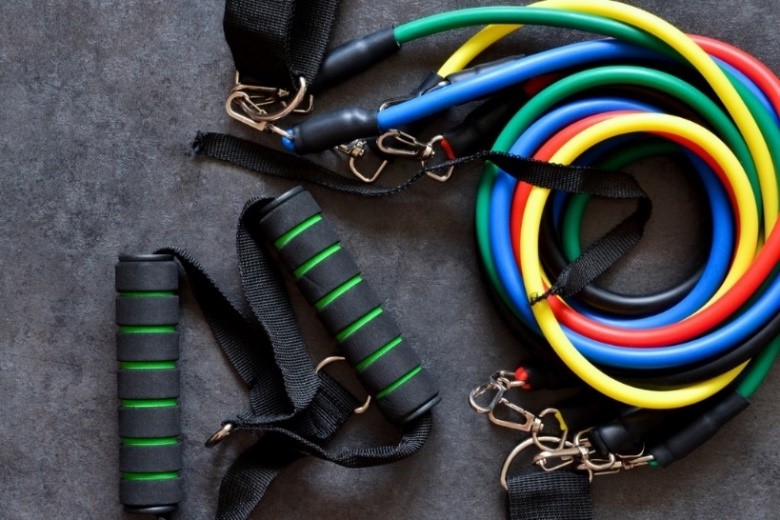 Tubed resistance bands are mostly used for upper body strength training. But, you can still do an effective whole body workout with them – or work specific muscle groups and tendons during rehab.
They're the best home workout resistance bands, so most people use them outside of the gym as they're easy to use, light and cheaper than dumbbells. You can stand on the band or attach it to a door or object and perform movements such as bicep curls, chest flys and overhead press. They usually have detachable handles and you can increase the resistance by attaching multiple bands to one handle.
Here's a tubed resistance band upper body workout:
The Victoper latex tubed bands are the best resistance bands with handles.
They're ideal for all training levels and perfect if you want an intense session, as they can withstand tension. They come in a set of five and are colour-coded to represent different resistances: black: 50 lbs, red: 40 lbs, blue: 30 lbs, green: 20 lbs, yellow: 10 lbs.
You also get four foam handles to attach to a band, or to combine the bands together on one handle for up to 45kg of resistance. All of the bands have a sturdy metal hook attached on the ends, which allows them to withstand excessive stretching without snapping.
On top of this, you receive two ankle straps to perform leg exercises, a band guard, door anchor to protect your door and a storage bag to carry them in.
They're amazing value for money, too – you can get a set of five on Amazon for £14.98.
The PhysioRoom resistance bands are our favourite option for physiotherapists and they're used by the NHS.
They're simplistic and designed to aid in the rehabilitation of sports injury, so they're not for those of you wanting a heavy-duty workout.
These 125cm long bands don't have sturdy metal accessories and their foam handles aren't detachable. They're made from high grade medical rubber and are available in three colour-coded strengths: light: yellow, medium: red, heavy: blue.
They're available at PhysioRoom and you can take advantage of some fantastic deals on their website. You can opt for all three different strengths (£22.47), a pack of nine of all strengths (£67.41), or a pack of two of the same strength (£14.98).
Unlike the others, this is a Figure 8 Tube Resistance Band, meaning it's much shorter and in a figure of eight.
For this reason, it's best suited to upper body strength and conditioning. For instance, you could perform a full arms, chest and shoulders workout just using one of these. It's possible to use one for your lower body, but it's a bit fiddly so the longer tube bands are a better option for that.
The Fitness Mad band is made from latex rubber, has soft foam grips to hold onto and is available in three resistance levels: light: blue, medium: yellow, strong: black.
Plus, they're a bargain at just £4.74 from 66fit.
Here's what you can do with a Figure 8 band:
You can do pretty much anything with a long tube resistance band, so here's a full body workout:
The above prices are correct as of September 2020.
Specialist sports insurance from Insure4Sport
You probably already know that using a resistance band comes with a few risks. You could injure yourself while using one, or you could damage an object you've attached it to if you used it at the gym.
So, it's important to make sure you're using them properly and safely. It's also crucial to protect yourself with specialist insurance.
At Insure4Sport, we offer specialist insurance for personal trainers, pilates instructors, gym members and more, to cover you for injury (personal and third party), damage (to your equipment or third party property) and theft, so you can enjoy your workout.