When you're lifting heavy weights, the finer details matter – including the shoes you're wearing. If you're looking for a pair of shoes that will help you achieve that extra 1%, look no further. These are the best powerlifting shoes on the market.
Table of contents
The Nike Romaleos range is hugely popular among powerlifters, and it's clear to see why with this latest model.
Designed for strength and stability, the Nike Romaleos 4 is packed with features that allow you to gain optimal power transfer from the ground.
It has the same solid 20mm (or 0.79 inches) heel to toe drop, narrow shape, and strong grip as its predecessor, the Nike Romaleos 3 XD. But there are a few very notable improvements in this latest offering.
Whereas the Romaleos 3 XD has one midfoot strap on each shoe, the Romaleos 4 has two. This feature allows you to fine-tune the shoe's fit and feel and further secure your feet when lifting.
The Romaleos 4 also weighs slightly more than the 3 XD – four ounces, to be exact. This extra weight will help cement you to the ground more, allowing you to lift heavier loads.
As well as being a robust and high-functioning shoe, the Romaleos 4 looks the part. It's a beautiful-looking shoe that comes in various colours, with the white version seeming to be the most popular.
With these amazing features and many more, it's no surprise that the Romaleos 4 is Nike's premium (and only) Olympic weightlifting shoe of 2020.
Price: £169.95
Ideal for: Olympic weightlifting exercises such as squats and clean and jerk.
Handy tip: As we've covered, this shoe has a narrow shape, so go for half a size smaller than you would normally wear for running.
Nordic Lifting may not be as well known as most of the other brands in this article, but it's a premium brand when it comes to powerlifting.
Its Megin powerlifting shoe is top-of-the-range and offers superb value for money at just $89.95 (which is around £65 based on conversion rates at the time of writing in February 2021).
This shoe comes with a specially raised 1.4-inch heel, strong lacing, and a sturdy Velcro strap. These features mean two things:
This shoe is durable and built to last.
You'll have optimal stability, posture, and foot support when you need it most.
The raised heel is particularly important if you're performing an exercise like squats, as it allows you to go further down on each rep without putting too much pressure on your ankle.
The Megin also features a smooth, rigid anti-slip sole, giving you further stability during all stages of an exercise.
At this point, you might be thinking – will this shoe be too tight on my feet? Well, fear not, because the padded cotton mesh on the forefoot will keep your feet breathable throughout your workout.
It's hard to believe that you can get all of these accessories for such a reasonable price. But if you do decide to get this shoe, it will be worth every penny.
Price: $89.95
Ideal for: Deep squats, deadlifts, leg presses, or any other heavy exercises.
Handy tip: You should order your regular size if you buy this shoe. The manufacturer offers a one-year warranty, and most customers find the shoe fits as they expected, so you don't need to downsize.
The Reebok Legacy Lifter II is one of the most talked-about powerlifting shoes out there. If the reviews are anything to go by, it's possibly the best on the market.
When its predecessor came out in December 2018, it was designed with pure Olympic weightlifting in mind and was Reebok's first true weightlifting shoe for some time.
The company built on this legacy (pun intended) by releasing the Legacy Lifter II in July last year (skip to 4:45 in the above video for a direct comparison).
This shoe has a robust mid-foot velcro strap and a raised heel of 22mm, or 0.87 inches, which is slightly higher than the standard 19mm heel in most weightlifting shoes.
It has a flat, all-rubber outsole which offers a lot of grip and traction. You'll also benefit from excellent lateral stability due to the Legacy Lifter II's wide base.
All-round, this shoe has a solid foundation, as confirmed by its weight of 20.3 ounces, or 57 grams. As such, it's one of the heaviest powerlifting shoes around. So, if you're wearing the Reebok Legacy Lifter II, your feet will be well and truly rooted to the ground.
Despite its heavy weight, many reviewers have praised its level of comfort, which will put your mind at ease if you have any reservations on that front.
Add into the mix that this is a stylish-looking shoe, and the Reebok Legacy Lifter II has a bit of everything.
Although it's one of the pricier powerlifting shoes on the market, it more than justifies its price tag.
Price: £160
Ideal for: Squats, bench press, overhead press, clean and jerk.
Handy tip: You should avoid wearing this shoe when performing split jerks, as this requires you to move your feet as quickly as possible.
The Adidas Powerlift shoe line has a long-standing heritage in the world of weightlifting, having been around for almost a decade. The latest edition to this line, the Powerlift 4, is a comfortable, efficient, cost-effective powerlifting shoe with a superb reputation.
Before we go into its practical features, we have to talk about this shoe's look and feel. Substance will always overrule style when powerlifting, but it's impossible to overlook this shoe's full outer canvas construction and range of beautiful colours (we love the minimalistic dark grey as shown in the above video).
Its construction comes in handy when lifting, too. The canvas upper part of this shoe is lightweight yet durable and stable, giving your feet breathable comfort without compromising on performance.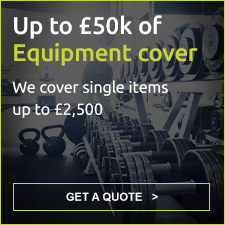 The Powerlift 4 comes with a 0.6 inch, incompressible heel made of high-density EVA foam. This heel height is ideal if you're a relatively new powerlifter transitioning from a flat shoe to a specialised model. Some of the higher heels mentioned in this article are better suited to more experienced powerlifters who don't have to make such a big transition.
What else is good about this shoe? The price point is another plus – its standard retail price is £85, but you can buy it for cheaper elsewhere.
With a smart, minimalist design, snug feel, and strong construction, the Adidas Powerlift 4 will take your training sessions to new heights.
Price: £85
Ideal for: Low bar squats, snatches, clean and jerk.
Handy tip: This shoe is ideal for low bar squats as to perform this exercise you ideally want a heel which is less than 0.75 inches.
Inov-8 is a UK-based company based in Staveley, Cumbria. Its Fastlift 335 shoe has been around a few years longer than others mentioned in this article, but the fact it's still considered one of the best powerlifting shoes on the market is testament to its quality.
It was designed to bridge the gap between powerlifting and other forms of exercise, such as CrossFit and running. This result is achieved through its META-FLEX technology, which gives the toe portion of the shoe an elastic-like response.
As such, the Fastlift 335 is not only more comfortable than other powerlifting shoes; it's suitable for a wide range of functional movements. So, if you're looking for a shoe that can be used for different types of training, this is the shoe you want.
The Fastlift 335 has a one-inch thick velcro strap which, combined with the laces and thick tongue, provides a locked-in fit. It also features an external heel cage with POWER-TRUSS Technology for increased lateral stability. The heel size is perfect, too, at 0.65 inches.
Weighing in at just 335 grams (hence the name), it's one of the lighter powerlifting shoes on the market – but don't let this fool you into thinking it doesn't provide optimal support. Its stiff rubber outsole and flexible, wide-fitting toe box will give you the stability you need when lifting heavy weights.
This shoe is available in stealth black and comes in men's and women's versions. It's a little more on the expensive side than other powerlifting shoes – but based on its long-standing reputation and reviews such as the one above, it's a solid investment.
Price: £140
Ideal for: Squats, deadlifts, snatch, clean and jerk.
Handy tip: Based on reviews, we recommended ordering this shoe half a size smaller than your other sports shoes.
Like Nordic Lifting and Inov-8, Sabosports is not a name many people would instantly recognise. But we can tell you that this company knows a thing or two about powerlifting shoes.
Its team of experts have developed and produced specialised shoes for two decades, and its Deadlift Pro shoe has proven hugely popular since being released.
This shoe's unique features set it apart from its powerlifting counterparts. For example, it has a high-top design, an ankle strap at the top of the collar, and a 40 mm wide Velcro metatarsal strap. All of this means that the Deadlift Pro provides both ankle and midfoot support, which is a huge selling point for powerlifters.
It also has a very thin outsole of just 2-5 millimetres, which is uncommon in powerlifting. This outsole is wide, which provides optimal heel support, and is made from a durable material, which gives you superior grip when lifting. What's more, the insole is removable, meaning you can go even lower to the ground if this is your inclination.
The shape of this shoe is another standout feature – it has a natural anatomical shape and rounded internal heel bottom. The rounded bottom firmly secures the heel in place and flattens when you add your weight to it, allowing for even weight distribution.
The Deadlift Pro is no frills shoe in terms of look and feel. It comes in black and has a very neutral appearance, which you may prefer.
All things considered – including its reasonable price – this could well be the shoe for you.
Price: £110
Ideal for: Deadlifts, squats.
Handy tip: Due to its reinforced side material, the Deadlift Pro is best suited to wide stance squats and sumo deadlifts.
If you're an established powerlifter, you'll probably know why we've chosen this shoe. If you're more of a novice, you might be wondering why on earth we've included Chuck Taylors in this article? Here's why…
Firstly, its flat outsole. As we've covered already, some shoes come with an elevated heel, and some powerlifters prefer this – there's no right or wrong design when it comes to powerlifting shoes. However, the flat outsole on the Chuck Taylor allows you to firmly plant your feet, limit your range of motion in the deadlift, and achieve a strong tripod foot position during squats.
Secondly, its firm construction. The Chuck Taylor's outsole and midsole is made from a strong rubber material, which gives you a firm base from which to lift and prevents you from shifting your bodyweight.
Thirdly, its breathability. The Chuck Taylor is made from a lightweight canvas material, which not only provides additional comfort but allows you more manoeuvrability if you need it.
Because of these features (and many more) the Chuck Taylor is one of the best shoes for performing the 'big three' lifts (squat, bench press, and deadlift).
The model not only offers footwear that's great for powerlifting, but which you can wear casually as well. And it's a steal at £40.
If you still don't believe this shoe is great for powerlifting, check out the above review from Jake Boly, the Fitness and Training Editor at BarBend. Jake has competed in powerlifting competitions wearing the Chuck Taylor – you can't get a much greater endorsement of this shoe than that.
Price: £40
Ideal for: Bench press, squats, deadlifts.
Handy tip: The general advice is to go for a size or half a size smaller than you normally would. Otherwise, your feet will feel uncomfortable.
The overall verdict
We've covered a wide range of powerlifting shoes which each offer something unique. Which shoe you go for depends on a variety of factors including:
The type of fit you prefer
The look and feel you want
How much you're willing to spend
The type of exercises you're performing
For all-round performance, we'd recommend the Reebok Legacy Lifter II. For value for money, we'd suggest the Nordic Power Lifting Megin or the Converse Chuck Taylors. For a shoe which is aesthetically pleasing as well as high-performing, we'd go for the Adidas Powerlift 4.
We could go on. All these shoes are amazing in their own way – it's down to what works for you. That's why we'd recommend going into a store and trying on the shoes if possible.
So, there you have it – our selection of the best powerlifting shoes on the market in 2021. Are there any powerlifting shoes you'd recommend that we didn't mention in this article? Let us know by posting a comment below.
Specialist powerlifting insurance from Insure4Sport
If you're a serious powerlifter, you'll know from experience the risks that come with your sport.
Not only could you suffer a serious injury and require some form of compensation, but the equipment you use to powerlift could be lost, damaged, or stolen.
Imagine if you'd just bought one of these brilliant powerlifting shoes and owned other equipment such as a sports bag, and then all of your equipment were stolen? If you didn't have the necessary cover, you'd have to pay for a replacement out of your own pocket, which is not something you want to do if you can avoid it.
For these reasons and more, powerlifting insurance is essential. Find out how our specialist powerlifting insurance can protect you by getting an instant online quote.
Related
The 12 Best Resistance Bands On The Market In 2021
The 10 Best Kettlebells On The Market In 2021