Veganism is an increasingly common lifestyle choice, with an estimated 600,000 people in the UK currently following a plant-based diet. What's more, flexible veganism – whereby people eat plant-based some, but not all, of the time – is also on the rise thanks to annual events like Veganuary.
Launched in 2014, Veganuary (in which people pledge to try a vegan diet for the whole of January) has grown exponentially. This year, more than half a million people across the globe signed up to the initiative.
Given that the trend is growing so quickly, most UK supermarkets now offer an array of vegan ready meals as part of their range. These convenient vegan alternatives are often marketed as "healthy" or "wholesome". The packaging tends to be green, which in itself creates multiple positive associations. Nutritious ingredients are highlighted on-pack as key constituents of the dish. But our research has found that this can be misleading.
We compiled data on 35 different vegan ready meals currently available in UK supermarkets. We analysed their nutritional labels to break down how much fat, saturated fat, sugar and salt each ready meal contains. The results, in many cases, were pretty eye-opening. Let's look at them in more detail.
Vegan ready meals: the healthy option?
We uncovered some shocking nutritional facts when we analysed these vegan ready meals.
The unhealthiest vegan ready meals
Eat Wholesome's Organic Chicken-Style Jackfruit meal contains 33g of saturated fat per serving – which equates to more than three McDonald's Big Macs. We also found that two meals by Deliciously Ella (one of the UK's original "clean eating" bloggers) contain 28g and 26g of saturates per serving. As such, they contain more saturated fat than a Burger King Double Whopper with bacon and cheese.
A Sainsbury's Plant Pioneers No Chicken Sweet & Sour dish, meanwhile, contains 30g of sugar – the equivalent of almost three and a half Krispy Kreme Original Glazed doughnuts. A Sweet Potato Katsu Curry, again from Sainsbury's, contains 19g of sugar – nearly the same as two Cadbury Dairy Milk Freddo bars.
Many more vegan meals that are marketed as a "healthy" choice were found to be far from it. A Waitrose Vegan Thai Curry dish was found to contain more salt than nearly one and a half tubes of Pringles and a Plant Pioneers Tikka Masala & Rice weighed in with 3.1g of salt, more than two BBQ Chicken Wraps from KFC.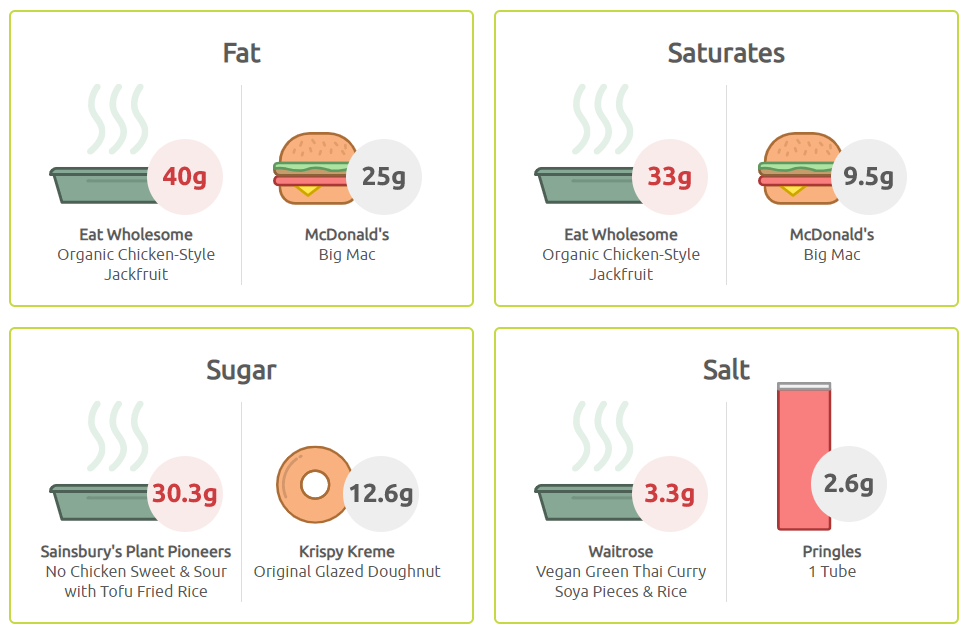 The healthiest vegan ready meals
At the other end of the spectrum (or supermarket aisle!), we found that some of the vegan meals we analysed are more nutritionally balanced. Aldi's Three Bean Chilli, for example, with its impressive 9.1g of fibre, 2g of fat and its relatively low sugar and salt content, was a one such meal.
Morrison's V Taste Butternut Squash and Chickpea Curry was another, containing 8.6g of fat, 4.3g of sugar and a decent portion of protein – weighing in at 11.6g (around a fifth of the recommended daily protein intake for an average woman).
Avoiding nutrition by default
There is – as we know – much more to plant-based lifestyle than the health benefits it provides. Sustainability is often a key part of people's decision to ditch meat and dairy in favour of a vegan diet.
However, according to 2020 statistics, the most cited reason for taking part in Veganuary was health. This is the concerning factor: there is a perceived intrinsic link between veganism and good nutrition. Therefore, many consumers will assume that by picking up a vegan meal from the supermarket, they are automatically fuelling their body with "the good stuff". And, although most of us will be aware that ready meals in general can be unhealthy, the marketing of vegan meals further perpetuates the myth that "vegan" equals "nutritious" by default.
Around 16% of supermarket ready meals are now vegan or plant-based, according to recent research. This highlights the growing trend and, perhaps importantly, the extent to which supermarkets are jumping on the opportunity to profit.
The nutritionist's view
We spoke to nutritionist Somi Igbene about the research and she agreed:
"Many epidemiological studies show that plant-based diets reduce the risk of developing obesity and type 2 diabetes – conditions that are increasing at alarming rates worldwide.
"With increased public interest, food manufacturers have begun making convenience vegan meals, advertised as 'healthy' or 'wholesome' to entice consumers. Sadly, many of these meals lack the health-promoting attributes of plant-based diets. Instead, they are high in saturated fat, added sugar and salt – ingredients that increase the risk of obesity and type 2 diabetes.
"Don't be fooled by marketing on food packaging – always read the nutritional labels on convenience meals before you buy them. As a rule of thumb, adults should consume no more than 30g of added sugars and no more than 6g of salt per day. Saturated fat intake per day should be limited to 30g for men and 20g for women."
Whilst it's admirable that so many of us are choosing to go plant-based (whether for a month, a year or even life), we urge you to check the labelling to get the facts and ensure you're making the right choice. If not, you could end up compromising a healthy start to the year without realising it!
Fancy taking a look at our analysis in more detail? For more information, including our five best and worst vegan ready meals and the full list of meals we studied – click here.
Personal trainer insurance from Insure4Sport
Nutrition is a vital component in our overall health and fitness – so including nutritional guidance to clients can certainly add value to your personal training service. However, it's important to protect yourself financially should a client become ill due after following your advice and make a claim against you.
Our Professional Indemnity insurance will cover your legal liability if you are deemed to have given negligent advice and we offer £1m Professional Indemnity as standard if you choose to include Public Liability as part of your policy. Find out how we can protect you today.