Life is all aboutwhere you end up, not about how quickly you get there – and Simon Cooper is living proof of that.
In his youth, Simon was involved in a Manchester drug gang living what he thought was the high life. But over time, this led to him becoming a debt-ridden cocaine addict who had a heart attack aged 32.
At this point, all hope seemed lost. However, Simon has managed to find a way out – and that way out was his religion and football.
A couple of years after his heart attack, Simon left his job in construction and got into football coaching. He's never looked back since.
Today, he's the Head of Academy Recruitment at Blackburn Rovers, guiding youngsters to follow their dreams and avoid the same path of self-destruction he once faced.
If our interview with Simon is anything to go by, it's safe to say he's now on the right path. Here's what he had to say.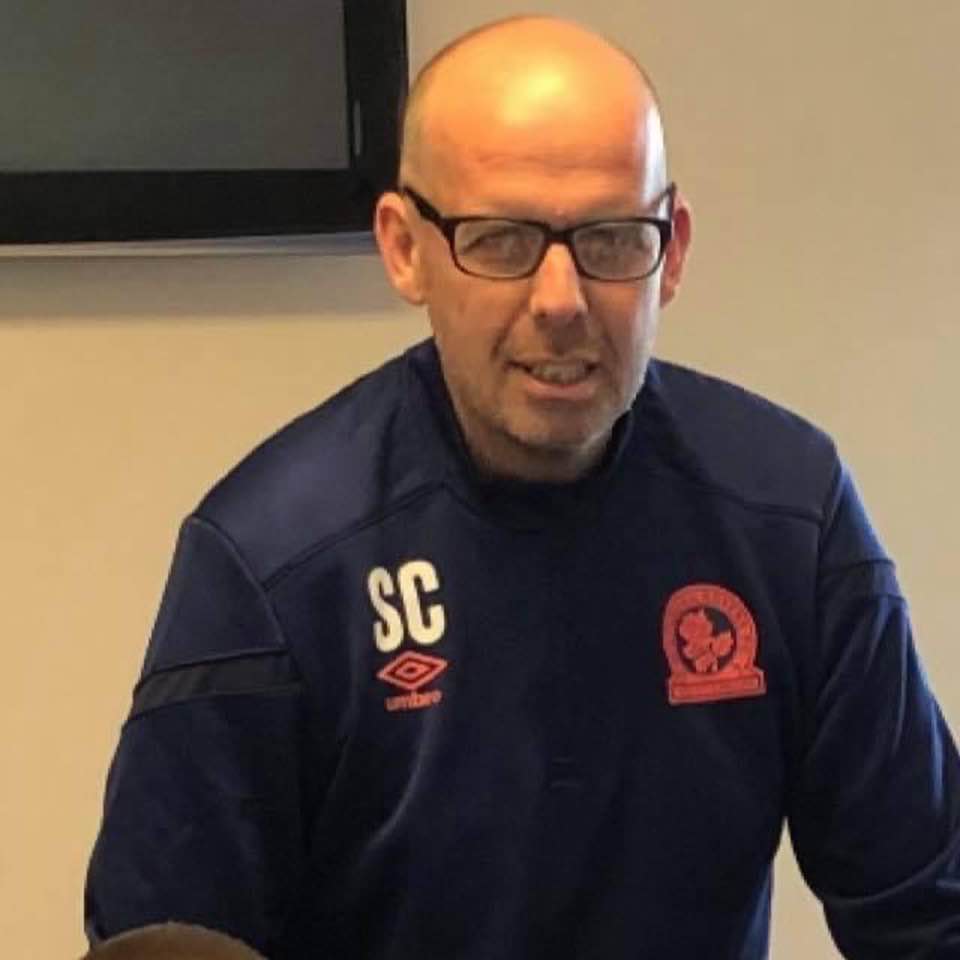 How did your life experiences guide you towards a career in coaching?
I've got transferrable skills – I can use certain skills for almost everything. When I was younger and in organised crime, I was guiding, influencing and understanding people. This wasn't from a position of control, but in hindsight it was a transferable skill.
When you're addicted to drugs, you're not in control. You come down to a level where you're broken. You feel like you've got nowhere to go and like you've been plunged into darkness. The one positive, in a way, is that you find the light within yourself and you find things out about yourself you didn't know.
When I hit rock bottom; I read a book called The Power of Your Subconscious Mind by Dr Joseph Murphy which absolutely blew me away. It's all about the connection between our minds and our vision, about how we think and visualise things. It drew on the examples of people like Sir Isaac Newton, Leonardo da Vinci, even the prophets in the Bible.
I started thinking differently and putting certain elements of the book into practice. It's basically a coaching manual when you read it, but from another level.
One of the main takeaways is that if you can get into people's hearts, you can get into their minds. If you can get into their minds, you can control their actions.
It's like that in the media, it's like that in football coaching, it's like that in a lot of disciplines. If you've got transferrable skills, you can guide people to a much better place in a positive way.
When did you realise you could guide people in a positive way?
It was shortly after I'd had my heart attack. I knew I had to turn my back on the life I was living at the time and stop other people going down a similar path. It then dawned on me that coaching could help me do this and influence people in a positive way.
I worked with a good friend called Jamie Blood and we created one of the first private football coaching companies called The Eternal Football Academy, overseeing the private coaching of more than 100 kids aged 11 to 16.
I then joined a company called Inspire 2 Independence as a life coach. I worked with hundreds of people and my task was to essentially rebrand them and change their outlook on life.
A lot of it was to do with changing their mindset. Picture a young lad – 17 to 21 years old, tracksuit bottoms, hoody, pair of trainers. People would profile him based on how he looked, and they'd guess what job he'd done before. They'dsay "warehouse worker".
They'd then profile another person with a pair of glasses and a jumper and they'dsay, "He fixes phones". They'd look at a big bloke in sports gear who looked like a bodybuilder and say "security".
Half the time, they guessed correctly. This shows how society creates a profile of people and makes these people believe they're only suitable for a particular industry.
I asked the person who worked in security how he got into it and he just said, "Because someone said I'd be good in security because I look big and I just went for it." I asked another guy how he got into fixing phones and he said it was because his brother did it, and his brother did it because his mate did it.
We pigeonhole ourselves into doing what we think we can do and we're sucked into a funnel, which a lot of us do not come out of.
It's all about your mindset. I thought to myself, I don't want to be pigeonholed. I don't want to work in construction and be on drugs anymore. I want to do something I'll love doing for the rest of my life.
How did you get into coaching for football teams? Can you give us an overview of your journey so far?
The first team I worked with was a pub team called Marine FC in Failsworth, Manchester. My mate ran the team and they were struggling at the bottom of the league. I phoned him up and I asked him if he needed a hand.
I changed a lot of things they were doing. I planned the training and made it more fun, we brought a couple of new young players in. The results started to pick up and because of this, I got approached by other football clubs.
Stockport County asked me to come and do some volunteering. This is where I met an amazing coach called Stuart Delaney, who was the Academy Manager. I became an Assistant Youth Team Coach with him and one thing led to another in starting my professional coaching journey.
I then became the Head of Recruitment at Accrington Stanley, then went to Manchester City to coach the 13 to 16-year-olds in the City Select Programme. From there, I became the Under 18 coach and Head of Academy Coaching at Oldham Athletic and now I'm at Blackburn Rovers.
My role is mainly focused on academy recruitment, but I also do coaching sessions once a week with the Advanced Training Groups which I love.
You're someone who likes to think outside the box. Are you trying to buck any of the trends within academy football?
The biggest problem I have is when people build a profile of a player based on another player who's been successful. If they've worked with a left back for two or three years, they want the next left back they work with to be the same, but it shouldn't work like that.
If you look at a cheetah and a gazelle, they can run the same speed, but they have different attributes. The exact same principle should apply when we're looking at footballers.
The first thing we should ask is, does the player affect the game? When you look at the world's best footballers, not everyone is a fast runner, but they're fast in their head. Take Sergio Aguero as an example – he doesn't have the DNA of a classic English centre forward, but he hits the back of the net on a consistent basis.
Your ideal English player doesn't always need to be a lightning quick player like Marcus Rashford, or a 6'2" striker like Harry Kane, or a genius like Wayne Rooney who was a man at 16.
You can't pigeonhole a player, or you run the risk of losing talent. One day, you're going to find a player who doesn't match your club's philosophy, but if they score 35 goals a season, you need to analyse their game and adjust to it.
I am pretty sure a young Xavi or Iniesta would not have got in a Sean Dyche team, but that profile exists within the English game. It is down to other coaches and me to take advantage of that and promote all forms of talent within football. My first two questions when I look at a player are 'How do they affect the game?' and 'What could they become in the future?'.
Do you feel that there are still obstacles for certain types of players within football, even with the changing attitudes today?
You'll find lots of technical players in academies up and down the country. They're all given a chance at that level. The problem is when they get to 20 to 21 and come out of Under 21 football.
If they're at a Premier League or Championship club and not playing for the first team, they go and play lower league football where it's back to front or down the sides. They get poor service to feet, run around winning second balls and play in an environment where there is not a lot of patience.
In many instances, players then quit and fall out of love with the game. Football as collective needs to address this issue.
We have some top-quality technical players in this country who are falling out of love with the game. I've seen it happen a lot during my time in football. They might not be good enough for the top clubs like Manchester United, Liverpool, Manchester City or Everton, but they can still have good careers if they're provided with the right environment in which to succeed.
Larnell Cole at Manchester United is a classic example. He was a great player in the youth team but didn't quite break into the first team. He went to Fulham, then to Shrewsbury, and now he's at FC United of Manchester. It's sad to see a player with his ability basically fade out of the game.
This is just one example. There are constant cases like Larnell Cole and players like him need to be coached more than one way of playing football.
How do you think English academies could tackle this problem?
Some German clubs are an interesting blueprint for how academies could be run. I recently met with coaches from FC Köln's academy and the coaches there said they let the academy teams play whatever formation they wanted. They play two or three formations a season.
The result of this approach is that you get tactically astute players who are adaptable and know more than one way of playing football. I do not see this approach to academy football a lot in England especially with the top clubs.
However, there's not a single solution to this because so many different elements affect player development. Nobody has got the ideal pathway.
People think that Ajax and Barcelona are the perfect examples of how to coach academy players, but these clubs recruit the best players in their area from their surrounding clubs. Yes, they have good coaches, but they have a brilliant recruitment strategy, and get these players early on.
I do not see any such thing as a perfect academy system. If the academy system works perfectly, why are so many big European clubs buying players at 16 and 17 years old for big sums of money?
I do believe the focus has come away from recruiting the best players aged eight to 10 because there is no correlation between a player who's brilliant at this age and the finished articles at 22 or 23.
You might get players like Phil Foden, Trent Alexander-Arnold and Marcus Rashford who come through at a very young age, but they are extremely rare cases.
How do you keep young footballers motivated, even when the chances of them making it to Rashford or Foden's level are quite slim?
When footballers are young kids, you don't know what level they're going to make it to. Nobody has a crystal ball that they can look into to predict a player's pathway or career.
If you think they won't make it, they probably won't make it, because you're subconsciously creating an environment that holds them back. As a result, they will and can feel that from your body language.
You'll get coaches who'll pass on messages to other coaches about a player – they might say "I don't think he's going to be good enough long term" – and that then plants a seed of doubt in their head about that player. They think "there's no point in working with this player because my boss doesn't think he's going to make it". You can't just write players off like that.
Football's been proven to defy logic at times. You look at players like Jamie Vardy, Didier Drogba, Ian Wright, Harry Maguire and James Tarkowski – why did no Premier League clubs pick these players up sooner? Virgil Van Dijk is another example – why did no one spend £20 million on him when he was at Groningen?
It's impossible to predict where a kid is going to end up. It's down to the individual, the environment they grow up in and the people they've got around them.
For me, one of the worst things you can do for many young players psychologically and socially is throw them £2,000 a week at 16 years of age. If that kid and his family are from poverty or tough areas of the country, it can have a hugely adverse effect on the player and his development. I do not blame the clubs directly, as they want to hold on to their investment for long term returns, but football needs to analyse this in depth and the dangers it creates.
Obviously, as a coach, you get an inkling for who might reach the top level, but I will never release a kid and just say to them "You're not good enough". I might allude to the fact that they're not better than what we've got at this moment in time, or as good as what we've got, but I'll always tell them "Don't quit, keep going".
Would you say that not enough coaches are pragmatic in this sense?
Many coaches I know are great man managers, but there are also many coaches who are not.
A lot of coaches see academy football as a stepping stone to first-team football. You only have to look across football to see evidence of that as people continually creep up the ladder within a club to get that chance. Once they get it, I believe it then sends out messages to other people that if you want to be a manager then get in the Academy and get in the club.
I'm not sure that many academy coaches would commit to working with young players if someone said "You can only coach at academy level, you will never coach the first team". That would be interesting, as I really believe they are two completely different jobs. One is a developer of young players the other is a manager of men. But that's just my opinion. To me, there are two types of coaches – those who want to win football matches and those who develop individuals and players.
Who are some of the best coaches when it comes to developing individuals?
One of the best coaches in the world is Colin Little, the Under 18 coach at Manchester United. I'm not just saying that because he's a close friend, but you ask people and players around him and he's a coach who'ss never in the limelight but makes kids better.
The number of players he's helped bring through over the years is staggering and yet no one talks about him because he rarely does interviews. If you speak to Marcus Rashford, he'll tell you what an integral role Colin played in his development.
Colin's ability to develop individuals is what makes him so special. He works on a player's weaknesses primarily; he does not care about results. If he wins the FA Youth Cup, it's a nice bonus for the lads but it is irrelevant in the targets he sets for himself for his players long term and short-term development.
To him, it is all about developing individuals to play in the first team, both from a technical and mental perspective.
Character is massive in football, but not enough coaches focus on this. When you speak to some coaches, they'll say "We won 4-2", rather than talking about how the individual players performed. If I'm asking an academy coach about a game, I want to know who the standout players were and why and whether any opposition players stood out.
That's what development should be all about but it's not. Football is a bit like school, in that there's this huge emphasis on results. It's too 'one size fits all' at times, when the end goal is producing quality football players for the first team as opposed to a proper team.
It obviously helps to get good marks, don't get me wrong, but not everyone learns this way. I learnt more when I left school than I did at school and so did lots of other people. Footballers are the same – you have to be patient with them and not just give up on them if they do not meet a certain set of criteria or do not learn like you want them to.
Is it important, therefore, for coaches to take a long term view on player development?
Absolutely. I always refer to two children's stories that have been around for hundreds of years, with good reason.
One is The Tortoise and the Hare. That story is all aboutwhere you end up, not about how quickly you get there. The tortoise gets over the finishing line after the hare gets complacent.
This can be applied to football. Some of the best players in their age group at 11 or 12 get lackadaisical and end up achieving less in football than those who are fourth or fifth best.
The difference is, the fourth or fifth best players are constantly pushing themselves to be better (I call these the chasers). They might be late developers physically, or might not be technically the best players, but their work ethic gets them over the line. Johan Cruyff is the perfect example. When he was a kid aged 12 or 13, he was just skin and bones and constantly got pushed off the ball. At around 16 or 17, he had huge growth spurts and the rest is history.
Another story which you can apply to football is The Ugly Duckling. The duckling was picked on and it hated itself, but it matured into a beautiful swan. It's the same with football players. Coaches can either see an ugly duckling which isn't the finished article and write it off, or they can see the potential swan.
As I said, there are a lot of special coaches who make the wellbeing and development of players a top priority. For example, people like Scott Sellers, Head of Academy Player Development at Wolves, Jason Wilcox and Stephen Torpey at Manchester City, John McDermott at Spurs (now the FA) and at Blackburn Rovers our very own Mike Sheron and Ryan Kidd. Unfortunately, many football coaches do not. These are just a few examples and there are many great developers out there dotted about whom I do not know well but I have seen doing great work.
What have you found to be the most rewarding aspect of working with young footballers?
If you ask any proper coach, they'll tell you it's helping these players go on to have a good life – whether that's in or out of football.
Some of the greatest pride I've felt is not from lads who've done well on the pitch, it's from lads who've done well off the pitch.
One of the young lads I coached who's now playing in America recently contacted me and said he's having the best time ever. He said that a piece of advice I've given has always stuck in his head, which was not to quit and to live in the here and now and BELIEVE in himself.
I have seen some players have a football career and live in misery. Everyone thinks it is a great lifestyle, but I have known some players who are disillusioned with football and what comes with it and have walked away. Some people have played football since they were eight or nine, playing three times a week, and it can take a lot out of you if you don't feel like you're getting anywhere.
What I would say to any young player is, football is not the be all and end all. Having a good quality of life is the most important thing, whether that comes from football or something else.
You alluded to the importance of living in the moment. Is this a rule you live by?
Definitely, I'vealways said to those I'vecoached to live in the here and now and do not quit, keep doing what you are doing. Don't be anxious about the future or depressed about the past. Enjoy the journey and do not worry too much about the end destination.
When you get to the end of the road and find what you think is your treasure, it doesn't exist. The treasure is the journey.
The treasure was being in the car with your Dad for an hour and a half on the way to a game and having a good chat with him. The treasure is all the people you meet along the way.
That's the beauty of football and life in general, but people don't see it like that because they're too busy chasing material things.
People shape you, not winning football matches in an Academy U11's programme. Someone could say something to you that could change your life, even if it's just a stranger telling you that you can achieve your dreams.
When I was addicted to drugs, someone said to me "You can be who you want to be, you just can't see it yet because you have no vision" To me, that advice is worth more than all the materialistic watches, money and cars in the world.
This is what young footballers want. They want guidance, they want praise, they want attention, they want compassion. They basically want to feel appreciated and to be made better.
Winning a trophy is the end game for many but, realistically, is it the pinnacle? That's just a shiny thing that piques people's interest. Look at Jose Mourinho when he won the Champions League with Porto – he threw his medal into the crowd. He enjoyed the challenge and when that challenge was over, he wanted another one. He wanted to better himself.
That, in a nutshell, is what coaching is about in my opinion – making yourself and the people around you better. Everyone has their own philosophy about coaching and many people will disagree with mine. But at the end of the day, if you're worth your crust as a coach, you will change a player for the better and improve his life. I guarantee you that, when you do, they will tell you.