Here at Insure4Sport, we're always thinking of ways to make life easier and safer for people who love and work in sport. We felt it was unfair that people who play or coach more than one sport should have the expense and inconvenience of finding different policies for each sport. That's why we created Multi-Sports cover.
How Multi-Sports Cover works
All the sports we cover at Insure4Sport are split into 5 risk groups: A, B, C, D and E. Risk group A covers the lowest risk sports, everything from bowls to water polo. At the other end of the scale, risk group E covers the riskiest – or 'Extreme – sports; such as the Ironman Triathlon and Coasteering.
With Multi-Sports Cover, you're not just insured for your main sport, you're also covered for everything else in that same category and those below it – at no extra cost. So, if you play ice hockey, you'll be in risk Group C. With Multi-Sports Cover, you'll be covered for any other sport from Group C (like Archery), as well as anything from A or B too. If your sport falls under our highest risk group (E), then you're insured for up to 276 sports – all under one policy!
Multi-Sports Cover works exactly the same for teaching and coaching sport too, as long as you have the minimum qualifications recognised by the UK National Sport Governing Body and stick to the right participant ratio.
We recently spoke to some of our customers to see how Multi-Sports Cover has mad their lives easier and cheaper:
GARRY: "I'm an experienced on-piste skier and visit Europe every winter to ski. I've had specialist skiing insurance for 3 years now with Insure4Sport. With Multi-Sports Cover, I'm in risk group D, and also insured for all the other sports in groups D, C, B and A – which is handy, as I'm also a trampolining coach, and a keen badminton player. Thanks to Insure4Sport's Multi-Sports Cover, I've been able to insure all my sports on one policy which has saved me hundreds of pounds over the year!"
ALISON: "I play – and occasionally teach – a lot of outdoor sports in remote locations. I'm fully qualified but because they're considered 'risky', it used to be a nightmare finding cover. When I found I could get Bushcraft, Potholing and Rock Climbing on one policy with Insure4Sport's Multi-Sports Cover – I switched from my old provider straight away! The fact that I'm covered for everything in the lower groups too is an added bonus, as I can get out on the bike at weekends with peace of mind, knowing that I'm covered."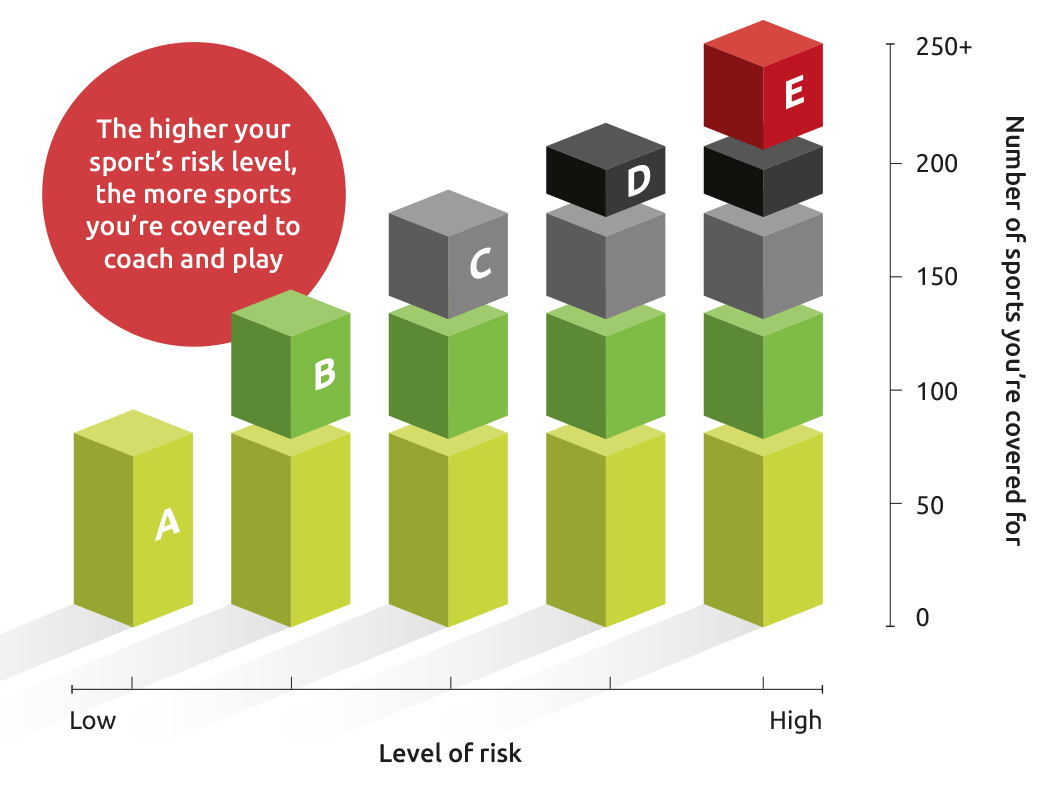 JO: "I coach sports for a youth organisation, and we have so many activities for our kids that I lose count! Finding cover for every single one individually would be impossible, but with Multi-Sports Cover it's a piece of cake. All our main sports like Football, Basketball and Table Tennis are all covered in either risk groups A or B. In fact, the list has even given me a few ideas of new activities we're going to add!"
MAHMOUD: "Me and my mates do all sorts of sports together. We met playing five-a-side, but now we do a lot of endurance stuff too and we LOVE paintball. When one of us discovered Insure4Sport's Multi-Sports Cover, we all just got it straight away. We can go almost anywhere and do almost anything and never have to worry about extra insurance!"
Want to be covered for up to 276 sports yourself? Take advantage of our Introductory Discount and get an instant online quote for our Multi-Sports Cover today.