We're delighted to announce that we've just launched our brand-new, fully mobile-optimised website! We think the update has transformed the website so read on for more details about what's new…
Over the last few years, we've been inundated with requests from adrenaline junkies wanting insurance for more adventurous sports so we've now added protection for 35 extreme sports. We understand that seeking thrills and taking risks is all part of the fun, but, regardless of how dangerous your chosen sport is, taking part without being fully protected would be one risk too far – even for an adrenaline junkie!
From mountaineering and MMA to caving and skydiving, we've added 35 new extreme sports so check to see if your sport is now covered.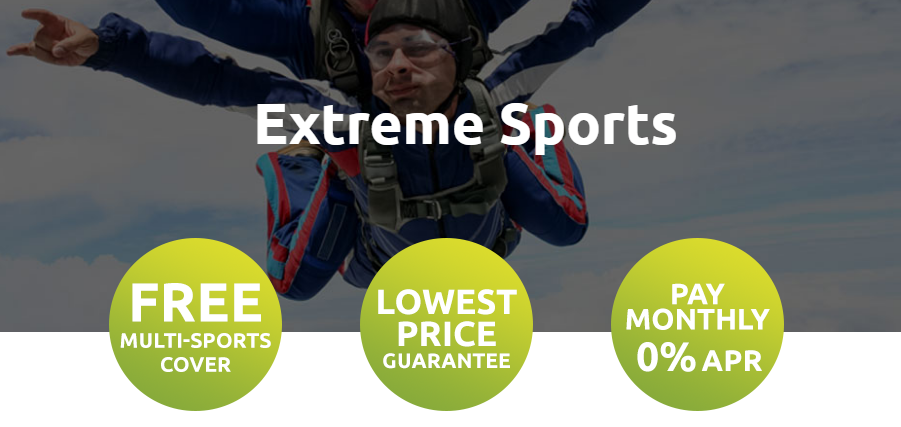 Mobile-Optimised
Our first step to creating the new-look Insure4Sport website was to survey our customers to find out what they felt we could do to improve the website. We found many of you wanted a website that matched yourselves: dynamic, efficient and mobile-optimised!
Therefore, our fully mobile-friendly site means it's quicker than ever to get a quote and buy online! We then email the documents, including the certificate of insurance, within minutes of the insurance being taken out.
Pay Monthly With 0% APR
We've also made it possible to pay with monthly instalments with 0% APR, as long as the annual premium is at least £50.
With Insure4Sport, you only pay for the cover you need, as we allow you to tailor your policy to match your requirements exactly. Plus, we're so convinced that we can beat your renewal premium that we offer a Lowest Price Guarantee.
Simply tell us the month your renewal is due and we'll get in touch closer to the time to see if we can save you some money on your sports insurance. Plus, we'll enter you into a prize draw to win £200 to spend at Decathlon!
So whether you're an adrenaline junkie, a personal trainer or a cricket coach, it makes sense to get the right insurance. With Insure4Sport, you can tailor your policy so you only pay for the cover you need – including Public Liability, Personal Accident, Loss of Earnings, Professional Indemnity and much more.  We also offer FREE multi-sports cover for 276 sports – perfect if you instruct or play more than one activity.
Our blog readers can enjoy an EXCLUSIVE 20% DISCOUNT, so get your instant quote online now.