Whether you're an adrenaline junkie or simply looking to tick a once-in-a-lifetime experience off your bucket list, skydiving is a fantastic way to let off steam.
There's nothing quite like the rush that comes with jumping out of a plane at 15,000 ft, and the views on the way down are usually nothing short of spectacular.
Better still, you don't even have to leave our shores. There are lots of great options when it comes to skydiving in the UK. Here are our top 5 drop zones.
Perranporth, Cornwall
Boasting the only coastal drop zone in the UK, Perranporth is the perfect place to skydive if you're looking for uninterrupted ocean views. It's a picturesque seaside town near Newquay on the west coast of Cornwall and is famous for its golden sands and annual music festival – Tunes in the Dunes.
Perranporth is home to the Cornish Parachute Club, which is situated just 10 minutes' drive from the town. The club offers tandem skydives for £240 per person and also provides accelerated freefall training on-site.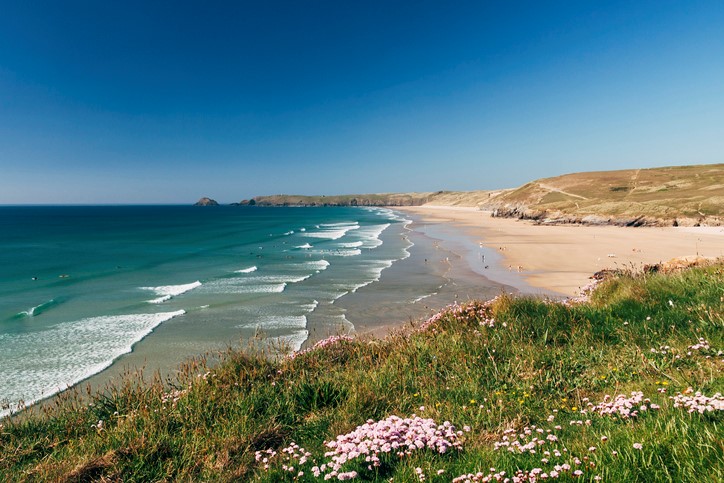 Sticking around?
If you're planning to make a weekend of your skydiving trip, why not stretch your legs and marvel at the views from ground level on the South West Coast Path? A surf school caters for wannabe beach bums, while those looking for an easier life can head to the Watering Hole – the UK's only beach bar – and raise a glass at sunset. Perranporth has a range of accommodation options, from cosy B&Bs to self-catered cottages.
More information can be found on the Perranporth tourist information site.
Haverfordwest, West Wales
West Wales – also known as The Garden of Wales – is a drop-dead-gorgeous area of the UK which consists of seemingly endless green countryside, winding rivers and stunning coastline.
Why is it one of the best places to skydive in the UK?
Skydivers looking to take in the sights from above should head to Air Adventures Wales. The club is based at Haverfordwest Airfield and claims that – on a clear day – jumpers can see all the way over to Ireland. Tandem skydives can be booked with a £50 deposit, with prices starting at £130 for a 7,000ft jump.
The team also offers the option to jump for free by raising money for their chosen charity, the Welsh Air Ambulance.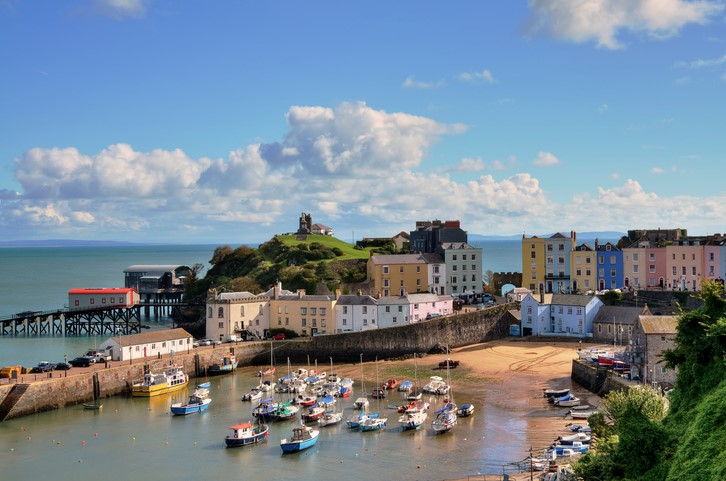 Sticking around?
A journey around the dramatic Pembrokeshire coast is definitely worth a weekend trip in itself. Popular and picturesque towns like Tenby provide family seaside fun and attract fewer crowds than you'll find in resorts across the south of England. If you're seeking further thrills, head to Oakwood theme park and take on Megafobia, voted one of the UK's favourite wooden rollercoasters, or Drenched, a 100ft water plunge ride.
Visit Wales has lots of information about where to stay.
Beccles, Suffolk
Next, we head to East Anglia where, chances are, your skydive won't be rained off! It's one the driest areas in the UK.
The market town of Beccles, on the Norfolk/Suffolk border, is basecamp for a jump with the team at UK Parachuting. The site is around 15 miles south of Norfolk and offers tandem skydives from 13,000ft. Jumps start at £250 per person, with special offers in place for group bookings and weeknights.
UK Parachuting also provides accelerated freefall training if you're looking to take the next step and learn how to skydive solo.
Sticking around?
Beccles is situated on the beautiful Waveney River which meanders its way through the town. If you're into watersports, hiring kayaks or canoes for the day is straightforward – and don't forget the Beccles Lido for a spot of sunbathing.
Further afield, Lowestoft is a great day out. Here, you'll find the East Anglia Transport Museum. Climb aboard an old tram, or wander the streets filled with the buses and trolleybuses of years gone by.
For more information on what to do in Beccles and more widely across Suffolk, take a look here.
Grange-over-Sands, Lake District
No tour of the UK's finest aerial vistas would be complete without a nod to the Lake District.
Soak up the stunning Cumbrian countryside from 15,000ft near Grange-over-Sands with Skydive Northwest.
Why is it one of the best places to skydive in the UK?
There are plenty of options here – from trying out a tandem jump as a first timer to flexing your skydiving muscles as an expert. Known as the "friendliest drop zone in the UK", the site is open to all levels. Tandem packages cost £240 and can be secured with a £50 deposit.
Skydive Northwest also houses the only aircraft purpose-built for skydiving in the UK and has even been featured on BBC One's "Secret Britain" – a series that explores the hidden gems of the UK countryside.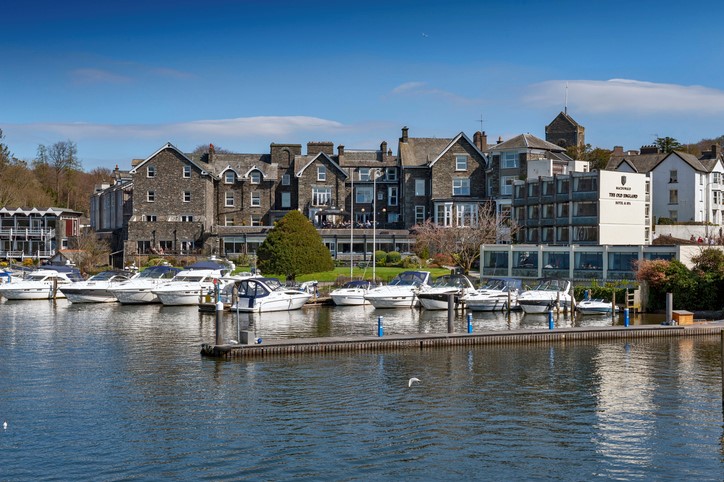 Sticking around?
If the spectacular views whet your appetite to explore more of the Lakes, you're in luck. Bowness-on-Windermere is less than 30 minutes' drive away. The town is a tourist hotspot and birthplace of Beatrix Potter, whose visitor attraction is a favourite for kids and adults alike. Options for eating, drinking and accommodation are almost endless – so visit the tourist information website for recommendations.
Errol, Scotland
When you think of Scotland, what springs to mind? Rolling hills, pretty villages and mysterious lakes? We've got great news – you're not mistaken. Take to the skies to witness all this and more!
Paragon Skydiving Club is situated near Errol, a tiny town between Perth and Dundee. The team, based on an airfield originally built for use in World War Two, offer a friendly skydive experience you will never forget, with views that stretch across Scotland's breathtaking east coast.
A tandem free fall costs £260, with jumps for qualified skydivers also on offer for as little as £18.
Sticking around?
If the adrenaline rush of your skydive leaves you reaching for a well-deserved tipple at the end of the day, we have just the thing. Just a few minutes' drive from the village of Errol is Cairn O'Mohr, a winery that specialises in crafting fruity wines, ciders and non-alcoholic beverages. The company not only sells the fruits of its labour, but also offers tours. Click the link above to find out about availability.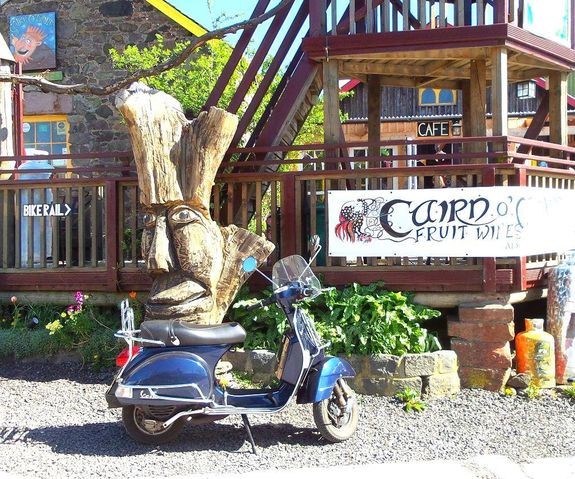 Prefer to head to a city? The sights and sounds of Edinburgh are also within easy reach – just 40 minutes by car, in fact.
More information on Errol and the surrounding area can be found here.
If this article has inspired you to give skydiving a try – or even if you're a seasoned expert – the next step is to make sure you're properly insured. Despite being truly thrilling, it's a dangerous pursuit for obvious reasons (they don't call it an extreme sport for nothing). Get an online quote in just a few minutes today.