Amy Shaw is proof that passion and commitment can go a long way towards success. In just a couple of years, Insure4Sport policyholder Amy has gone from studying her Masters to recently becoming the Strength and Conditioning Coach at Arsenal Women Football Club, moving from AFC Wimbledon.
In doing so, she has joined the reigning Women's Super League champions and is working with some of England's top female footballers.
However, Amy has even more strings to her bow. She also owns her own business called Shaw Fit, offering personal training, lifestyle coaching and performance coaching.
It's because of this commitment to going above and beyond that Amy is this quarter's winner of our Personal Best Award. We speak to Amy about her career to date and the things she's learned along the way.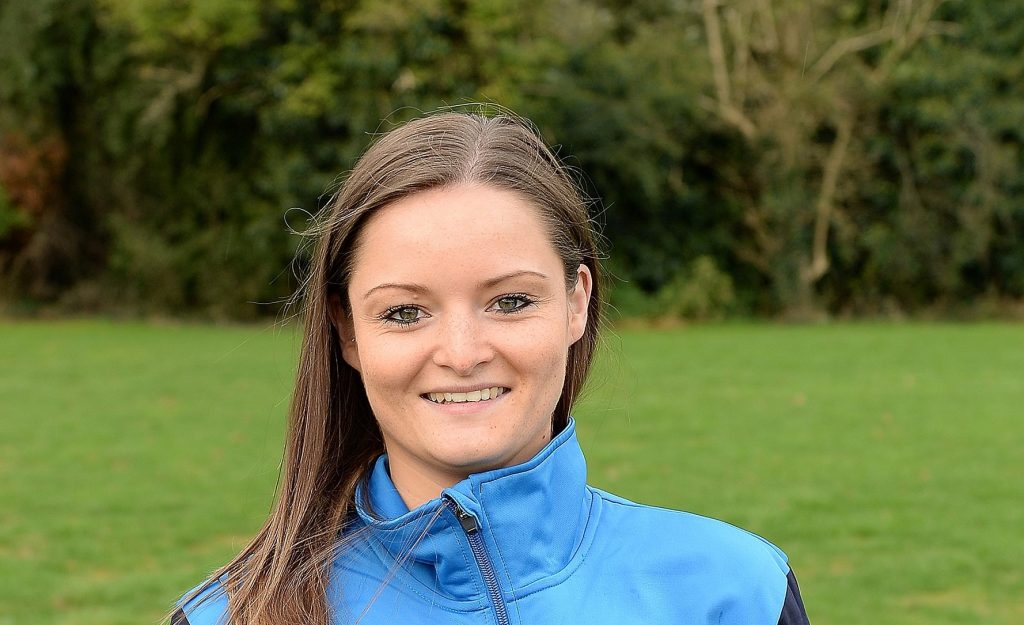 Early beginnings
Amy hails from Hemel Hempstead in Hertfordshire. She played football from an early age but, despite her passion for the sport, didn't end up pursuing a career path as a footballer.
"Women's football back then wasn't as high-profile as it is today and it wasn't a career path many young girls could go down.
"However, I began learning about the different roles women had within football, such as performance coaches, fitness coaches and physios, and the roles they played in helping footballers achieve their dreams of going professional.
"I decided quite early on that this was the route I wanted to go down. I particularly enjoyed the physical performance aspect, helping to enhance footballers' performance levels and reducing the risk of injury."
Amy's ambition took her to London Metropolitan University, where she studied for a Bachelor's Degree in Sports and Exercise, and then to Middlesex University, where she studied her Masters in Strength and Conditioning.
Whilst at London Metropolitan University, Amy volunteered as a football coach at her local club Berkhamsted Raiders Community Football Club and became a sports science intern at AFC Wimbledon – where her fitness training career really took off.
AFC Wimbledon
Upon graduating from London Metropolitan University, Amy was offered a job at AFC Wimbledon as Strength & Conditioning Coach. She stayed there for several seasons, working with the Under 9s up to the Under 18s.
"When I was training with the younger players, it was all about mastering their own body weight and working on movement patterns.
"Then as they got older, they would start learning gym exercises such as squats, lunges and hinge movements, getting used to the mechanics of these exercises.
"Then at ages 16 to 21, when they've got the physical foundations in place, I would focus more on loading with weights."
Clearly, a great deal of methodology went into training such a diverse range of age groups – but this work was not without its rewards.
"A few of the boys I worked with at AFC Wimbledon went on to get professional contracts either at AFC Wimbledon or at other clubs, which is really positive.
"Working with players on the pitch and in the gym and seeing their progress is what it's all about. The gym can be quite a scary place for some people, but over time they learn to love it.
"On the performance side, it's all about seeing them develop and knowing that I've helped to enhance their performance. It might be that they can jump higher, last longer in fitness tests or they've increased their acceleration.
"Whatever it is, even relatively small improvements give me a huge amount of satisfaction."
Last month, opportunity beckoned for Amy and it was time for her to move on to pastures new – at a club called Arsenal.
Arsenal
Amy joined Arsenal Women Football Club to train with some of the game's brightest prospects – and move a bit closer to home!
She trains with the Under 21's and college programmes as a Strength and Conditioning Coach and her work involves both pitch-based and gym-based sessions.
"I do speed testing, looking at the players' speed and acceleration. I run agility tests, getting the players to turn on their left and right hand sides. This in turn tests their balance and enables me to see which side potentially needs a bit of work.
"Physical screening is another key area of my role. To test the players' landing mechanics, I get them to jump off a platform, land and explode up into another jump.
"I'll also carry out posture assessments, to see if they've got rounded shoulders or if they need to work on their upper back. Then there's the more conventional stuff like gym work, so things like deadlifts and bench press.
"As with any football club, some people will pick up certain things quicker than others. That's always a challenge in my role, but one I really enjoy."
Off the pitch
Away from Arsenal, Amy's time is taken up with Shaw Fit. Among other services, she offers mindset coaching as part of her personal training package.
It's through this coaching that Amy has managed to transform the lives of her clients for the better.
"I'm a firm believer that if you want to enhance performance, you'll never fully reap the benefits unless you perfect your mindset.
"I had a lady come to me and I could see early on that there was something missing. I designed a mindset coaching package and she had 4 hour-long sessions with me.
"We worked together in a less intimidating environment than a gym – it was usually in a coffee shop. We'd just have a chat and she'd bring her notepad. We worked through different mindset routines for confidence and self-belief and there was a huge improvement throughout the sessions.
"As a result, she really learnt to value herself and has a lot more self-confidence in the gym and day-to-day life. She then gained the confidence to apply for a job which she got and which she'd had for a while.
"All of this just shows how powerful the mind can be, not just in exercise but in everyday life. You can always push that little bit harder to get the results you want."
Breaking the mould
Amy is one of many inspiring people at the heart of women's football, helping change perceptions of the sport for the better.
In fact, such has been the rise of women's football in recent years, that England women's football World Cup opener against Scotland at the Women's World Cup saw a peak audience of 6.1m viewers – 3.5m higher than their male counterparts who played the Netherlands in the Nations League in the same week.
This is despite the fact that four in ten UK people believe that women's sport should not be given equal coverage to the male equivalent, according to our recent study.
We asked Amy what she had to say on this…
"There are certainly challenges for women working within football, as it's a sport which is considered to be male-dominated.
"However, I don't feel like I've got anything to worry about, because if I can enhance performance and reduce their injury risk, I know I'm doing my job.
"The game has moved forward massively in recent years and it's great to see so many more women working within football and other sports."
Advice for others
There are lots of young, up and coming football coaches out there who will be looking to follow in Amy's footsteps in the coming years. Here's what she had to say to them based on her career so far…
"First and foremost, be prepared to give a little. Voluntary hours were priceless for me when I was starting out.
"I wouldn't be where I am today if it wasn't for my internship at AFC Wimbledon. I learnt so much from observing different people there, whether it was the physio department, the coaching department or the talent ID scouts.
"I got so much out of it in terms of knowledge and education and now I can take all of this knowledge to Arsenal and hopefully use it to enhance the club's performance."
Of course, peace of mind is a key ingredient to success in every job – and Amy also had some advice for those working in the fitness industry about the need to have specialist insurance…
"If you don't have insurance, just get it to make sure you're covered. If something goes wrong, God forbid, you've got the resource to protect you and a decent insurance company to fall back on.
"Insurance is massively important in any industry which involves such high levels of physical exertion. In my industry, there's always going to be an injury risk, which is why you can't afford to take any chances."
Gaining recognition
As a result of winning our Personal Best Award, Amy will now receive a year's free insurance.
But more than that, this award is one of many stamps of professional approval she's set to achieve throughout her career.
We'll leave the last word to Amy…
"It feels great to win this award. It's always nice to get recognition for the hard work I put into my career and I want to thank Insure4Sport for recognising and appreciating what I do."