It's the latest trend in water sports, with fitness fans and celebrities the world over extolling the benefits it delivers. Move over, surfing. We're talking paddle boarding.
What is paddle boarding?
Paddle boarding – also known as stand-up paddle boarding (SUP) – has its roots in surfing. It, too, hails from Hawaii and is very similar to surfing in that it involves standing (or kneeling) on a floating board in the water. Instead of waiting for a wave to propel you forward, however, you do so with a paddle (essentially a long oar). In that respect, it's a lot like kayaking, but it requires a lot more coordination!
The fact you don't need to catch a wave means SUP is far more flexible and accessible than surfing. It's ideal for beginners, as you can do it on flat water with no issue.
For tips on how to get started, check out this video.
The physical benefits of paddle boarding are perhaps the most obvious – the average person can burn around 400-500 calories per hour while on the board. But, there are many other benefits of paddle boarding. Here are the top 5.
1. It builds your strength and fitness. Fast.
SUP is the ultimate full body workout. First of all, you use every part of your core to balance and stay upright. The choppier the water, the harder your ab muscles will work to keep you steady.
As with kayaking or canoeing, you'll use your arms, shoulders and back to perform the paddling motion to glide across the water. You'll also use your leg muscles in tandem with your arms to provide momentum and retain your stance.
And that's before we even talk about the possibility of swimming and hauling yourself out of the water if you do fall in!
Best of all, paddle boarding is very low impact. As such, it's ideal for anyone with weaker joints, whether you have an injury or simply prefer lower intensity activities.
2. It promotes good mental health
Paddle boarding is almost exclusively an outdoor sport. Countless studies – such as this one by the University of East Anglia – have shown that immersing yourself in nature can relieve stress and even help tackle depression.
Indeed, if the coronavirus lockdown taught us anything, it's that people crave being outdoors.
As highlighted above, the sport also offers an intense physical workout which, as has been widely cited, releases a rush of feel-good endorphins. For anyone who isn't aware, endorphins are proven to mitigate feelings of anxiety and low mood.
3. It offers a great way to explore the UK's stunning waterfronts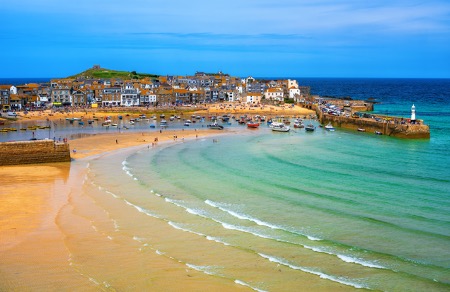 A recent survey showed that almost half of Brits are planning to take a UK break this year. And, it turns out, many are keen to try a new activity like paddle boarding.
This isn't too surprising, given that the UK is awash with so many amazing places in which to try water sports. From the Lake District to Bristol Harbourside or one of the country's many rivers, you're spoilt for choice. We're an island, after all.
Paddle boarding, like any other water-based activity, provides an opportunity to get up close and personal with areas you may not have otherwise considered as go-to destinations. And the likelihood is that, once you've caught the bug, you'll be travelling to your nearest paddle boarding spot every weekend.
Take note: you'll need to obtain a licence to paddle board on a canal. However, if you take a lesson or hire a board through a UK club, they should have sorted this for you.
The top three places to paddle board in the UK
Pembrokeshire, west Wales
Explore the picturesque welsh coastline at Haverfordwest in Pembrokeshire. Big Blue Kitesurfing provides much more than its namesake – and caters for paddle boarding, among other water sports. Try a half-day session with one of its qualified instructors for just £45 including equipment.
Carbis Bay in St. Ives has an air of the Caribbean about it, thanks to its clear waters and sandy beaches. Head to Ocean Sports Centre for a taster group lesson of two hours, priced at £35. It could be the perfect addition to a holiday on the Cornish coast.
Situated in the heart of the Lake District in Coniston, Lake District Paddle Boarding offers starter courses in a secluded spot with flat water, which is perfect for beginners. A three-hour lesson with equipment costs £45.
4. It's sociable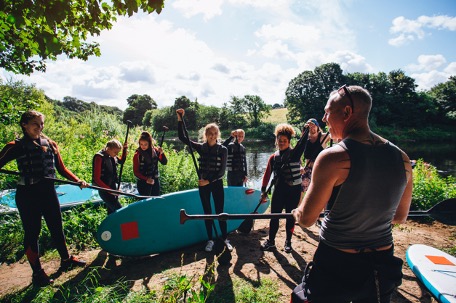 Although not technically a team sport, paddle boarding is a great social activity. It's ideal for all ages, so makes for a family adventure you're unlikely to forget in a hurry.
Or, if you're planning on paddle boarding solo and want to make some new friends, there are dozens of paddle boarding clubs up and down the UK. Many of these offer beginners' lessons and have an active social scene. You could also find a local club via Facebook.
Put it this way: chances are, if you're the kind of person who's keen to get stuck into a new activity in the great outdoors, you'll find a kindred spirit or two at a paddle boarding club. So, what are you waiting for?
5. It's ageless
As highlighted above, paddle boarding is a low impact sport that helps to improve your balance and build muscle. It's therefore perfect for seniors who may be bored of swimming, looking for a new challenge but not ready to throw themselves in to marathon running!
Paddle board insurance from Insure4Sport
Like all water sports, there always risks involved when paddle boarding. You could pick up an injury or your board could be lost, damaged or stolen. That's why it is so important that you have paddleboarding insurance in place before you head out onto the water. Get a buildable, bespoke quote today.
And, don't forget, we can also help if you're a coach or part of a paddle board team.