Contrary to popular belief, vegan protein shakes aren't consumed solely by vegans. Many people switch to vegan protein shakes to avoid whey, because of dairy intolerances, or because whey protein can cause acne, according to skin experts. What's more, vegan protein is as beneficial as whey protein in helping to maintain and grow your muscles, according to a recent survey on UFC fighters. But there are so many on the market – each with different nutritional values, textures, flavours, and prices.
So, what are the best vegan protein shakes? Here are 5 gluten-free shakes you need to try.
Table of contents
*Nutritional value and ingredients can vary depending on flavour.
**Please remember to check for allergens
***Certain customer reviews have been paraphrased
The tastiest vegan protein shake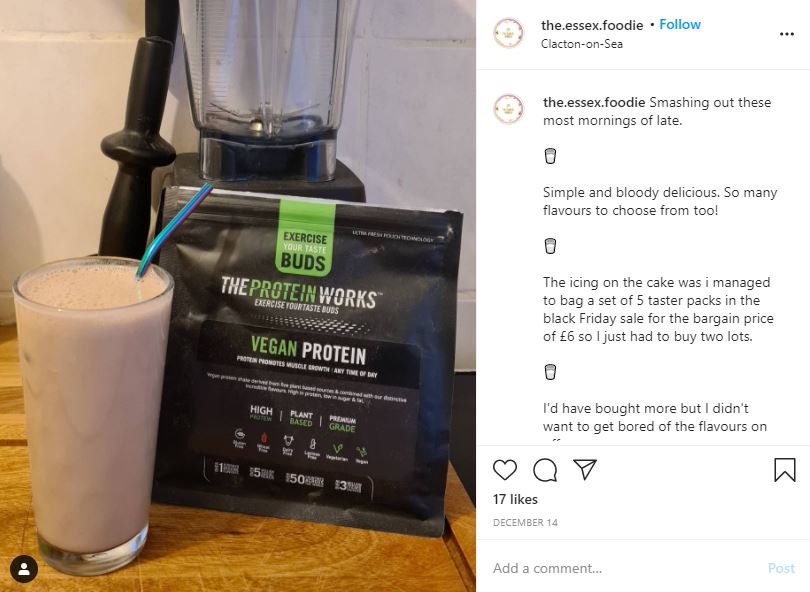 The Protein Works is a UK-based company that you might not be familiar with. However, its vegan protein makes our list of favourites – and deservedly so. It's smoother and less dry than other brands, which is a big plus when it comes to vegan protein shakes because they're few and far between.
It has five different protein sources – hemp, brown rice, sunflower, soy, and pea. This range of protein sources is another advantage because you're getting a wider and more comprehensive variety of nutrients.
It's also available in four different sizes and an array of weird and wonderful flavours which taste exactly how they're supposed to – delicious.
Protein: 25g per serving (30g)
Amounts: 500g, 1kg, 2kg, 4kg
Flavours: Birthday cake, choc mint brownie, choc peanut cookie, chocolate silk, cookies n cream, millionaires shortbread, salted caramel, strawberries n cream, vanilla crème, unflavoured
Price (based on 1kg): £16.78
Reviews: 5/ 5 stars (293 reviews)
Including:
"I've just made the switch to the vegan offering, and I've not been disappointed – very versatile. I've put it in smoothies, porridge, and pancakes.
"It mixes well and quickly (with no lumps), comes in a delicious vanilla flavour, and doesn't have that "earthy" aftertaste that some other vegan protein powders do."
"This vegan stuff is great, and I have no issues at all with it. It tastes good, goes down fine, and comes at a reasonable price. I keep coming back for more."
The Protein Works also produces other vegan proteins. These include the Vegan Protein Extreme, which "packs more protein, vitamins, minerals and healthy fats into one shake than almost any other protein powder available today", and the Vegan Mass Gainer, a weight gain supplement.
The healthiest and most sustainable protein shake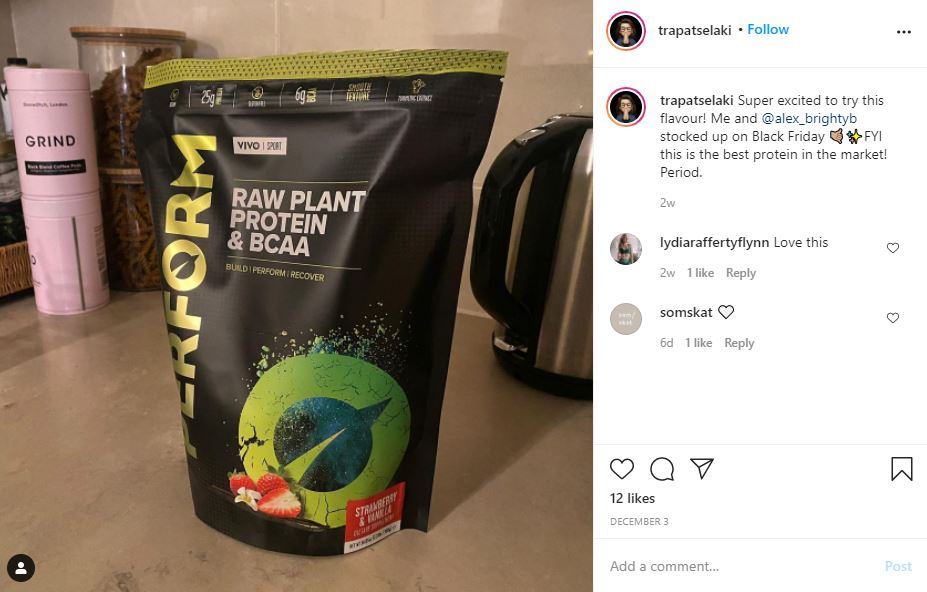 Vivo Life is a brand to be reckoned with. Before we even get onto the protein powder, there are a few things we love about Vivo Life right off the bat.
It's a certified carbon neutral company
It's has a plastic-free ethos – its protein powders don't even come with a plastic scoop, unlike most protein powders. Instead, the packaging is compostable. It's made entirely from plants.
For every order, Vivo Life plants one tree.
It has a plant-based University, an online platform with educational resources and members
It offers a 30-day money-back guarantee
It's vocal about mental health
Now let's look at the vegan protein powder, which is made from 100% raw plant-based ingredients. It's packed full of nutrients, including: bio-fermented yellow pea protein, cold-pressed hemp protein, plant-based BCAA, digestive enzymes, raw cocoa powder, and turmeric extract.
It mixes great and tastes amazing, too. It's available in two sizes (small and large) and seven different flavours. If that's not enough, it's used by some famous names, such as England Rugby 7s Captain Tom Mitchell, and Pro Bodybuilder Nimai Delgado.
Protein: 25g per serving (38g)
Amounts: 532g, 988g
Flavours: gingerbread spice, Madagascan vanilla, strawberry and vanilla, salted maca caramel, raw cacao, banana and cinnamon, acai and blueberry
Price on website (based on 988g): £34.99
Reviews: 4.6 / 5 stars (4,076 reviews)
Including:
"I was sceptical, so I ordered a small bag of the vanilla flavour. It exceeded my expectations. It's got a great taste, and it blends well. I will definitely be purchasing it again."
"This is a great product! It's got a nice flavour and not overpowering!"
The best textured vegan protein shake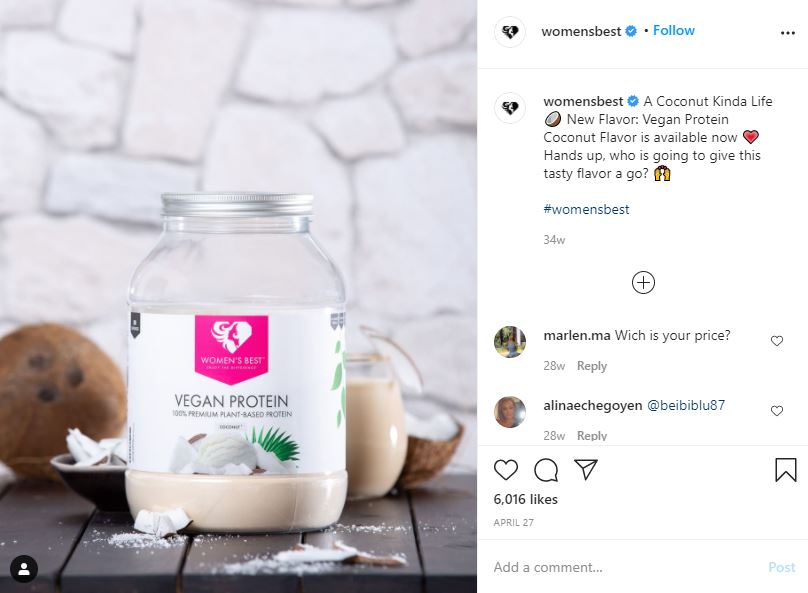 This brand appeals to women (hence the name), as other protein brands used to target men more through their marketing. There's a reason this shake came out on top when Boots organised a contest to find the best vegan protein powder – it was the best tasting vegan protein powder.
Women's Best vegan protein scores high when it comes to taste and texture – it's the smoothest one we've had. However, there's hardly any choice in flavours, and it only comes in one size.
It's made with protein from pea and fine rice.
Protein: 21g per serving (30g)
Amounts: 900g
Flavours: vanilla, chocolate, cookies and cream, coconut
Price on website (based on 900g): £37.99
Reviews: 4.5 / 5 stars (2,580 reviews)
Including:
"I am truly addicted to this protein. I drink it every day. Sometimes I'm also adding it to my oatmeal. I like to combine vanilla flavour with cheesecake flavour drops. It is so delicious."
"This vegan shake is a great way to stock up with proteins. My best friend recommended it to me, and I already bought it three times. I tried both flavours, and the chocolate one is my favourite. To all the vegans: you should try it! It's worth the price."
The simplest vegan protein shake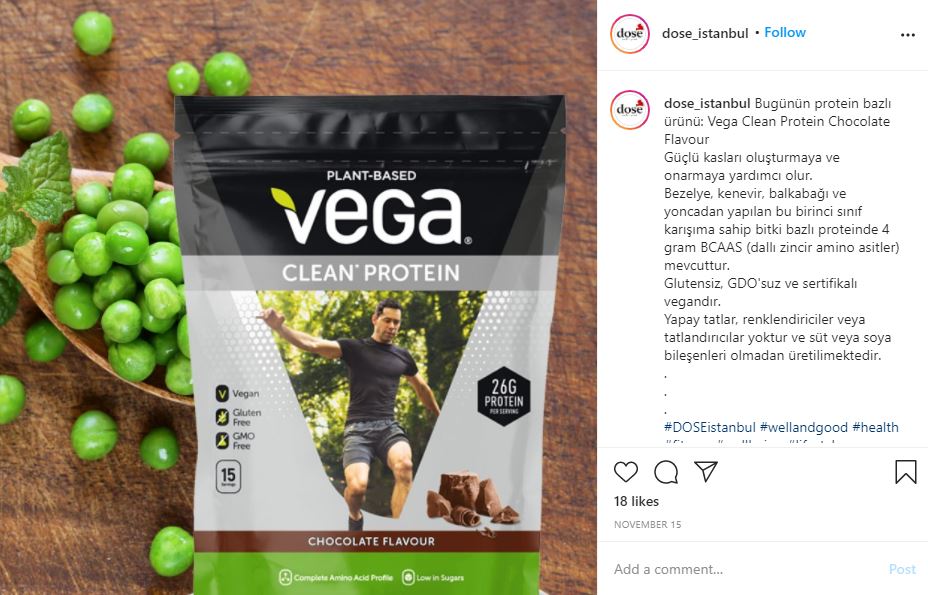 Vega is dedicated to plant-based nutrition. Its ethos is simple, sustainable, and, of course, vegan. In fact, the company prides itself on leaving a net-zero carbon footprint.
The protein powder is a blend of pea, hemp, alfalfa, and pumpkin. These combined ingredients deliver a high-quality amino acid profile. But if you want to get your hands on this, it's only available in one size and two flavours.
Protein: 26.3g per serving (35g)
Amounts: 525g
Flavours: vanilla, chocolate
Price on website (based on 525g): £29.99
Reviews: 3.9 / 5 stars (118 reviews)
Including:
"I'm new to protein drinks, but I've found the Vegan Clean chocolate protein drink enjoyable and, more importantly, drinkable. It's also not heavy on the stomach."
"This is the best protein powder I've found in the UK. It contains high-quality natural ingredients and protein sources including pineapple bromelain, an enzyme mixture that helps with digestion and has anti-inflammatory properties."
Plus, it's a favourite of Ellie Goulding!
The most popular protein brand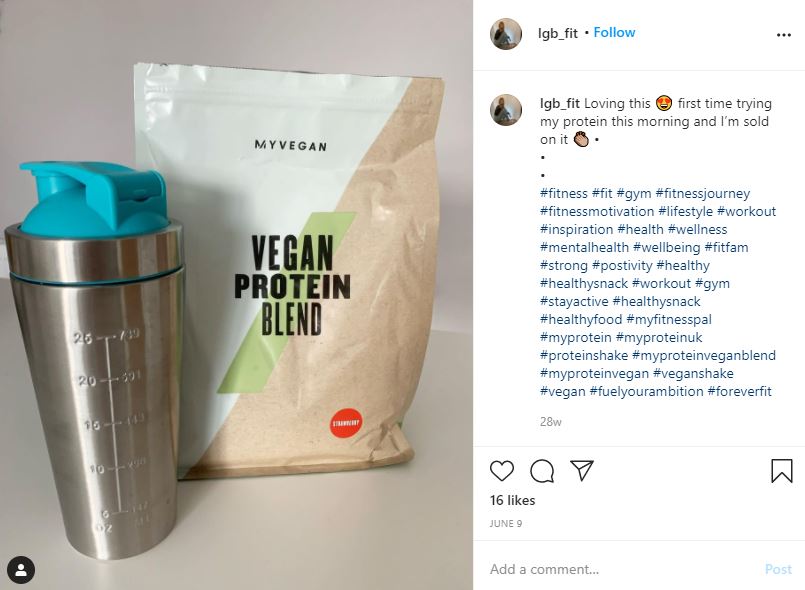 My Protein is arguably the most popular protein brand in the UK. It's based in Manchester, like us!
The brand was one of the first to produce a vegan protein powder, but unfortunately, it was criticised for being too dry and bitty.
However, My Protein went back to the drawing board and came back with an amazing vegan protein shake.
This protein powder is made from pea and fava bean protein isolates. There's a huge range of flavours, and My Protein has improved the texture from its previous product.
Protein: 22g per serving (30g)
Amounts: 250g, 500g, 1kg
Flavours: banana, blueberry and cinnamon, cacao orange, chocolate, chocolate salted caramel, coffee and walnut, strawberry, turmeric latte, unflavoured
Price on website (based on 1kg): Varies based on flavour. Ranges from £18.39 – £23.99.
Reviews: 3.38 / 5 stars (502 reviews)
Including:
"It's REALLY tasty compared to before. I can't stress the difference enough. It's not dusty or sandy anymore, and I'm convinced coffee walnut should be the standard flavour for all protein powders now."
"I've been using this product for over six months, and I'm very happy with it. It has a nice mixing consistency, a good shelf life, and a great protein count of 22 grams per serving."
We hope we've helped you find the best vegan protein shake and that it helps you make the progress you want.
At Insure4Sport, we offer specialist sports insurance to protect you if you suffer an injury while exercising, and can't work for a long period. We also provide Public Liability if you're a personal trainer or fitness instructor, and Equipment cover.
Get an online quote in minutes and see how we can help you.