Although many will have been hoping for a solid display in the Lions' final test, not even the most optimistic supporters would have expected them to turn over Australia in such spectacular fashion.
In beating the Wallabies 41 – 16 on Saturday, the British and Irish Lions ended a 16 year wait for a series win. Thanks to three tries in 12 blistering second half minutes, the points tally is now a Lions record – and helped them tie up the series 2 – 1.
As shown in our infographic, the Lions have added to an already rich rugby playing history. Their tale dates all the way back to 1888 when a 21-man squad of English, Welsh and Scottish players visited Australia and New Zealand.
Did you know that prior to 1950 the squad went through a number of different shirt colours and styles before settling on red? And that it costs £1million for sports insurance to cover the players throughout the tour?
In front of more than 83,000 people on July 6, a formidable display of scrimmaging delivered the Lions finest hour since 1997.
It finished a record breaking tour for man-of-the-series Leigh Halfpenny. The Welsh full back landed eight from nine kicks to finish with 21 points in a single match.
It saw him surpass both Jonny Wilkinson and Stephen Jones' mark of 20 (Argentina '05 and South Africa '09 respectively). His majestic display saw him finish with a series record of 49 points – taking him past Neil Jenkins' old record of 41.
A quick look at the graphic will show you Scottish full back Andy Irvine still holds the record for most Lions points scored. Over the course of three tours he scored 274 points. Tony O'Reilly still holds the record for the highest number of tries – scoring 38 between 1954 and 1959.
Speaking after Saturday's historic win, head coach Warren Gatland said: "These guys have done themselves and that jersey proud. They deserve a huge amount of credit for that performance and what they have achieved, and not just the 23 players but the whole squad, the management, the medical and support staff.
"I just hope the next 48 hours doesn't get out of hand; that is my big concern, as we don't fly out until Tuesday! But all the people involved, and the players in particular, have to enjoy the moment."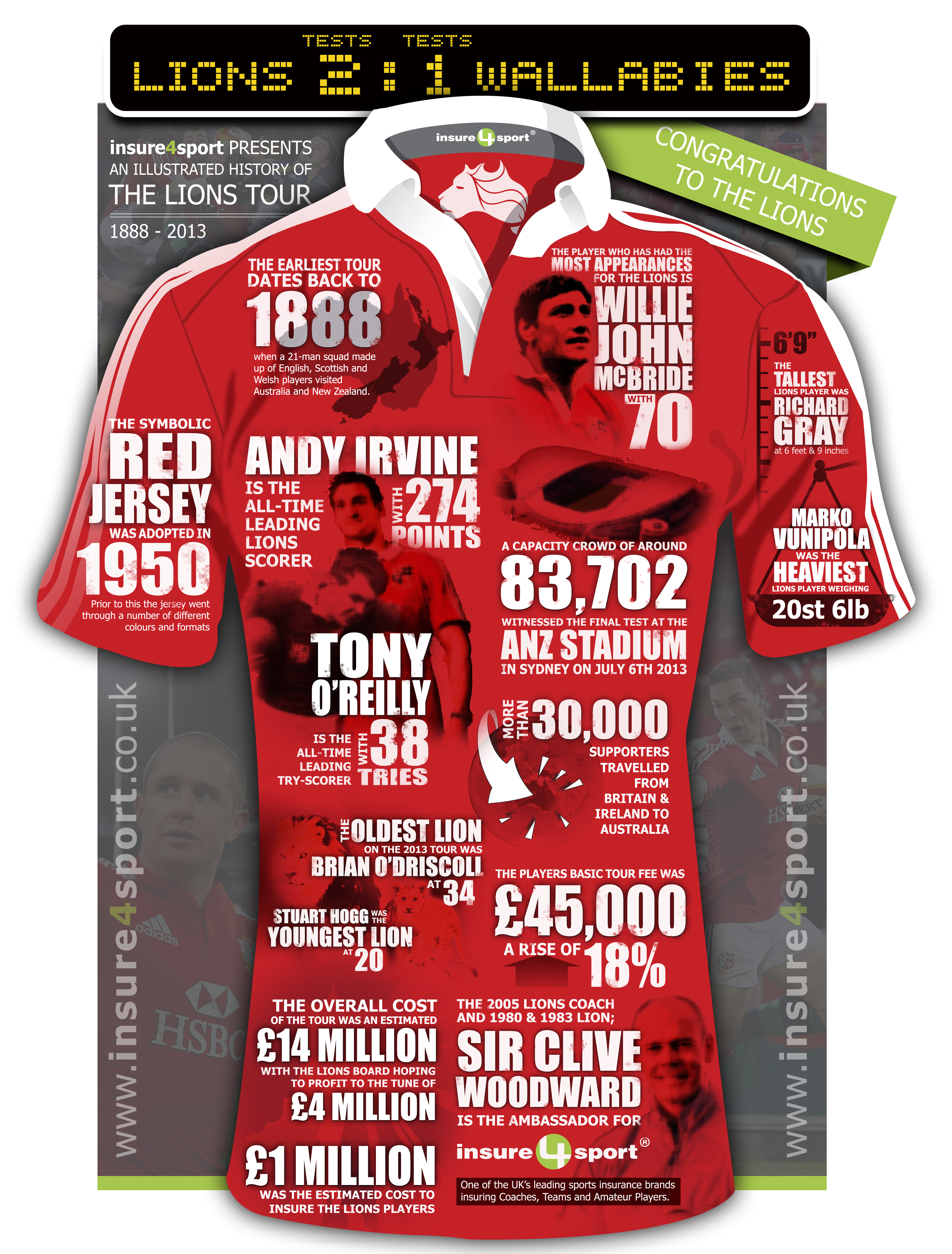 Use this embed code to add this Infographic to your own site:
<div style="width: 1000px;"><a href="https://www.insure4sport.co.uk/i4s_wordpress/wp-content/uploads/sites/9/2013/07/infographic.jpg"><img src="https://www.insure4sport.co.uk/i4s_wordpress/wp-content/uploads/sites/9/2013/07/infographic.jpg" alt="The Illustrated History of the Lions Tour by insure4sport" /></a>
Infographic authored by <a href="http://www.insure4sport.co.uk/">insure4sport</a>.To check out the original post, go to <a href="https://www.insure4sport.co.uk/blog/the-lions-tour-infographic/">The Illustrated History of the Lions Tour </a>.</div>