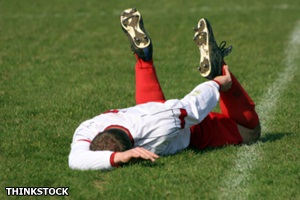 While there are undoubtedly more physical games out there than football – rugby and kickboxing for instance – it's an activity that still leads to plenty of sports injuries in both the amateur and professional game. The Premier League season is one of the longest in the world in terms of games played, meaning players have their fitness tested continuously. As a result, injuries are simply a headache that coaches and managers have to deal with and an unavoidable part of the game. Here's a rundown of some premiership clubs who are really struggling at the moment – a list that serves as a stark reminder why comprehensive football team insurance is such a necessity.
Run of bad luck
It's meant to be bad luck if you only see one magpie rather than a pair, but to be honest you should consider yourself lucky to have seen even one Magpie on the field at St James' Park this season. The club has had an appalling few months for injuries and will no doubt be extremely glad of its sports insurance policy. There are nine players out at the moment, according to data from PhysioRoom.com. Captain Fabricio Coloccini is suffering from a back injury, while defender Massadio Haidar took a knock to his knee following a hard challenge by Wigan's Callum McManaman. Forward Hatem Ben Arfa is not expected to play again this season after a repeat of his hamstring injury.
Gilmore's Groin
Over at Aston Villa, its feet and ankle injuries that are sure to be causing sleepless nights for manager Paul Lambert. There are eight separate injuries across the squad at the moment. Striker Darren Bent and midfielder Karim El Ahmadi are out with foot and ankle injuries respectively, while winger Marc Albrighton continues to be troubled by his metatarsal. Other squad injuries include Richard Dunne, who is currently recovering from the unusually named Gilmore's Groin – also known as sportsman's hernia. This injury was first identified in 1980 by consultant surgeon Jerry Gilmore and can cause long-term groin and abdominal pain.
Mind the knee
Manchester City is the final team to make the top three list of Premiership sides currently suffering from the highest number of squad injuries. And it's knee problems that seem to be a major issue for the club. Manchester City striker Sergio Aguero is continuing to have treatment on his troublesome knee, while Brazilian defender Maicon was forced to undergo keyhole surgery on his knee recently. Micah Richards is hoping to get back on the pitch in April after spending five months on the sidelines following knee surgery.
The team here at insure4sport work with amateur clubs and individual players right across the sport who have come to rely on us for the peace of mind they need while on the pitch. If you want to find out more about our range of football insurance policies then simply visit the website or give us a call to talk through the options.