UK supermarkets offer a wide range of vegan ready meals and plant-based versions of traditional products.
And it's no wonder, with a record 500,000 people signing up to Veganuary in 2021. This figure shows the growing popularity of veganism as a lifestyle choice – and the opportunities it presents for the UK grocery industry to make some serious profits.
Here's how interest in the search term "vegan meals" has increased over the past five years. As you'll see, there's a distinct spike during every Veganuary, but a general upwards trend since 2017 overall.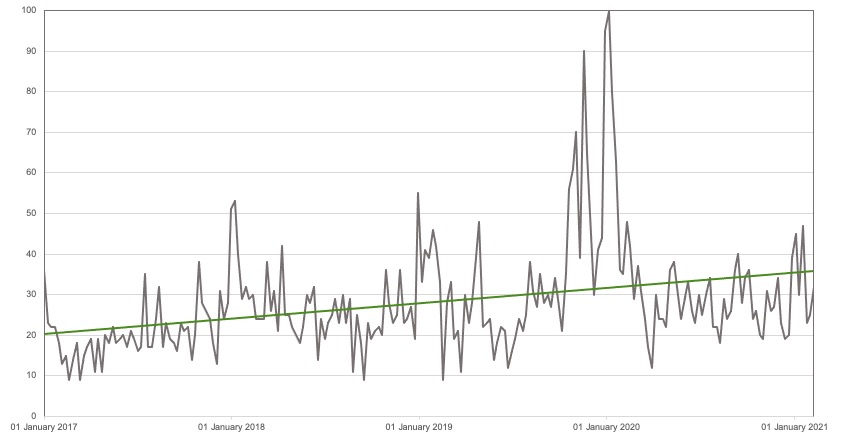 There's a common misconception that removing meat and dairy from a meal is a simple way to reduce its overall cost. Rearing animals is, after all, generally more labour and time-intensive than growing vegetables and grains. Plus, many of us will cut back on meat to save money on the weekly shop.
However, it doesn't always work like that.
In fact, our research into 37 chilled vegan ready meals and vegan alternatives found that two-thirds are more expensive than their non-plant-based counterparts. This is despite some supermarkets like Asda announcing reductions in the price of "Free From" items to bring them in line with their non-Free From equivalents.
Check out the interactive tables and key findings below to discover the worst offenders when it comes to adding a price premium to vegan products – and the cost of being vegan.
We have broken the lists down by cost per serving and cost per kilogram of product. You can read the full list of the 37 meals we analysed here.
Key findings
Of the 37 vegan products we analysed:
24 (65%) were more expensive than their non-vegan equivalent
5 (14%) cost the same
8 (21%) were cheaper than their non-vegan equivalent
On average, vegan products were 35p (or 14%) more expensive than their non-vegan equivalent per serving. But this varied significantly – some vegan products cost nearly three times as much.
Vegan products were also found to be 6% smaller on average, which shows that overall they provide even less value for money.
This meant that the cost per kilogram of vegan products was 26% higher on average than non-vegan options.
Tesco's Wicked Kitchen Range was the worst offender. Its vegan products were 61% more expensive on average than non-vegan equivalents per serving, and 76% more expensive in terms of cost per kilogram.
On average, buying a vegan supermarket product twice a week would equate to a spend of £291.20 per person over the course of a year. By contrast, purchasing the meat alternative would cost £254.80. This difference works out at £36.40 per person or £145.60 for a family of four.
Fancy taking a look at all 37 products? You can find the full list here.
All meals were available to purchase at the time of the research in February 2021.
We also looked into the nutritional content of supermarket vegan ready meals and found that many contain more salt and fat than a McDonald's Big Mac. Check out our findings in full here.
Related
The 5 Biggest Food Myths In Health And Fitness
What to eat and what NOT to eat before exercising