Football coaching is a fine art, and whether you've been doing it for years or are just starting out as a coach, no training session is complete without the right equipment.
From between the sticks to leading the line up front, the best football training equipment mimics the scenarios players will face in a real-life game. And as we all know, practice makes perfect.
But with so much advice out there as to what constitutes a 'good' football coach and subsequently what makes equally 'good' equipment, the market can be a minefield.
With that in mind, we're here to help.
Whether you're a classic 'jumpers for goalposts' coach or prefer a more modern approach, we've got you covered. Read on for our picks for the most important football training equipment.
Table of contents
1. Marker cones
2. Coloured bibs
3. Speed ladders and hurdles
4. Free-kick wall mannequins
5. Pop-up goals
6. Net targets and rebounders
7. Shalom poles
8. Speed resistors
1. Marker cones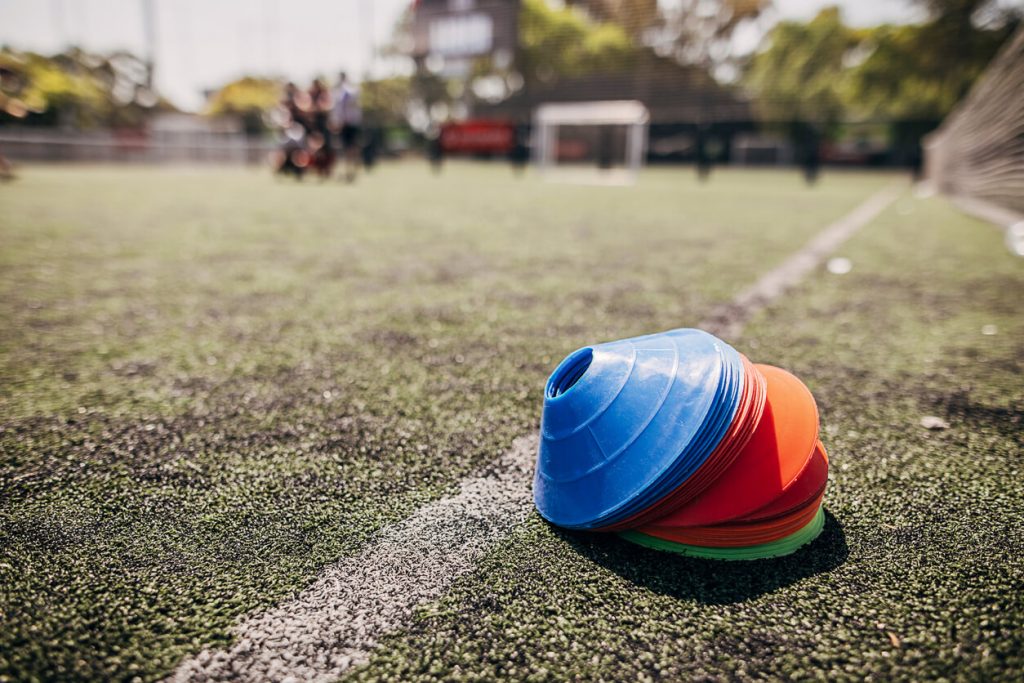 Perhaps the most synonymous feature of any football training pitch, the marker cone's importance is often wrongly underestimated.
You can't go wrong with marker cones. They come in a variety of shapes, sizes and colours, and have multiple uses out on the training pitch.
They can be laid out and used for a range of running drills, ball dribbling exercises or can even be used to mark out makeshift goalposts (although the crossbar height remains up for debate!)
The list goes on – just remember to collect them up at the end of your session!
Related: 32 Close Control Dribbling Cone Drills: Improve Your Close Control Dribbling
2. Coloured bibs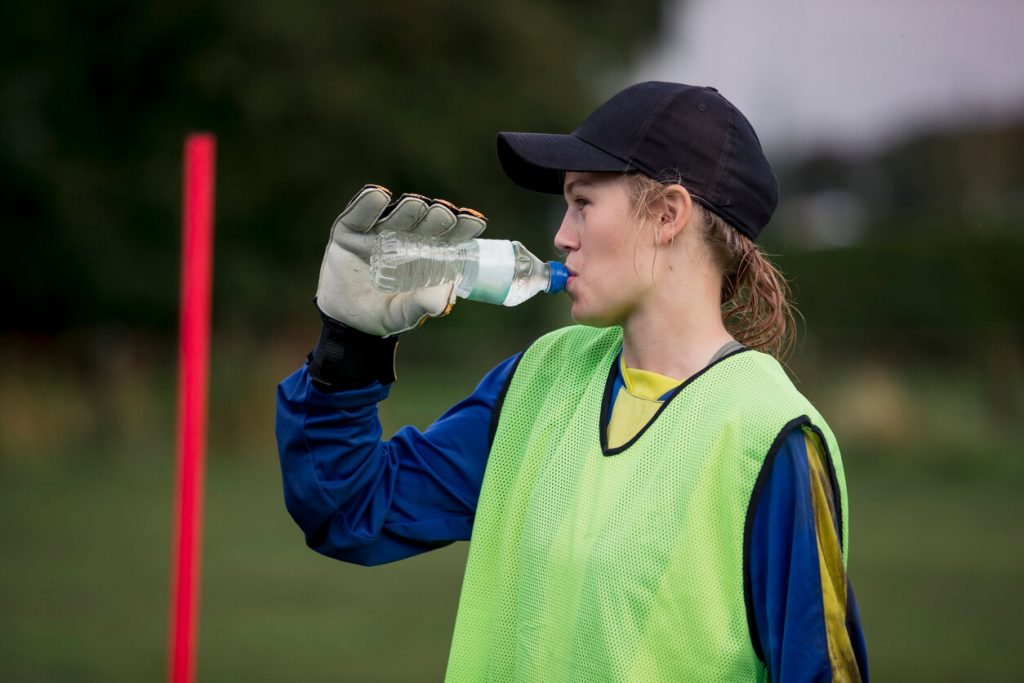 Not too much description is required for the good old bib.
Used mainly to distinguish between training teams in the absence of proper matchday kits, bibs are super lightweight, breathable, and, most importantly, don't hinder player performance.
Coaches can also use bibs for running exercises such as 'catch the tail' or even as goalposts if no marker cones (or jumpers) are available.
However, bibs can be a breeding ground for bacteria, so make sure you wash them thoroughly after each training session.
Related: Football Session – Catch The Tail
3. Speed ladders and hurdles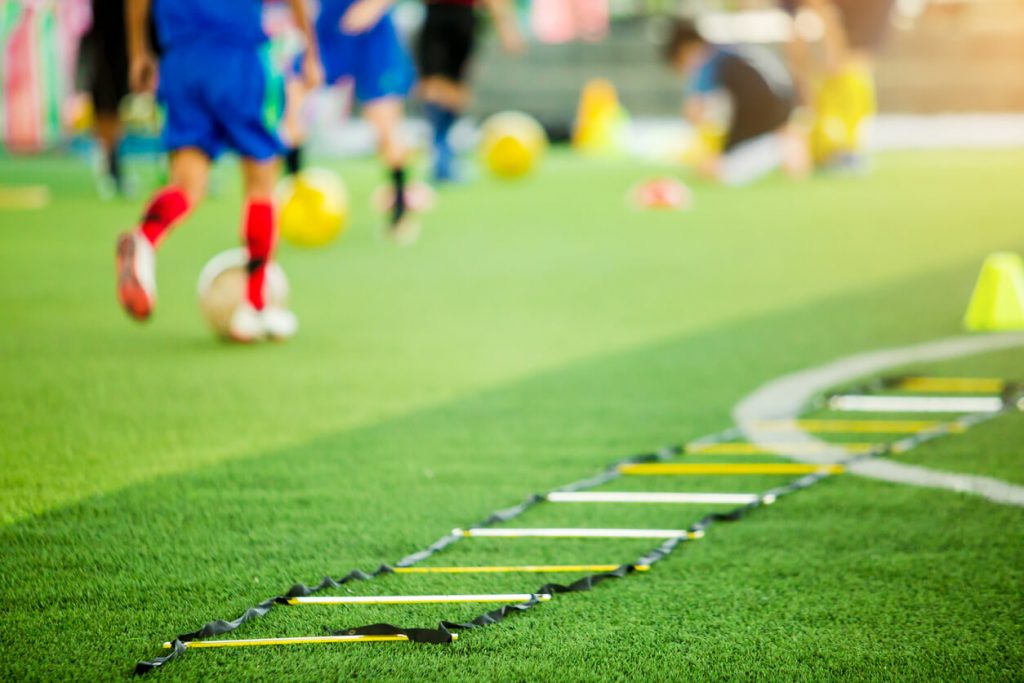 Football is all about having quick feet and reactions.As a coach, developing these attributes should be a key focus, particularly for younger players.
Speed ladders can be used for footwork drills, short sprints, and general agility exercises. These typically involve players following set patterns through the ladder laid flat out on the grass.
You can dictate the number of steps a player should take within each rung of the ladder, but the main goal is to increase speed while maintaining a pattern and rhythm.
Running with small hurdles also allows players to get used to avoiding slide tackles without breaking stride.
Related: Football Hurdle Training Drills
4. Free-kick wall mannequin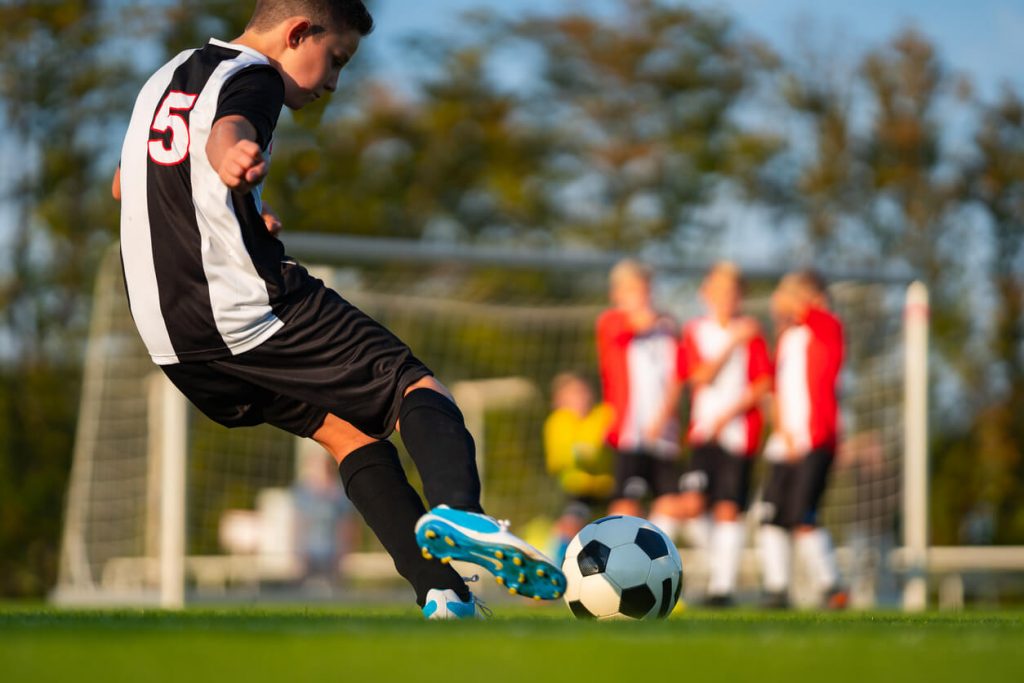 If you're training in a small group, a free-kick wall mannequin is a must-have piece of equipment.
As any footballer or coach will tell you, making the most of your set-pieces is a crucial part of the game, so you want to make sure you're prepared when they come your way.
Mannequins mimic an opposition free-kick wall and allow players to practice getting their efforts on target while factoring in that tricky matchday obstacle that's normally missing from the training pitch.
Though the mannequin, of course, can't jump like a real free-kick wall might, its presence allows free-kick takers to master techniques such as dipping and curling.
Related: Free-Kick Routines
5. Pop-up goals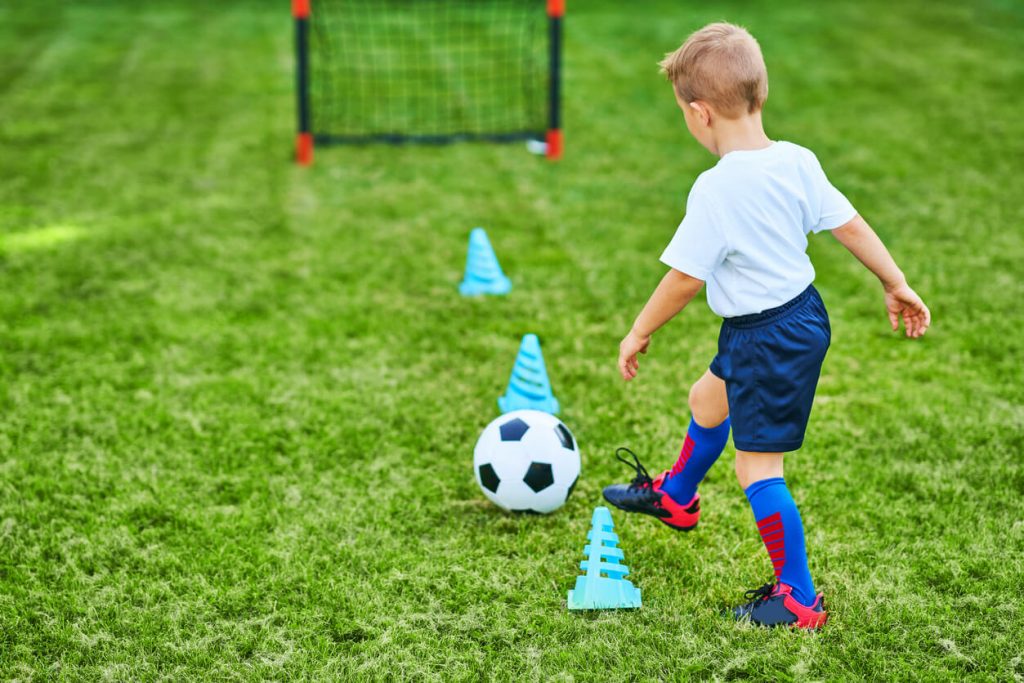 Don't fancy the classic jumpers for goalposts? Pop-up goals are your friend.
Pop-up goals are easy to store, transport and add a sense of matchday 'authenticity' to your training sessions.
Not only this, but pop-up goals are available in a range of sizes. So, if shooting accuracy is a focus for your sessions (and let's face it, why wouldn't it be?), then small pop-up goals are a must-have bit of kit.
By training with smaller goals, you'll notice a marked improvement in your strikers' shooting ability over time.
Related: 7 Best Portable Football Goals
6. Net targets and rebounders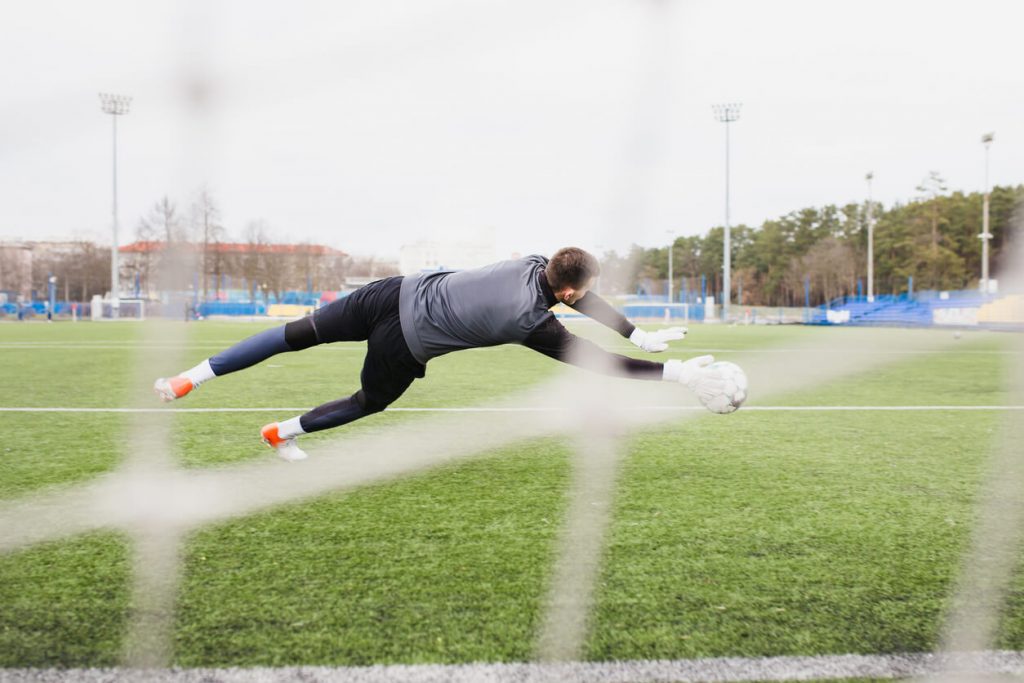 Keeping on the topic of shooting accuracy, another important piece of football training equipment to develop players even further is a net target.
Whether you're looking for your players to master the art of a 'top bins' finish or a classic bottom corner finesse, a net target is your trusty go-to.
Net targets act like a sheet covering the goal's span with holes or printed targets for players to aim at with the ball. This is particularly useful for practising penalties.
But of course, for every striker trying to put away a penalty, there's a goalkeeper equally desperate to keep it out. That's where rebounders can help.
If a player kicks or throws a ball onto a rebounder, it'll send it straight back, allowing your goalkeeper to practice quick reaction saves and catches.
Related: The 5 Best Football Rebounder Nets
7. Shalom poles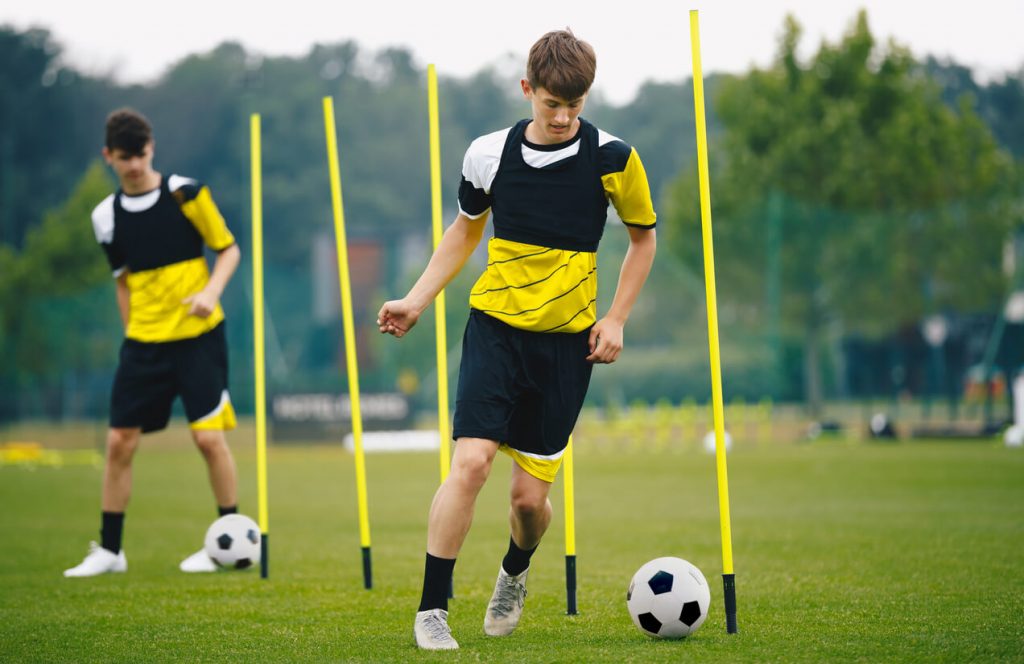 Shalom poles are brilliantly versatile and can be used for numerous football training exercises.
Usually between 1.5-1.8m in height, shalom poles are fitted with steel spikes at the base so they can be planted upright into the training pitch and used for various drills. If you train indoors, weighted pole bases are available to avoid damaging artificial pitches.
Shalom poles are great for developing upper body movement. You can set them up in whatever way you wish, but they're typically used as markers for running or dribbling exercises.
One of the best things about shalom poles is that they can be used with or without a ball.
Related: Top 10 Agility Poles Of 2021
8. Speed resistors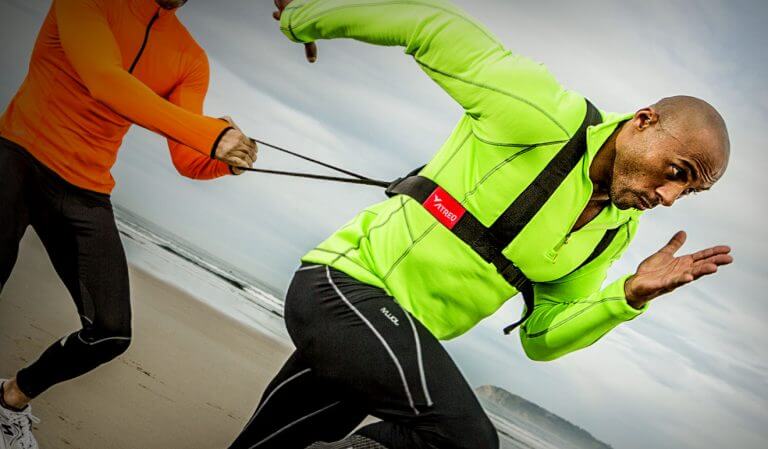 Outfield players, in particular, need to develop a solid level of strength with the ball to fend off opposition tackles at speed during games.
Speed resistors are simple but give effective results when training either in large team groups or one-on-one sessions.
Speed resistors are designed to increase acceleration, anaerobic endurance and lower-body power. Depending on the nature of the training session, players work against the strength of either you (their coach) or a teammate to improve sprint speed and power.
One person provides the 'load' by holding back on the resistor strap while the runner sprints at maximum effort. When the resistor is then released, the runner will be primed to run faster and harder.
Related: 5 Reasons Why Sports Teams Should Use Speed Resistor Harnesses
Specialist equipment cover and football coach insurance from Insure4Sport
Regardless of the age or ability of a coach or a player, the equipment used in football training is more expensive and high-tech now than ever before.
That's why you need specialist football insurance to protect yourself, your players, and your equipment from potential incidents both on and off the pitch.
At Insure4Sport, our football coach insurance can include equipment cover, public liability up to £10m, free professional indemnity up to £1m, and personal accident cover, meaning you can coach in confidence.
Our equipment cover protects your football training equipment against theft, damage and loss. What's more, you'll also be covered if you sustain an injury, cause an injury to somebody else, or damage somebody else's equipment or property.
Click on the button below to learn more about our insurance and get an online quote in minutes today.

Related
How To Conduct A Risk Assessment For A Football Coaching Session
Five Essential Training Aids For Football Coaches