The Euros might not be hitting our TV screens this summer, but we've got something to keep you entertained in its absence. In fact, we've created a Euros of our own.
Welcome to the European Championship of Champions – a hypothetical, one-off tournament made up of every team to win the Euros since 1960.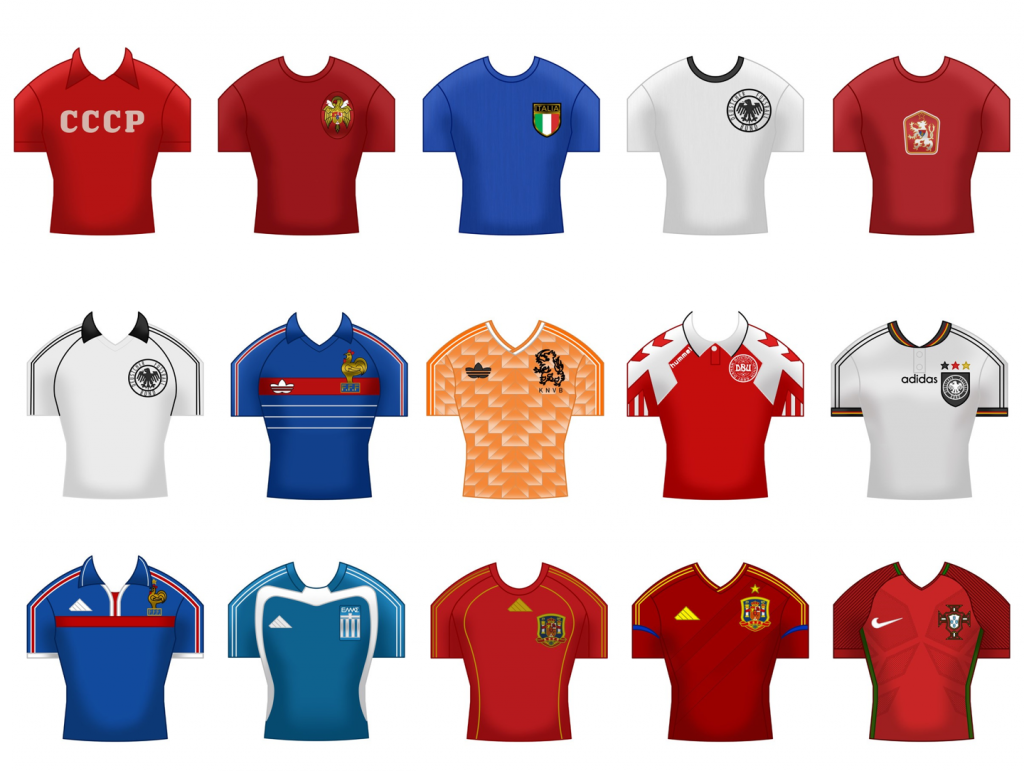 These champions go head-to-head in a series of group and knockout games to determine the greatest European Championship winning side of all time.
So many iconic teams have won this tournament through the decades, but what happens when they play each other? Who would get the furthest? And who can definitively say they're the best?
We've crunched 56 years of data to find out – and now we want you to come on the journey with us. Let's find out which team is the best international team in European football history.
Here's how it works
The 15 winners of the European Championship since 1960 have been arranged into three groups of five teams.
To calculate the outcomes of each game, we've compared the two teams across 10 different performance metrics. These encompass both overall and 'per game' averages.
Remember – when you see some of the scores, frown and say "that would never happen":
It's not real life
Every team competing in this tournament is a champion
It's based on statistical data (we promise)
Anyway, back to how it works. So….
The first and second place teams from each group advance to the knockout round, along with the two best third-placed teams.
Then, in the knockout round, it starts to get tasty. To give you a flavour of how evenly matched certain champions are, there are two extra time victories and a penalty shootout. Football fans are in for a treat.
So, who's in the draw? Below are the champions of every Euros tournament ever played…
Soviet Union 1960
Spain 1964
Italy 1968
West Germany 1972
Czechoslovakia 1976
West Germany 1980
France 1984
Netherlands 1988
Denmark 1992
Germany 1996
France 2000
Greece 2004
Spain 2008
Spain 2012
Portugal 2016
Scroll down to see who plays who in our tournament.
The group stage
When selecting our three groups of five teams, we wanted to avoid countries from the same nation playing against each other. Aside from that, the groups were selected completely at random.
Let's look at how Group A pans out…
Group A

Group A sees the tiki taka inspired Spain 2008 team play the formidable West Germany 1972 team featuring Franz Beckenbauer. It also includes the Portugal 2016 team which beat France in the final on home soil, along with two of the old guard – Soviet Union 1960 and Italy 1968.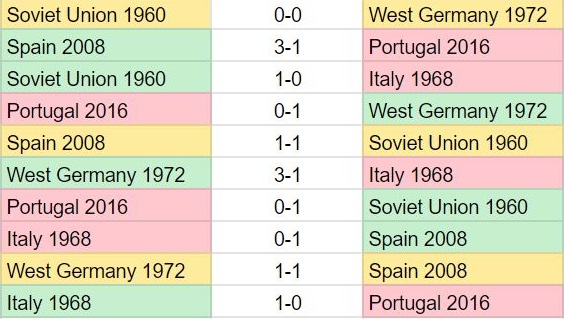 This is truly a group for the goalkeepers, with Lev Yashin, Dino Zoff, Sepp Maier and Iker Casillas between the sticks.
Talk about a tight group. Three teams advance with eight points, as Spain 2008, West Germany 1972 and Soviet Union 1960 all draw with each other. It won't surprise you to learn that this group contains the least number of goals, thanks to the goalkeeping talent on display.
Spain 2008 Group A having scored more goals than the other teams, thrashing Portugal 2016 3-1 in the opening game.
West Germany 1972 advance in second after getting the job done against Portugal 2016 and comfortably beating Italy 1968.
Soviet Union can count themselves unlucky to finish third in the group despite only conceding three goals. However, their lack of goals at the other end is their Achilles' heel. Spain 2008 take first place from them on the final matchday.
The Italians find themselves on an early flight home, losing three from four despite boasting a defence containing Dino Zoff and Giacinto Facchetti.
It's also goodbye to Ronaldo and co., who finish bottom of Group A having scored just one goal.
And so, onto Group B…
Group B

Group B sees two classic attacking teams face off in France 1984 and Netherlands 1988. They're joined by plucky underdogs Greece 2004, who famously spoiled host Portugal's party in 2004. Also in Group B are Germany 1996 and Spain 1964.
If Group A was a group for the goalkeepers, this is a group for the forwards. What do the likes of Michel Platini, Marco Van Basten and Jürgen Klinsmann have in store?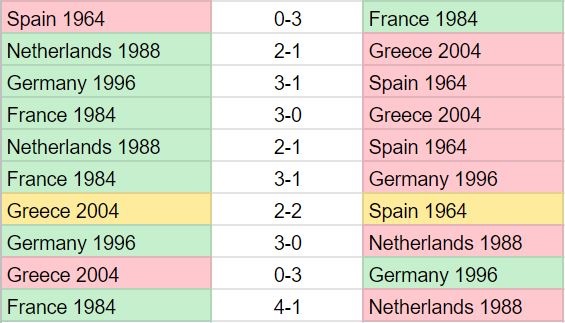 It's raining goals in Group B and there's a huge shock as Netherlands 1988 go out at the group stage! The Dutch are the worst performing of the third-placed teams, meaning they crash out at the first hurdle.
France 1984 top the group with four wins from four, scoring 13 goals and conceding just two. They send a massive statement by hammering Netherlands 1988 4-1 in the game of the tournament so far.
Elsewhere in the group, Germany 1996 go through in second with three wins from four and scoring 10 goals.
Lightning doesn't strike twice for Greece 2004, as they fail to repeat their Lisbon heroics and finish bottom of the group on goal difference behind Spain 1964.
If you know your European Championship winners, it should be pretty easy to work out the line-up for Group C…
Group C

Group C features five teams with completely contrasting styles. The pragmatic teams of Denmark 1992 and Czechoslovakia 1976 are joined by the stylish Spain 2012, along with the artistic France 2000 team of Zinedine Zidane and the steely West Germany 1980 team.
There are mouthwatering individual battles everywhere you look. Zidane and Vieira vs Xavi and Iniesta. Henry vs Schmeichel. Rummenigge vs Casillas.
So, what happens when these icons take to the pitch?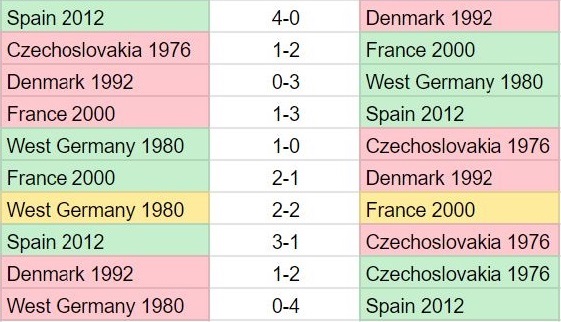 Spain 2012 coast through Group C, winning all four of their games and scoring a whopping 14 goals. Their 4-0 trouncing of West Germany 1980 will make spectators everywhere sit up and take notice.
France 2000 join them in the knockout stage, finishing second by virtue of scoring one more goal than West Germany 1980. The Germans finish as the second best third-placed team, joining Soviet Union 1960 in the quarter finals.
Despite winning against all odds in their respective tournament successes, Denmark 1992 and Czechoslovakia 1976 can't re-enact their heroics this time round. They pick up just three points between them and Denmark 1992 finish bottom of the group having conceded 11 goals.
The knockout stage
Now we're at the business end of the tournament. 15 champions have taken to the field, but only eight remain. Seven will go home disappointed – but who will take home the trophy? Strap yourselves in.
Quarter finals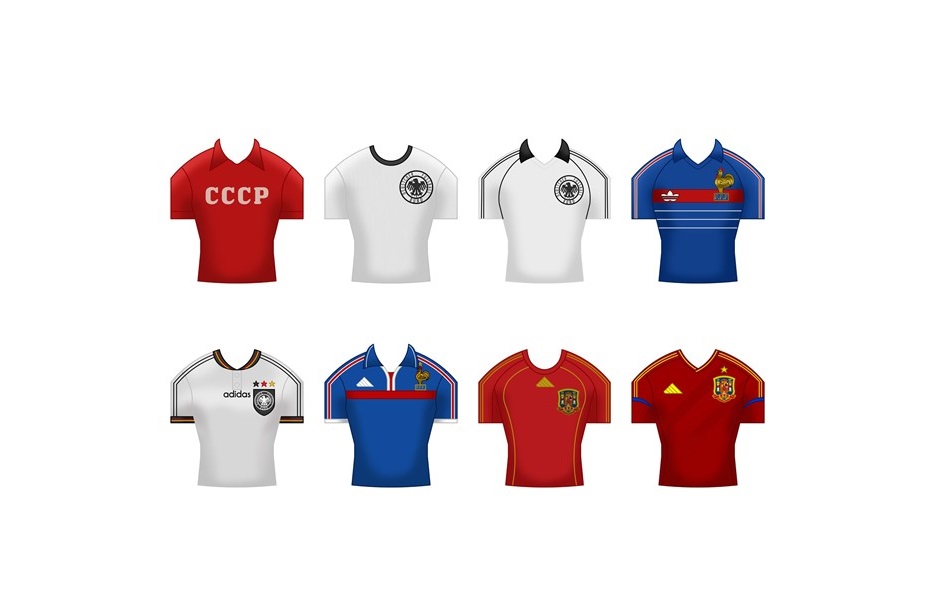 Here's how the quarter final stage looks based on group positions:
Group A winner vs Group B runner up
Group B winner vs Group C runner up
Group B runner up vs Group C third place
Group C winner vs Group A third place
Which means this…
France 1984 play France 2000 in arguably the standout tie of the round. All eyes are on Michel Platini and Zinedine Zidane, to see which midfield maestro comes out on top. France 2000 gained fewer points than France 1984 in the group stage but were in arguably a tougher group. This isn't the only knockout tie between two teams from the same nation…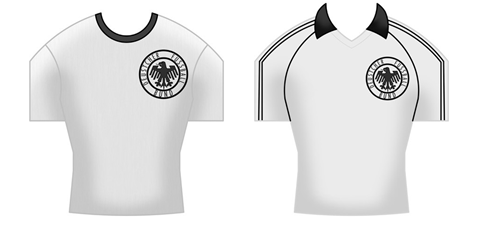 The all-conquering West Germany 1972 face the young and entertaining West Germany 1980. The 1972 side comes into this game having gained a respectable eight points, while the 1980 team have a spring in their step having won 3-0 in their final group game.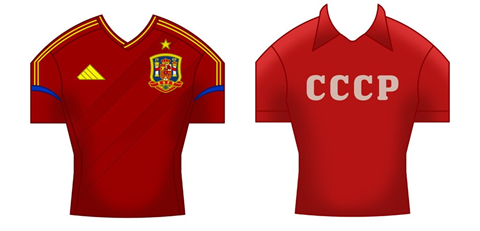 Meanwhile, it's attack v defence as the free-flowing Spain 2012 face the cagey Soviet Union 1960. Spain 2012 might have scored 14 goals so far, but Lev Yashin and his defence have only conceded one goal in the entire tournament and have shown they can win tight matches.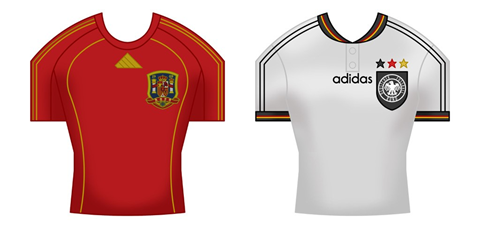 Elsewhere, Spain 2008 face Germany 1996, with the two teams pretty evenly matched across the pitch. Both sides have just enjoyed resounding victories and have plenty of goal threat in Fernando Torres and Jürgen Klinsmann respectively.
One thing every football fan wants in the knockout stage is a mixture of exciting and nail-biting matches. Thankfully, there's plenty of that.

The France 1984 juggernaut keeps on rolling! They thrash France 2000 4-0 in the game of the tournament so far to reach the semi-finals. Zidane can't dig France 2000 out of this one as their defensive frailties are brutally exposed.
Spain 2012 vs Soviet Union 1960 goes to extra time after Lev Yashin pulls off some amazing saves to keep his team in the game. However, the ruthless Spaniards find a way past him, winning after extra time to progress to the next round.
In the all-German quarter final, experience pays dividends for West Germany 1972 as they convincingly beat West Germany 1980.
Spain 2008 also run out comfortable victors against Germany 1996 to join their 2012 compatriots in the semi-finals.
Semi-finals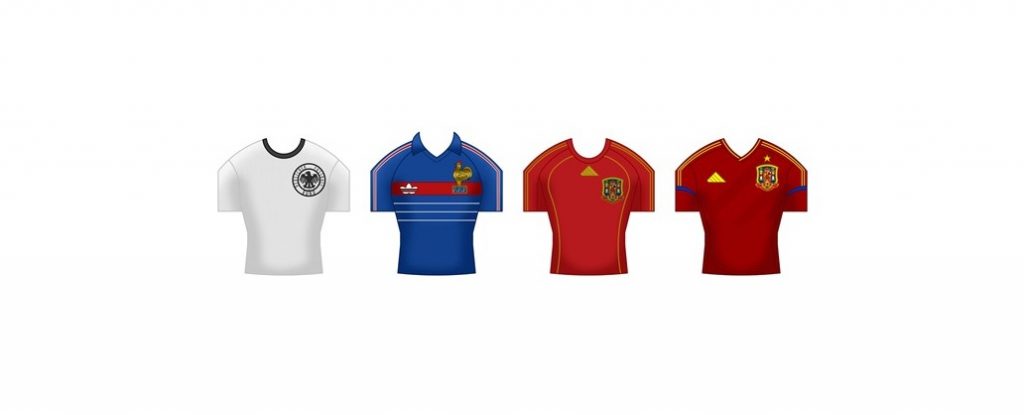 West Germany 1972, France 1984, Spain 2008 and Spain 2012. It feels an injustice for any one of these iconic teams to go out of a tournament, never mind three. But the show must go on – here's how the remaining four teams match up.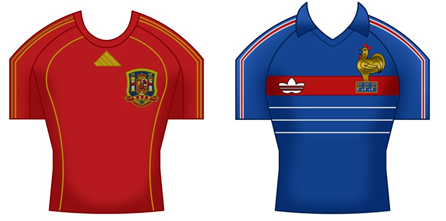 France 1984 and Spain 2008 – two teams with plenty of flair and midfield artistry – go head-to-head in the first semi-final. France 1984 are the top scoring team of the tournament so far and have just dispatched Zidane's France 2000 4-0. However, Spain 2008 haven't been short of goals themselves and have finally clicked into gear after a slow start, scoring eight goals and conceding just three in their five matches.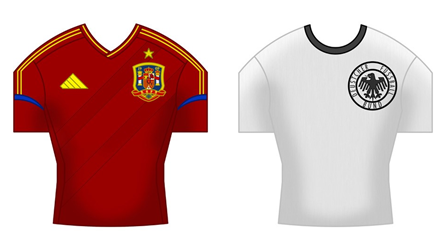 The second semi-final is a tantalising prospect for the neutral, as Spain 2012 and West Germany 1972 face off against each other. Spain 2012 have looked strong overall, despite struggling to breakthrough against the Soviet Union. West Germany 1972 have looked solid throughout and have Gerd Müller coming into form at just the right time.
Despite all of the legends taking to the field, unfortunately there have to be winners and losers. But who will they be?

Wow. Two tight games see France 1984 sneak through against Spain 2008 and Spain 2012 edge it in extra time against West Germany 1972.
Spain 2008 match France 1984 in all areas of the pitch for most of the match, but Les Bleus win it late on.
Beckenbauer has the game of his life as Spain 2012's forwards are snuffed out for 90 minutes. However, their possession pays off in the end as they win 1-0 after extra time.
That means it's France 1984 vs Spain 2012 in the final of our European Championship of Champions. What an occasion that promises to be.
The final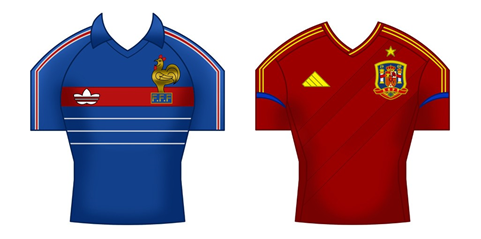 And then there were two. Two teams with a suave sophistication. Two teams packed with ingenious magicians. Two teams that play the 'right way'. Two of arguably the greatest international teams in European football history.
Just to recap – France 1984 have beaten Netherlands 1988 and Spain 2008 among others to get here. They've scored a ridiculous 18 goals in six games, with the Carré Magique (Magic Square) of Michel Platini, Alain Giresse, Jean Tigana and Luis Fernández in electrifying form.
Spain 2012 have also passed some huge acid tests along the way, beating the much-fancied Germany 1972. They've also shown they can go the whole nine yards with two extra time victories. Andres Iniesta has been mercurial and their defence has been imperious, conceding just twice so far.
Let's see which team is the greatest international team in European football history…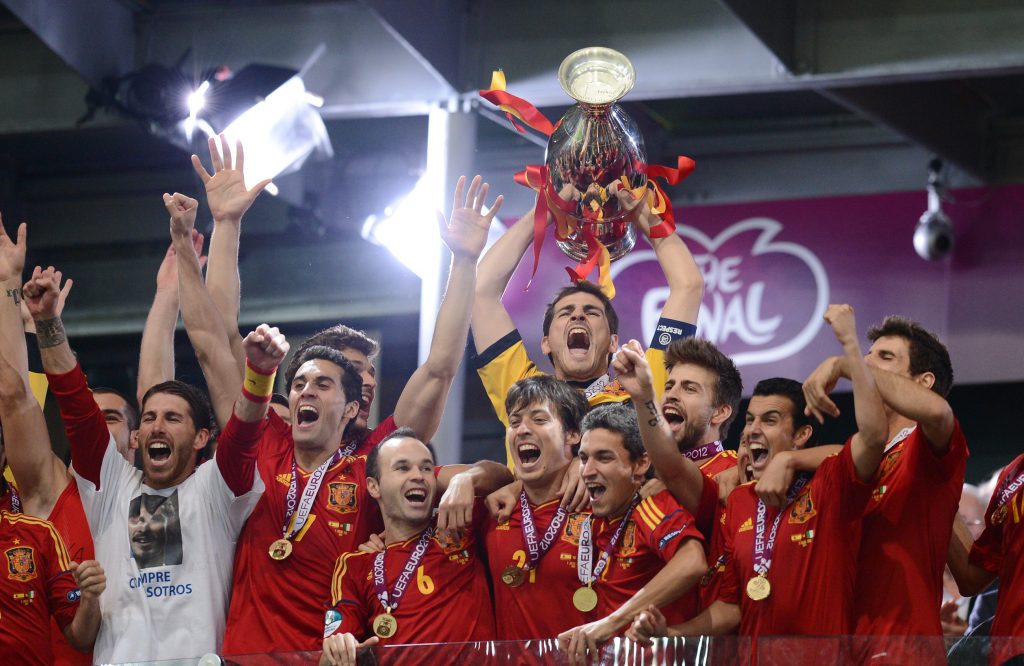 Spain 2012 win on penalties!
Incredible scenes as Spain 2012 win our European Championship of Champions on penalties after a tense 1-1 draw!
There's virtually nothing to separate these magnificent teams, with this gripping final going all the way.
The result actually came down to one metric – Spain 2012 won on five metrics and France 1984 won on four. That's how tight it was.
Whilst the two teams scored a similar number of goals en route to winning their respective titles, the Spain 2012 side have a far better defensive record. They conceded just 0.1 goals per game at Euro 2012, which has got them over the line.
The primary reason for Spain's unrivalled defensive record in 2012 was undoubtedly their tiki taka style of football. This system involves short passing and places a heightened emphasis on ball retention. As a result, Spain's opponents rarely had much time on the ball, never mind enough possession to consistently trouble their back line. (OK, they concede in this game, but this is France 1984 we're talking about).
To be fair, any team that wins a European Championship without a recognised striker must be pretty special all over the pitch. Iker Casillas, Sergio Ramos and Gerard Piqué weren't bad, were they? Neither were Xavi and Iniesta – or any of the starting XI, in fact.
So, there you have it. The team that won three consecutive international tournaments between 2008 and 2012 also wins Insure4Sport's European Championship of Champions. Iker Casillas lifts the trophy – and let's face it, this is the ultimate trophy.
Here are the individual awards from the tournament…
Best Player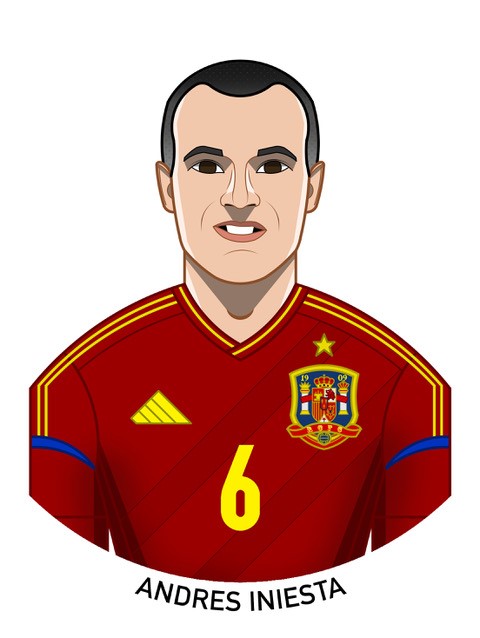 The lynchpin in Spain's Euro 2012 team, Iniesta is arguably the most influential midfielder of his generation. He was rightfully named Player of the Tournament in Poland and Ukraine.
Golden Boot winner
Platini's tally of nine goals in five games at Euro 1984 unsurprisingly remains a record to this day. Regarded as one of the best players of all time, he won three consecutive Ballon d'Ors from 1983 to 1985.
Congratulations to Spain 2012 – officially the greatest European Championship winning side of all time!
The above illustrations were created exclusively for Insure4Sport by Daniel Astudillo.