In the UK, we're lucky to have so many challenging and picturesque rock climbing locations on our doorstep.
There's something for everyone, whether you're a novice or an expert and whether you're into trad climbing or bouldering.
We've chosen 9 amazing outdoor rock climbing locations in the UK, from Cornwall to northwest Scotland.
We've also included the difficulty levels of certain crags in brackets, where possible.
Let's start with the trad climbing locations…
Land's End, Cornwall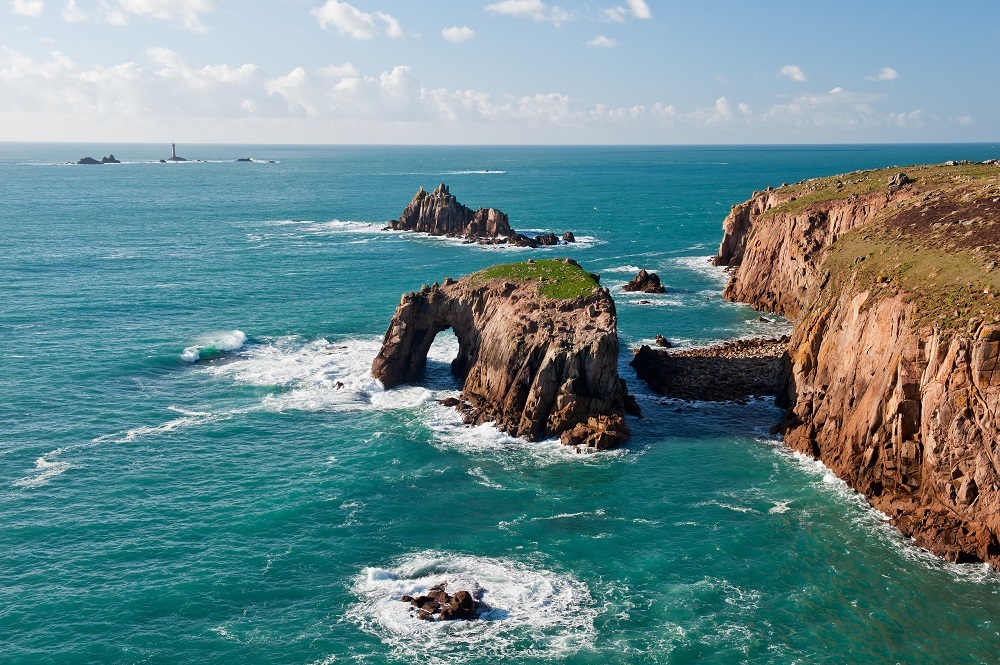 Land's End, the most westerly point of mainland England, is renowned for its towering cliffs and entrancing sea views.
There are 181 climbs here, including Longships Wall (E3) and the Land's End Long Climb, a VDiff route featuring several interesting pitches for beginners.
Land's End's best climbs are in the E3 grades and above, therefore it's most suited to intermediate and expert climbers.
The routes may be tough at times but, as shown below, the views are well worth the physical exertion.
Handy tip: Land's End is tidal in most areas, so watch out for large swells and go for the wave-washed platforms.
Fun fact: Land's End's cliffs are made from granite which is around 275 million years old.
While you're there: Pay a trip to Sennen Cove, a fishing village which is a mile north of Land's End. Here, you can explore Whitesands Beach, one of the most beautiful stretches of sand in Cornwall. You can also visit The Old Success Inn, a 17th century fisherman's inn and hotel serving hearty food all year round.
Pembroke, Wales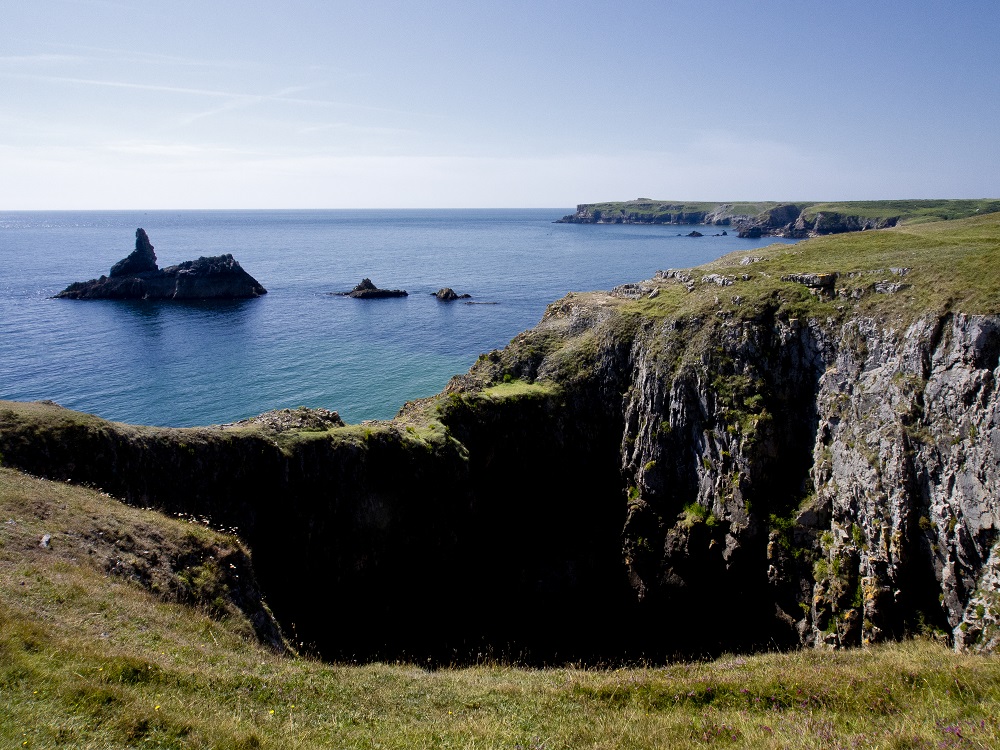 Like Land's End, the town of Pembroke is well-known for its dramatic sea cliffs. Therefore, you're never short of places to climb.
Pembroke is home to the longest cliff in Britain and contains over 6,000 recorded climbs, hence its popularity among the climbing community.
Range East, close to the village of Bosherston, is arguably Pembroke's principal rock climbing area.  Its best-known crags are Huntsman's Leap and St Govan's Head – but there are many more.
Another popular area is Stackpole and Lydstep, a 15-mile stretch of coastline. You can choose from 1,100 routes and explore blue flag beaches, coves and limestone cliffs.
Handy tip: Make sure you bring gear for making an abseil descent. This article contains useful advice on crag selection, abseil approaches, tidal considerations and more.
Fun fact: Pembroke Castle is the birthplace of Henry Tudor, who later became Henry VII of England.
While you're there: Visit Henry VII's birthplace for yourself and uncover its medieval beginnings. For a double dose of history, explore St Govan's Chapel, a Grade I listed building which is built into a cliff. If you've got children, why not take them to Folly Farm Adventure Park and Zoo or Oakwood Theme Park?
Isle Of Skye, Scotland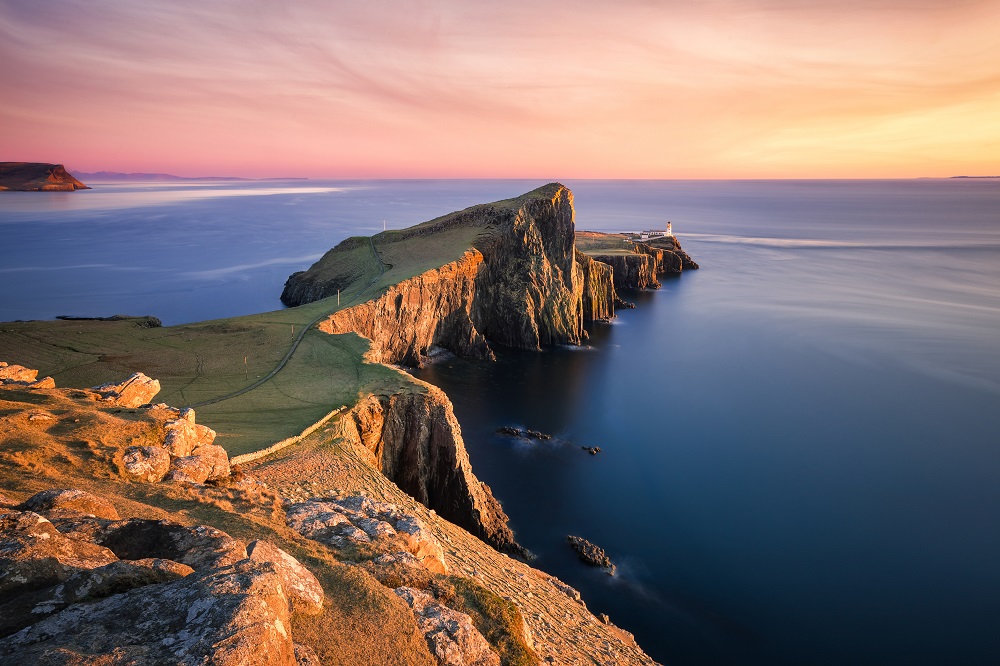 The Isle of Skye is off the beaten track, but worth going out of your way for.
There are challenging and scenic routes aplenty, from the sea cliffs of Neist Point to the mountains of the Cuillin.
If you really want to put your climbing skills to the test, look no further than Black Cuillin. Stretching over 11 kilometres and reaching heights of more than 3000 feet, this is considered Britain's most challenging mountain range (as you'll see for yourself in the video below).
However, for less advanced climbers, we recommend Siudhe Biorachon, a sea cliff crag containing such routes as Jamie Jampot (VS) and Veritas Splendour (E2).
Handy tip: Take lots of food and water if you're climbing the Black Cuillin – most people fail to complete it because of hunger and dehydration. Start off by climbing sections of the main ridge, to give yourself an idea of where the best water sources are located.
Fun fact: The Black Cuillin was formed around 60 million years ago, through a series of volcanic eruptions.
While you're there: Discover the landmarks which have put Skye on the map, such as Fairy Pools, Dunvegan Castle and Neist Point Lighthouse. If you need somewhere to stay, the island's highest rated hotels include Morar Bed and Breakfast, Sconser Lodge and The Flodigarry Hotel.
Now onto the sport climbing locations…
Malham Cove, Yorkshire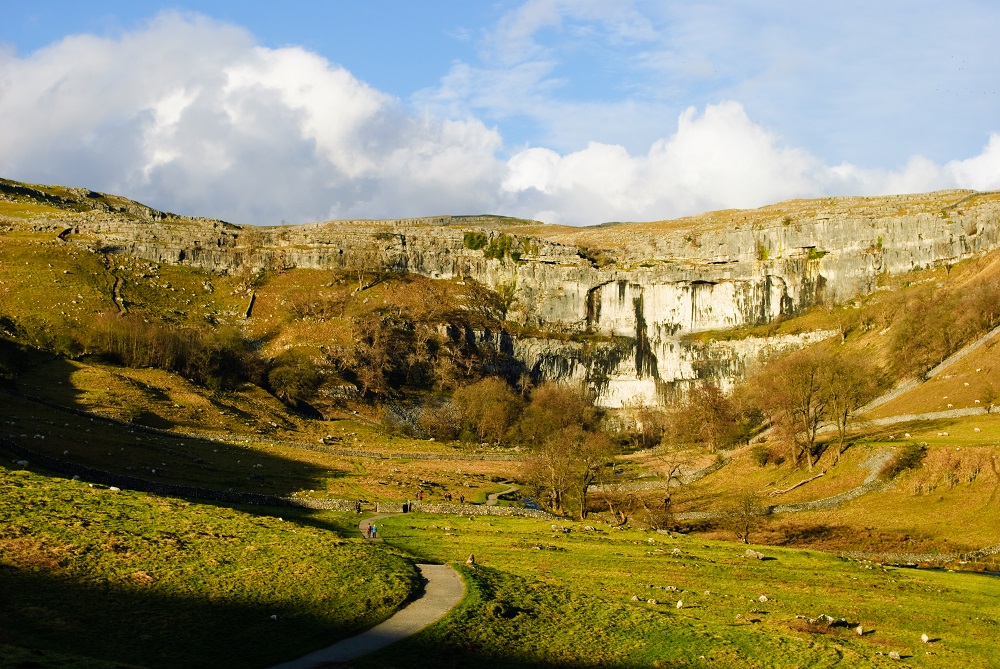 Malham Cove is revered by lovers of the outdoors, and particularly by rock climbers.
This 70-metre high amphitheatre of rock is one of Britain's great geological wonders, and arguably The Yorkshire Dales National Park's chief attraction.
It boasts some of the best sport climbing routes in the Pennines, and 325 climbs in total. It's little wonder, therefore, that it's attracted some of the world's greatest rock climbers.
Adam Ondra climbed its hardest routes back in 2010, while Steve McClure recently made history when he conquered Rainman (9b) – the UK's toughest climb.
In completing this route, McClure gave Britain its first 9b sport route. The video below captures his historic achievement.
Handy tip: The shorter and easier climbs (S to E1) are located on Malham Cove's left wing. Therefore, these are your best bet if you're a beginner.
Fun fact: Harry Potter and The Deathly Hallows was filmed here.In the film, Harry and Hermione set up camp in a tent on the Limestone Pavement at the top of the cove.
While you're there: Stop by Janet's Foss and Gordale Scar, both of which are located just a mile away. Once you're finished exploring, enjoy a pint of beer and some food at Lister Arms, in the heart of the village of Malham.
Gower Peninsula, Wales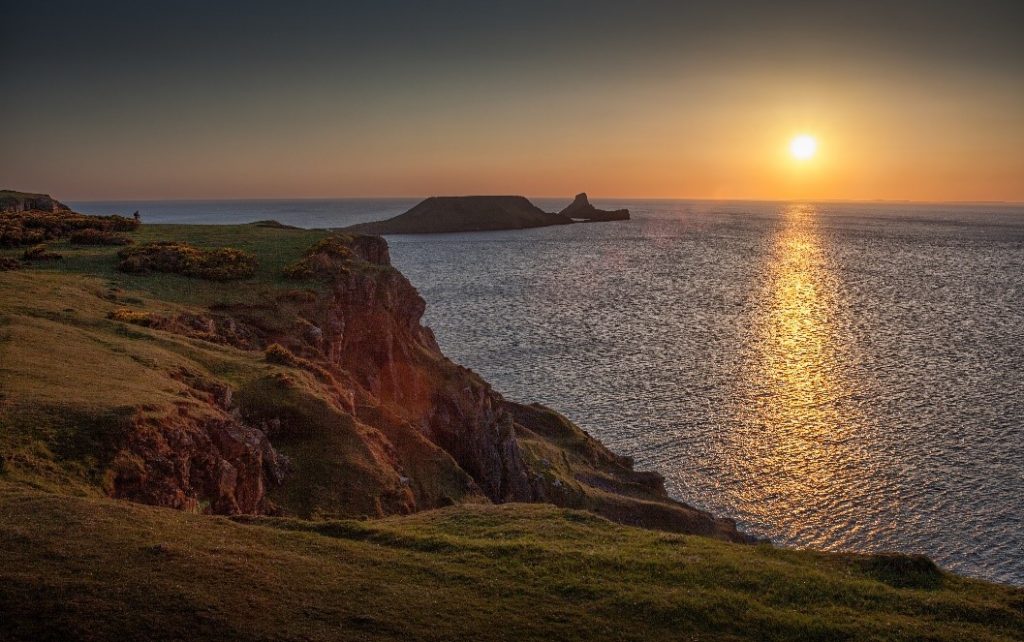 Gower Peninsula was declared the UK's first Area of Outstanding Natural Beauty back in 1956, and it's still worthy of the accolade today.
It possesses a wealth of varied climbs, from the quaint and secluded Pwll Du to the vast and impressive Rhossili.
Not only was Rhossili Bay voted Wales' Best Beach 2018,  but Rhossili itself caters for climbers of all abilities. Its most popular routes are located in Shipwreck Cove, and include One Ton Depot (7c+), Vennerne (8a) and Blockiness (6c+).
Pwll Du offers a mixture of trad and sport routes, including Senser (7c+), its main sport route. Most climbers visit the quarry situated on the west side of Pwll Du Bay.
Rhossili and Pwll Du are just two of many beautiful areas in which to climb in Gower Peninsula. Other areas include Paviland Cliffs, Pennard Cliffs and Port Enyon.
Handy tip: Pwll Du can get dusty, so don't forget to bring your brushes.
Fun fact: Gower Peninsula was one of poet Dylan Thomas' favourite stomping grounds. Thomas frequented Rhossili Bay throughout his life with his wife and children.
While you're there: Check out Three Cliffs Bay and Worm's Head. If you have a family and fancy something a bit different, take the kids on an adventure through a tropical rainforest at Plantasia in nearby Swansea.
Horseshoe Quarry, Peak District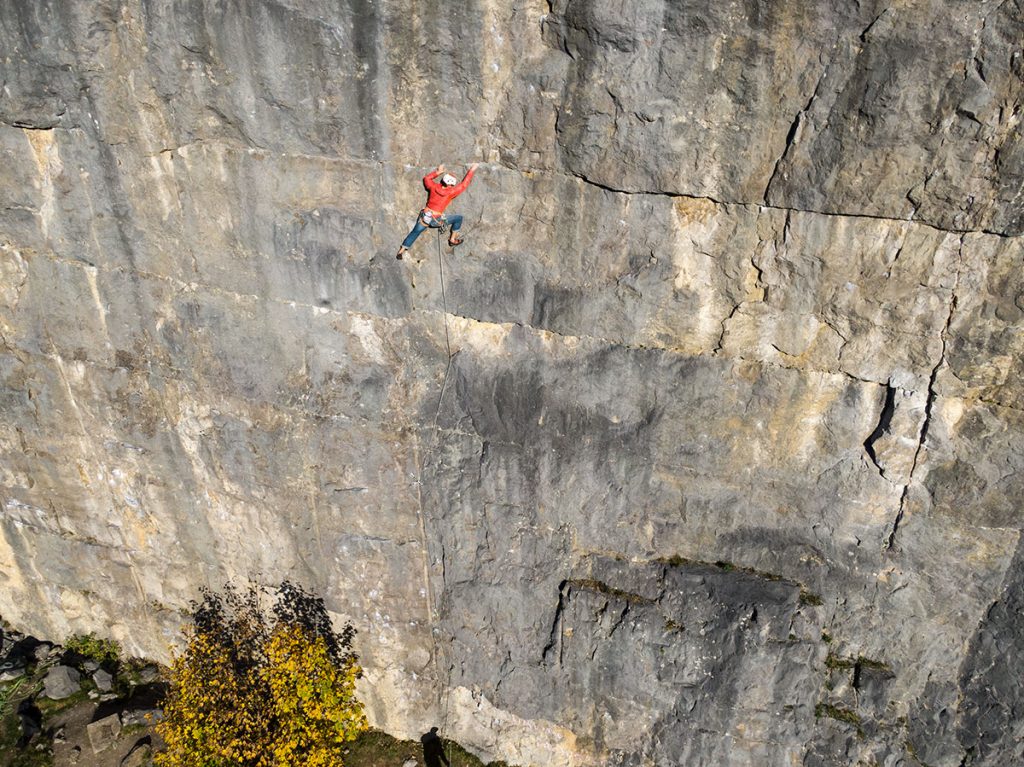 The final sport climbing route on our listicle is Horseshoe Quarry, a large, disused limestone quarry near Stoney Middleton in Derbyshire.
This quarry is widely considered one of the Peak District's most popular sports-climbing venues, and it's easy to see why.
Its construction makes it the perfect spot for sheltered winter sport climbing and it has more than 100 routes to choose from.
While climbing, you may spot some fossilised coral, and even see some great crested newts or badgers if you look carefully.
Horseshoe Quarry is best suited to beginner and intermediate rock climbers, with most of its well-known routes between 6A and 7A – Megalithic Man (6b+), Private Prosecution (6c) and Rotund Rooley (6b).
If you consider yourself an intermediate climber, the Main Face is your best bet. However, if you're a beginner, there are a series of easier routes on the Upper Tier.
Handy tip: There's quite a lot of loose rock (as you'd expect with a quarry), so wearing a helmet is essential. As mentioned above, Horseshoe is ideal in winter and spring when other venues are wet after winter seepage.
Fun fact: The limestone at Horseshoe Quarry was formed over 300 million years ago, during the Carboniferous period.
While you're there: Take a short drive to the thermal spa town of Buxton. Here, you can stroll along The Pavilion Gardens, hike up to Solomon's Temple and even attend the famous local opera house.
Next up, we have the best bouldering spots…
Llanberis Pass, Wales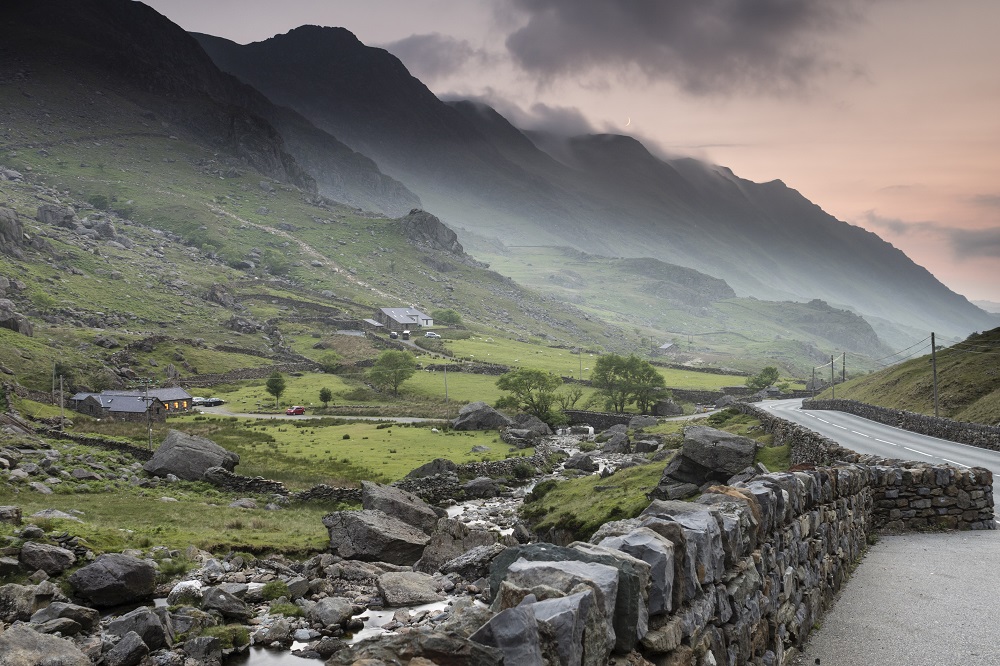 There's something about Wales and rock climbing – and no listicle of the UK's best rock climbing spots would be complete without Llanberis Pass.
Buried between the mountains of Snowdon and the Glydreau of Gwynedd, The Pass is an area of rugged natural beauty.
Its different rock types make it the perfect place for boulderers. (It's also an amazing trad climbing location, but we felt it had slightly more to offer on the bouldering side of things).
The main bouldering spot in The Pass is the Cromlech Boulders, a classic roadside venue near the long layby at Pont y Gromlech. These boulders are made from Welsh igneous rock, sit 201 metres above sea level and provide a series of problems to overcome.
There's plenty more where that came from. Other popular boulders in The Pass include The Grooves Boulder, Utopia and Wavelength.
See for yourself how demanding The Pass can be by watching this clip from climber Johnny Dawes' movie Welsh Connections.
Handy tip: Don't climb The Pass' North-facing crags too late in the season, as these can get extremely cold.
Fun fact: The Cromlech Boulders were saved from destruction in a 1973 road widening scheme. This was after a six-year protest by local people, climbers, historians, conservationists and geologists.
While you're there: Visit the small grey village of Nant Peris, featuring the ancient church of St. Peris. The Church dates to the 14th Century and is built on what is probably an ancient Christian site. Why not also take a trip to Snowdon's summit by hopping on the Snowdon Mountain Railway?
Portland, Dorset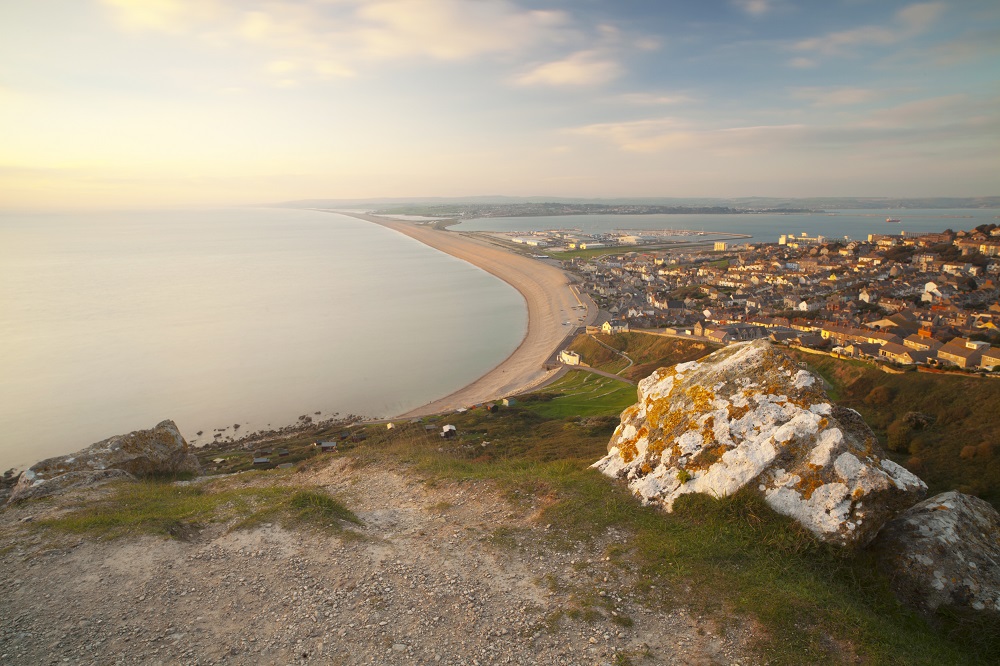 Dorset has become a bouldering hub in recent decades, thanks to the emergence of Portland as a prime rock climbing location.
Portland is a unique place in so many ways. The most southerly point of Dorset, it offers virtually unbroken limestone cliffs and almost 1,300 well-bolted routes.
Most of these routes are single pitch up to 30 metres above the surrounding sea, and their grades range from F2 to F8B. These present problems for every climber, whether you're looking for roofs, slabs, or technical and powerful problems.
What's more, they tend to be just off either side of vertical on jugs, crimps, pockets and glorious flow stone features – something almost unheard of in the UK.
Handy tip: Beginners should head to Blacknor Beach and climb Fallen Slab Arete (f3), especially if it's a sunny day. If you're an advanced climber, try Ope in Hell (f7b) in Southwell Landslips.
Fun fact: Portland Harbour is one of the world's largest man-made harbours.
While you're there: Time travel back to 1539 by visiting Portland Castle. This artillery fort was constructed by Henry VIII to protect England against invasion from France and the Holy Roman Empire. When you're all cultured out, unwind at The Cove House Inn, a maritime pub on Dorset's seafront. For somewhere to stay, we recommend Turnstones Bed and Breakfast, but there are plenty of other options.
St Bees Head, Cumbria
The last location on our list is St Bees Head, a small stretch of red Permian sandstone in North West Cumbria.
This remote coastal gem is the only stretch of Heritage Coast on the English coastline between the Welsh and Scottish border. Like Portland, it's popular all year round due to its mild climate.
It doesn't attract sizeable crowds, but therein lies its charm. You won't be fighting for the best specs and can take it at your own pace.
St Bees offers a combination of low and mid-grade climbs and its best-known routes include Fisherman's Dyno (f6a), The Arete (f7a), and the Hueco Crack (f7a).
In the video below, two-time British Bouldering Champion and Team GB athlete Leah Crane tests herself on the above climbs.
Handy tip: Try the aptly named Panic Attack (7A+/B) if you fancy a challenge.
Fun fact: The village of St Bees is one of the five most desirable postcodes in England, according to a recent study.
While you're there: Explore St Bees Priory, a Grade I listed parish church dating back to 1120. Afterwards, head down to St Bees beach, where you'll find a shingle bank composed of dozens of rock varieties.
As you can imagine, choosing the 9 best outdoor rock climbing locations in the UK wasn't easy.
You may disagree with our selections, or question why (insert place name) isn't on here. So, to cover all bases, here are some honourable mentions, which were a stone's throw away (pun intended) from making the list.
Cairngorms, Scotland
Old Man of Hoy, Orkney Islands, Scotland
Langdale Boulders, Lake District
Cheddar Gorge, Somerset
Idwal Slabs, Wales
We hope you enjoyed our article, and that you've got rock climbing insurance for your next ascent.