With so many options available, finding the best waterproof golf jacket can be tricky. Thanks to the unpredictability of UK weather, you'll be looking for a versatile jacket. Not only does it need to be practical in keeping you dry, but you also don't want it interfere with your perfect swing.
To help ensure you can play whatever the weather, we've created a round-up to help you find the best waterproof golf jacket of 2022.
What to look for when buying a waterproof golf jacket
Before we give you a rundown of the best waterproof golf jackets, here are a few things to consider.
Waterproof ratings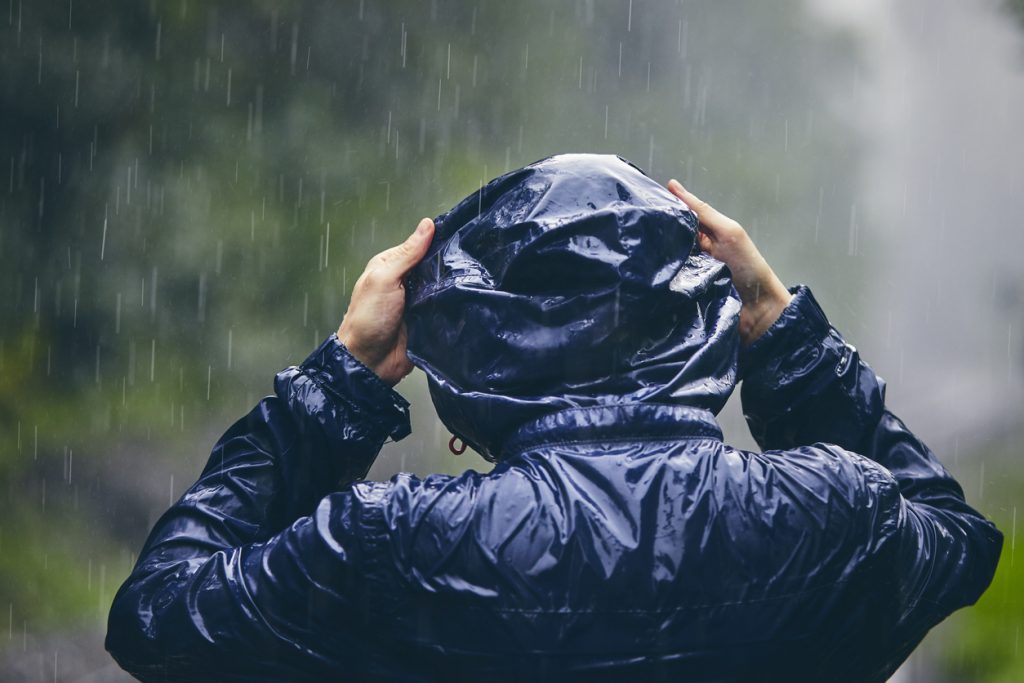 Understanding waterproof ratings are one of the first and most important things to consider.
The ratings are measured in millimetres using a Hydrostatic Head test. This means the material will take 'x'mm per cylinder of water over 1 sq. inch piece to penetrate that fabric.
If that's a bit technical, here is a good guide:
5,000mm: This is the minimum rating for a jacket to be classed as rainproof. Jackets of this rating are water-resistant but won't be able to shield you from more than light rain showers or drizzle.
10,000mm – 15,000mm: Jackets with this rating can hold up against most types of rain, but if you're going to be out on the course in a heavy downpour for a considerable period, the rain will eventually soak through.
20,000mm and up: Any jacket in this range will go the distance. These jackets should withstand very heavy rainfall and are the best option if you're intending on being outside all day.
Extra features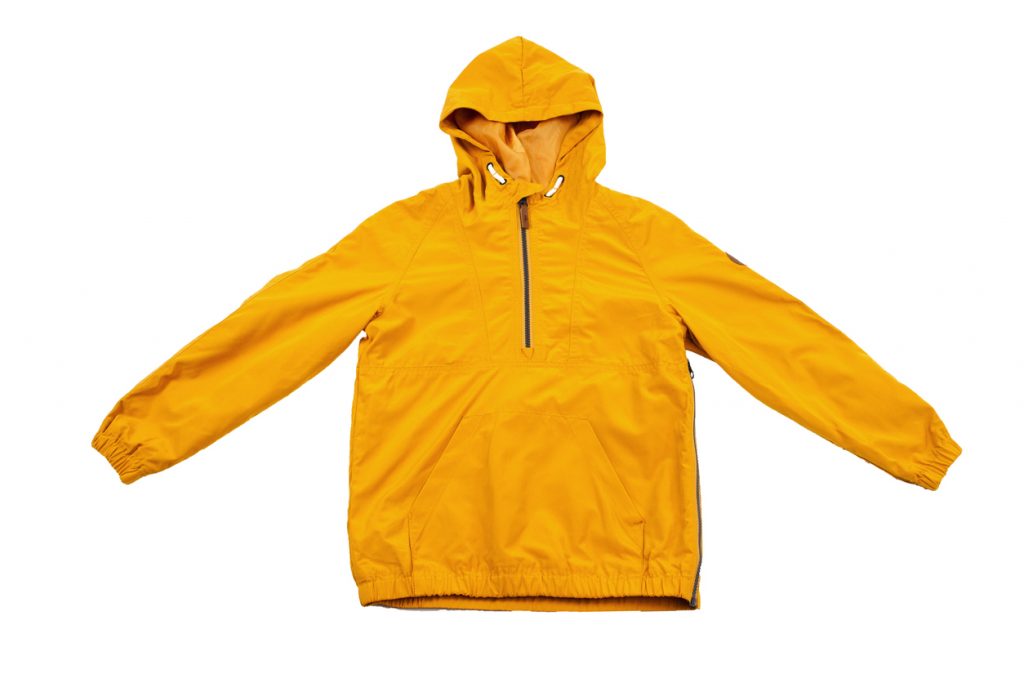 As well as being waterproof, any extra features are a bonus on your jacket.
A few things to look out for are:
Enclosed pockets.
Adjustable cuffs and zippers.
Extra waterproofing features such as double collars or zip coverage.
Protection from other elements such as windproof qualities or UV protection, meaning you can use your jacket all year round and get the most out of its value.
Style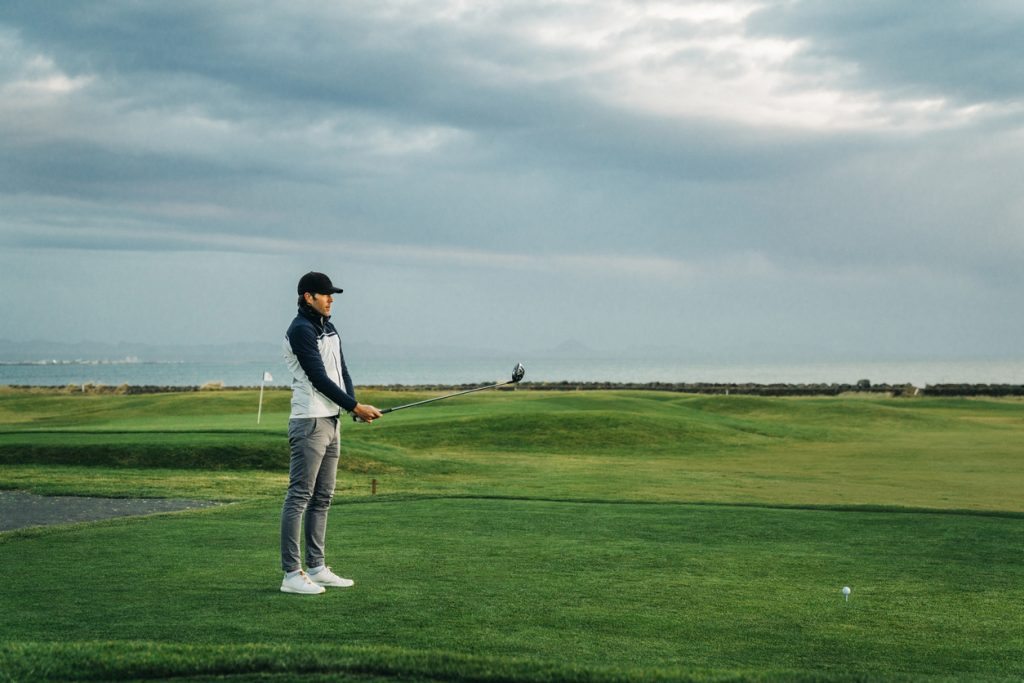 Though practicality is the main feature you'll be looking for, style will also come into play.
Do you like to stand out on the course in bright colours, or would you rather be more understated in something a bit more traditional?
As well as the look of your jacket, feel and fit are also things to consider.
Finding a waterproof golf jacket that is comfortable, breathable and won't interfere with your technique are all key factors.
Table of contents
You will have seen the Adidas Tour players sporting the Rain.dry waterproof golf jacket. It's described as both comfortable and functional, with a 3-year waterproof warranty to ensure it will keep you dry out on the course.
The jacket is specifically designed for the toughest golf course weather conditions with a drawstring hem, windproof feature and a seam-sealed design aiming to make it leakproof.
What happens if it rains in summer? The jacket is super versatile with UV 50+ sunshine protection to shield you during those summer downpours.
The Rain.rdy is suggested as one of Adidas' top waterproof jackets because it is lightweight, flexible and well ventilated, meaning it shouldn't interfere while you're trying to achieve your lowest handicap.
Price: £130
Key features: 3-year waterproof warranty, UV 50+ sunray protection, lightweight feel.
If you want to stay warm as well as dry, the HydroTour is the best jacket for you.
Though it may be pricy, you're paying for premium quality with dual-sealed seams to stop rain from getting inside, a 3-year waterproof warranty of up to 20,000mm rating and innovative DrySeal double collar system.
The DrySeal double collar is the flash part of this jacket. The inner cinch-cord stops water from getting inside, and on the outside, two small holes allow rain to flow down the back of the jacket – keeping your neck and body super dry.
The HydrTour material can be described as premium, with good styling, and the four-way stretch fabric means no restrictions when perfecting your swing.
Related: The 5 Best Exercises to Improve Your Golf Swing
Price: £189.00
Key features: Extremely waterproof with dual-sealed seams and DrySeal double collar, up to 20,000mm rating.
If you want to be stylish while staying dry, the Puma Ultradry golf jacket is perfect.
This jacket features a bright luminous yellow volt zip, with eye-catching contrast colour blocking design on the arms and torso – so you will definitely be one to watch on the golf course.
The Ultradry is warm, windproof and waterproof up to 10,000mm rating. It features a waterproof front zip and zip-up front pockets to keep your hands toasty and dry.
Not only is this jacket made to be waterproof, but it also ensures you can play at your best without being restricted. Made from seam-sealed stretch StormCell fabric, which is 100% nylon, the material is lightweight and stretchy, meaning it moves with every swing.
This jacket's other exciting features that help it stand out include adjustable Velcro cuffs and ventilated back.
Price: £ 59.99
Key features: Waterproof up to 10,000mm rating, StormCell fabric is very malleable with no swing interference, standout appearance.
The Ping SensorDry 2.5 is Ping's top-of-the-range waterproof jacket, replacing its very popular predecessor, the Downton jacket, in 2021.
This jacket is made for wet and windy conditions and has guaranteed 3-year waterproof protection of up to 20,000mm rating.
Great for both those who want to stand out or those who are a bit more traditional, the jacket comes in various colours (blue and red or black and grey).
Ping have been working meticulously to update their design, and the SensorDry is a great example of this. You can be assured this jacket will have a tailored look and fit, helping to avoid distractions on the course.
The SensorDry jacket boasts of innovative performance fabric technology, which is lightweight with a stretch fit. It has been specifically created to respond to the body's requirements to help your play.
Ping clearly believe the SensorDry is one of the best waterproof golf jackets on the market. With a 5-year manufacturer's warranty, it's hard to argue with them.
Adjustable neck and cuffs, fully sealed seams, 2-way centre front zipper and inner security pocket, give this jacket its edge.
Price: £168.95
Key features: 5-year manufacturer's warranty, 3-year waterproof protection up to 20,000mm rating, tailored look and fit.
Under Armour has an amazing reputation when it comes to high-quality golf apparel, and the Storm Proof is no exception.
The Under Armour Storm technology may not be as light as other jackets but is designed to be 100% waterproof up to a 10,000mm rating, windproof and still allow for breathability.
Even the texture of the Under Armour Storm Proof jacket feels like it will be hardy against any downpour, and it was voted best waterproof in heavy rain by the Independent.
The rubbery textured material has been noted to be quite audible when swinging but is guaranteed to keep you dry.
The key feature of the jacket that stands out the most is its stylish yet practical 'storm flap' over the front full zip. Even when it's raining sideways, this ensures no rain will enter your jacket.
Other features also include adjustable cuffs, hem & sleeve zippers, secure hand pockets, and fully sealed seams.
If you're looking for variety, the Storm Proof comes in a wealth of different colourways. Having so many different options means this jacket is super versatile and can be worn on and off the course. Its contemporary style doesn't forgo functionality, allowing you to perform at your best.
Price: £109.99
Key features: 10,000mm rating, storm flap shielding front zip from heavy rain, available in a variety of colours that can be worn both on and off the course.
Specialist golf insurance from Insure4Sport Golf
Although staying dry in the best waterproof jackets is a primary concern, rain isn't the only thing you need to be protected from while playing. There is also a risk of you injuring another golfer, particularly in bad weather, or your equipment being stolen.
As specialist golf insurers, Insure4Sport Golf provide:
Equipment cover to protect your clubs and accessories against theft, loss, and damage, both whilst you're travelling to the course and back and during a round.
Up to £5 million of Public Liability if you injure another golfer or damage third-party property while playing golf.
Get an instant quote to suit your needs here.