SEO stands for Search Engine Optimisation. This is the practice of getting a website to appear as high as possible within search engine results pages (SERPs).
So, if you're trying to grow your personal training business, you need to optimise your website so that it appears high up in search engines. It's that simple.
A solid SEO strategy gives you the best possible chance of getting your website in front of potential clients. However, this is easier said than done. The world of SEO is very competitive and it takes time, patience and hard work to achieve your goals. It also pays to work smart as well as hard.
So, if you've just launched your website, or have had it for a while but aren't happy with it, you're in the right place.
Here's our complete guide to SEO for personal trainers.
Choose keywords for your website
This first step is critical. For those who aren't aware, keywords are words and phrases that Internet users type into search engines such as Google.
They essentially allow users to find websites which match their search query. Personal trainer services in their local area, for example.
Therefore, if your website isn't optimised with relevant keywords, very few people – if any – will discover your website via SERPs.
To get started, generate a list of keywords you want your website to be associated with on search engines. This will determine what you're discovered for and help you define what content you want to include on your website – more on that later.
Related:
How To Pick Your First SEO Keywords
5 Tips on Choosing the Right Keywords
Keyword Optimization: Why Optimizing for the Right Keywords is 'Do or Die'
Generating a list of keywords is easier than you might think, thanks to tools like Google Keyword Planner. This tool lets you see how much traffic is generated by each keyword and suggests related keywords you may not have considered.
If you're already familiar with keyword research, you can use more advanced tools like SEMRush and AHRefs. These tools help you identify which keywords receive the most volume and which are most competitive.
The keywords you select should appear on the homepage of your website and in your headings and meta descriptions as often as possible – again, we'll revisit headings and meta descriptions later.
Optimise your keywords for local search
The key thing to remember when selecting your website's keywords is, think granular. More accurately, think local. This will give you a much better chance of success than optimising your website with keywords such as 'personal trainer', 'gym', 'weight loss' or 'fitness coaching'.
A study from web design specialists Go Gulf found that nearly half (46%) of all searches on Google are looking for local information, while 97% of search engine users searched online to find a local business.
Therefore, to stand out from the competition, your website needs to be optimised with local keywords. For example, 'personal trainer manchester'. Here are some snippets from the homepage of UP Fitness…


The content has been optimised so that it clearly communicates:
What the offering is (body transformation services)
Who is offering it (personal trainers)
Where they're based (Manchester)
This is why UP Fitness appeared in position 1 when we typed 'personal trainer manchester' into Google.
As well as using Google search engines, users may also use Google Maps to find their nearest personal trainers (like so)…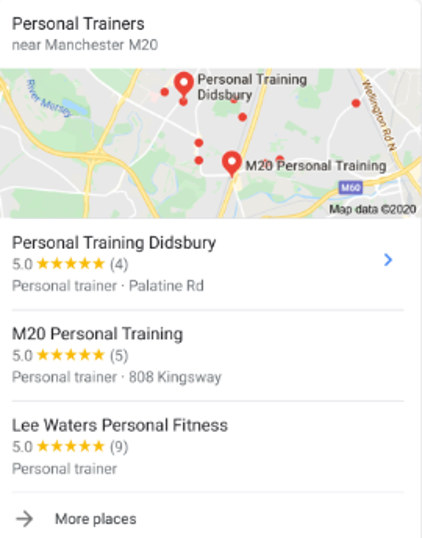 In this instance, we went onto the Google Maps mobile app and typed in 'personal trainer'. This generated the nearest local results with the highest overall ratings.
For this reason, it's vital to optimise your website for local searches on Google Maps, as the above companies have done. It's also important to get as many favourable Google reviews as possible, for obvious reasons.
However, the results we highlighted above are organic – whereby people find your website naturally. You may also want to spend money on paid search marketing, as paid search results appear above organic.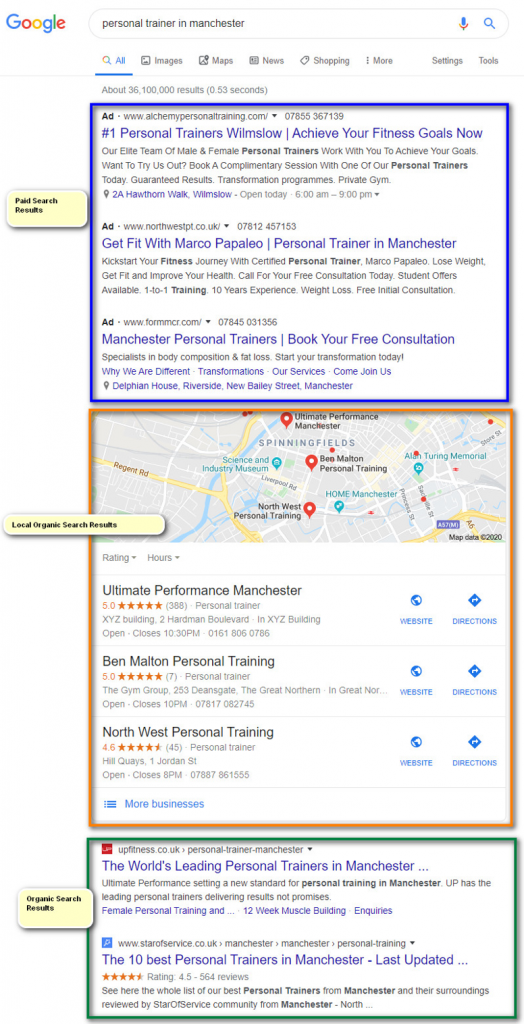 Related:
10 Ways To Optimize Your Website For Local SEO
Choose your content management system
A content management system (CMS) allows you to create, edit and publish content on your website.
For example, you can use your CMS to:
Create your own unique domain name
Create design themes and templates
Write and publish articles
Make quick changes to pages
Upload images and videos
…and more.
We would recommend running your own platform, rather than outsourcing this to an agency. Doing the latter will restrict how much control you have over the look and feel of your website and the speed with which you can make changes.
WordPress, Wix and Squarespace are among the most popular platforms for hosting your website. They offer a wide range of features and are easy to use. However, there are plenty of other platforms to choose from.
Be aware, though – for all the great platforms out there, they come with certain drawbacks. For example, editing on mobile via different browsers. Editing content on the Wix dashboard in Safari can prove difficult, as can editing WordPress content on a mobile device.
Ease of use is ultimately what you want from a CMS, especially when you're spending enough time running a business. This applies to everything from how responsive the dashboard is to how easy it is to upload images and create article headings.
These are very basic examples, but you get the idea. The last thing you want is to spend unnecessary amounts of time fixing issues with your website, or contacting customer support every other day.
That's why you should delve deep into the pros and cons of each CMS before signing up to anything. Google is your friend here – as is YouTube…
Create engaging content
Choosing a CMS is only half of the battle when it comes to your content. The other, more important half is creating content which resonates with your readers. So much so, that they're compelled to take positive action.
Here are some examples of content you could include on your website:
Once you've decided on the content you want to include on your website, you should organise it into a content schedule. This will help you keep on top of what you're publishing and when.
After this, the next step is to decide how often you're going to publish content. In short, there's not an ideal number of times you should publish content. However, according to HubSpot, companies that published 16 blog posts or more a month received 3.5 times more traffic than companies that blogged less than four times a month.
Related:
When writing your content, there are 4 key elements to include:

Test your site speed
There's nothing worse than browsing a website which takes forever to load. In most cases, you're likely to close the page out of frustration – and the stats back up this claim. Research has shown that:
47% of people expect your site to load in less than 2 seconds.
40% will abandon it entirely if it takes longer than 3 seconds.
85% of internet users expect a mobile site to load as fast or faster than on their desktop.
That's why site speed is so important when you're trying to attract new business. Without it, user experience and conversion rates are likely to suffer in the long run.
Site speed also has a major impact on where your site ranks on desktop and – most importantly – on mobile. A mobile friendly website is important but most CMS' will have mobile friendly functionality by default.
Google recently introduced Mobile First Indexing, meaning it now crawls and indexes the mobile version of your website before the desktop version. This is because more people will now access your website on a phone or tablet than a laptop or computer. Read more about Mobile First Indexing here.
If you're looking for tools to test your site speed, here's a list of the 10 best site speed test tools out there. GTmetrix is arguably the best tool for measuring your site speed, but there are plenty to choose from.
Most site speed tools are free and we would advise going with a free tool initially. However, these tools only check individual pages, not your entire website. Therefore, as a rule of thumb, we would recommend starting with your homepage or main product page.
Related:
Page Speed – How To Improve Website Speed [2020]
Speed Is A Killer – Why Decreasing Page Load Time Can Drastically Increase Conversions
Keep an eye on competitors
You're always going to keep an eye on local competitors from a business perspective, so why not from an SEO perspective too? After all, if most of your business comes from Internet searches, chances are it will for the personal trainers you're competing with.
That's why you need to find your competitors and monitor their digital activity. For instance, look for any improvements they've made to their website. Have they redesigned it, or altered the site structure? Have they added extra pages to their website? Whilst you don't just want to imitate them, your competitors' website can provide inspiration for improving your website.
When monitoring your competitors, you need to look at everything from their website content to the keywords they target to the backlinks they've gained (backlinks are an area we'll expand on later).
Through doing this, you will:
Learn what works and doesn't work
Figure out your competitors' strengths and weaknesses
Find out where your competitors are on SERPs for certain keywords
Understand which SEO tasks to prioritise going forward
We know what you're thinking. This is all well and good, but how do I monitor my competitors? Well, this article from the search engine marketing agency Screaming Frog is a good starting point. Among other things, it lists the tools you can use to assess competitor visibility, such as SISTRIX, Searchmetrics and SEMRush (who we linked to in the 'choose keywords' section above).
This video gives you some additional insights into how you can monitor competitor activity, citing examples of how you can use the free SEO tool Ubersuggest.
Find your niche
As the ancient Chinese philosopher Sun Tzu said: "The supreme art of war is to subdue the enemy without fighting."
While we're not suggesting that competing with other personal trainers is akin to a war, there is some weight in Tzu's quote. Sometimes, in order to stand out from the competition, you don't need to 'fight' them. You need to diversify yourself from them and offer something they don't.
Think about what niche service you could offer that would set your website apart. For example, if you thought you could offer bespoke mother and baby fitness classes in your area, you could optimise your website to appear on SERPs for locally focused keyword searches. Once again, think granular and most importantly, think local.
We Googled the term 'mother and baby fitness classes near me' and here's what came up…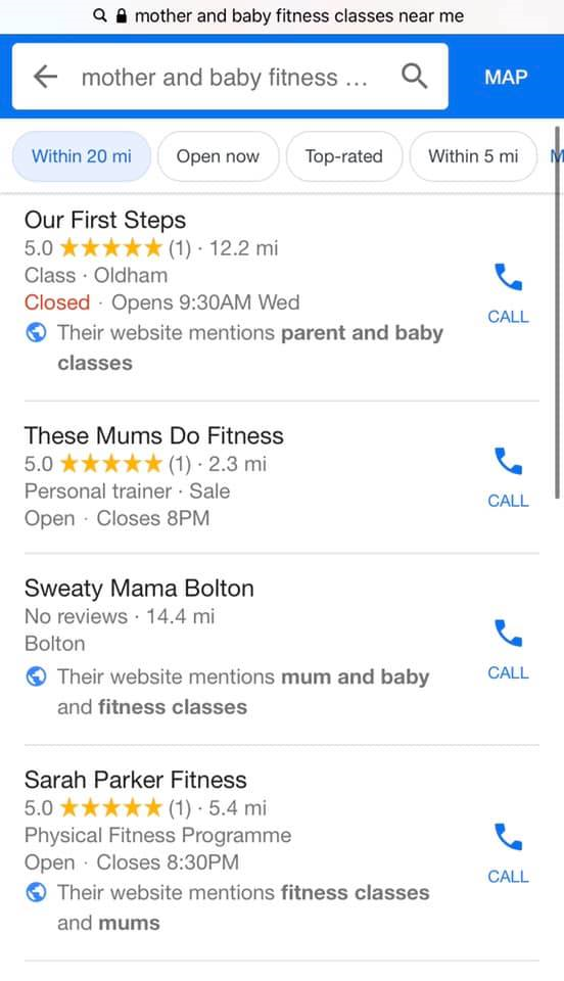 Notice how many businesses appear high up in the results because their website mentions related keywords or the exact keyword. This gives you an idea of the potential opportunities available to you and reiterates the importance of optimising your content to reflect the service(s) you provide.
This specific keyword generates 210 searches per month (as of January 2020), so think how many potential customers you could attract. What's more, people searching for this term have a very specific need and are therefore more likely to become a loyal group of customers than people searching for gyms near them on a whim.
In summary, 'the enemy', as Tzu called them, is usually not using SEO to its advantage. So use it to yours.
Target backlinks and look for PR opportunities
A backlink is a link on a website that, when clicked, takes the user to another site (i.e. yours). For example, if a news website publishes an article featuring hyperlinked text which directs to a page on your website – this is a backlink.
So, why are backlinks important? Put simply, the more backlinks you have, the more likely your website is to rank highly on SERPs for the keywords you're targeting. This is what's known as Domain Authority. Backlinks basically boost your Domain Authority – think of them as a stamp of approval for your website.
How do you get backlinks? That's the biggest challenge. Here are some tips to get you started…
Contact national and local media offering to provide advice on key topics. A good place to start is to type in 'personal trainer advice' on Google and clicking on the News tab to get a feel for the kind of advice journalists and their readers want. You could then either start by contacting local journalists, or go straight to the Daily Mail – the choice is yours.
If you're going to do the latter, you'll need additional budget for a media enquiry service. Using this service will ensure you're getting through to the right people. National publications tend not to include their journalists' direct contact details on their website, but a media enquiry service will most likely give you this.
Reach out to influencers in the fitness industry offering to provide some guest content for their website. Look for influencers who blog regularly and link to third party websites within their content.
There's a lot more to link building than what's above. Check out the below articles for further insights…
Related:
Learn the Basics of Quality Link-Building for SEO
Monitor your website's performance
Once you've chosen your keywords, CMS and content, you need to analyse their overall impact.
Here are some of the key performance indicators (KPIs) you should look at:
How many people are visiting your website?
How long are they spending on your website?
What action are they taking once they land on your website? Are you getting more emails and phonecalls? Are more people filling out consultation forms?
Only by knowing the answers to the above questions can you improve your website and give yourself the best chance of success.
Here are the best tools for monitoring and analysing your website's performance:
Google Analytics: This can be used to show you the number of unique visits your website has generated, as well as the average time on page and how many people fill out consultation forms (if applicable)*.
Google Search Console: This tells you how often your site appears in Google searches, what keywords it ranks for, what position it is for those keywords and how often people are clicking your result after typing in specific queries.
*You'll need to set this up as a goal. Check out this article on how to set up goals.
To see how monitoring website performance works in action, check out this explanatory video on how to use Google Analytics…
There you have it. Our complete guide to SEO tips for personal trainers is complete.
We hope you found this article useful – and can attract more clients as a result.
As you start to gain clients, insurance becomes a necessity. Find out how our personal trainer insurance can protect you and your business.