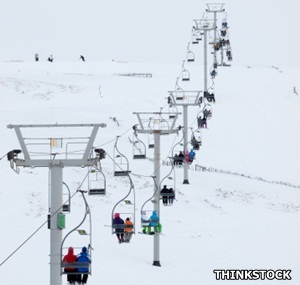 With more lifts starting to open across Scotland's ski centres and further snow falls predicted, plenty of people will be planning to head up to the highlands this February half term. Most schools in the UK will be off from next week, starting February 18, and if you're planning a few days on the powder then our list of hints and tips should come in handy.
Is it snowing?
One of the main things people want to know before they arrive at the slopes is what the weather is doing. Getting in touch with a ski centre can be tough during peak season though, so make use of online resources such as Ski Scotland's regularly updated weather forecasts and don't waste time hanging on the phone.
Getting hold of your gear
It goes without saying that you won't go far on a winter sports half term break in Scotland if you don't have skis or a snowboard. Maximise your time on the slopes by finding out if equipment hire can be booked in advance, as it can at Lecht 2090 in Aberdeenshire. If that's not an option and you need to do it in person then make sure every member of the group knows their height, weight and shoe size in order to speed up the process. After all, you want to spend as much time on the slopes as possible.
Forget your passport but not your woolly hat
One of the great things about a skiing holiday in Britain is that you don't need to bother about travelling long distances. But remember, it's cold at the top of a Scottish mountain so come prepared with the proper gear including salopettes and a jacket, thick socks, gloves, a hat, and eye protection such as a pair of goggles or some sports sunglasses.
Make sure you're covered
It goes without saying that skiing and snowboarding are potentially dangerous sports and so taking out skiing insurance is a must. Hopefully your holiday will be all about big smiles, but it's comforting to know you're covered by specialist sports insurance should you take a tumble. We can help you to find specific winter sports cover whatever you plan to get up to.
Think before flashing the plastic
According to Ski Scotland, cold, hard cash is the best option when you're looking to spend money at the country's ski centres. Phone connections can be slow in mountainous areas, making cash preferable to credit and debit cards.
Just remember though, regardless of whether you're heading to the Nevis Range or Glenshee, one of the most important things is to have fun and make sure you enjoy yourself!