Stand-up paddle boarding (or SUP) is one of the UK's fastest-growing watersports. So, if you're looking to get into it, you've come to the right place.
There are many factors to consider when buying your first paddle board, including balance, durability, price, and much more.
We investigate which paddle boards most stand up to the test (pun intended). Here's our selection of the five best stand-up paddle boards for beginners.
Table of contents
1. What makes a good stand-up paddleboard for beginners?
7. Specialist paddle board insurance from Insure4Sport
What makes a good stand-up paddleboard for beginners?
We're stating the obvious here, but you need to make a very considered choice when buying your first SUP.
While it might be tempting to buy the most expensive paddle board you can find, it's worth taking the time to research what you really need from it.
Different boards will suit different tastes and paddle boarding styles. Here are our top tips to keep in mind when shopping around.
Stability and balance
You'll likely be a bit wobbly on your paddle board the first few times you head out onto the water.
Therefore, you need a board that you feel stable on. Standing up on a paddle board can be a challenge on its own, so choosing a board that you feel comfortable balancing on is a perfect start.
You'll also need to check the maximum weight your paddle board can handle and consider your weight when choosing a board.
Other factors like the shape of your board will affect your choice, too. You need a wider SUP if you want higher levels of stability. Wider SUPs will be slower in the water, but this shouldn't be a problem for beginners. Longer SUPs are more difficult to manoeuvre, but they're more buoyant than short boards.
For beginners, we suggest opting for a board that's around 10-12 ft long, with a width of roughly 32 inches.
Versatility
When you purchase your first SUP, you need to think about where you'll be using it most often. A versatile paddle board is ideal, because travelling on the same local lakes or waterways can get a bit repetitive, and you may want to venture outside of your comfort zone.
Boards that are designed for specific conditions are more advanced SUPs, and you may not get the best out of one as a beginner. These are built for certain uses, and you'll want to have the basics right before stepping on an advanced SUP.
All-rounder and touring-style SUPs are the best options for beginners looking for versatility. They're also ideal for long paddles on a calm river but can withstand small waves and light rapids if you're up to it.
Reliability
Investing in a reliable, durable, good-quality paddle board is bound to save you money in the long run.
You're bound to get a few scratches on your board as a beginner, and if you want to use that same board as you advance, you'll need a SUP that lasts. Keep the materials in mind as you shop around and check reviews of the products before you buy – look out for any comments relating to wear and tear.
An inflatable SUP might be a good choice for those starting out. Inflatable SUPs use a drop stitch system for the inside, which is incredibly durable, and most will have hardwearing polymer layers, too.
Advanced technology now means that inflatable SUPs match the strength and stability of solid, fibreglass SUPs, so keep this in mind.
Price
Of course, you might not want to spend thousands of pounds on your first paddle board.
We know that the most expensive SUP might seem like the best. But when you're starting out, you don't really need all the fineries of a high-end board.
This list features a range of SUPs that are perfect for beginners on any budget. You can always check on second-hand online marketplaces, too.
1. iRocker All Around 11: Best overall beginner SUP
Price: £749
Size: 335cm H x 81cm W
Type: Inflatable
Weight limit: 197kg
A well-known name in the SUP community, iRocker produces quality paddle boards suitable for a range of different experience levels. The iRocker All Around 11 inflatable SUP is one of the most popular choices among beginners for many reasons.
The board has a width of 81cm, meaning it provides extra stability when you need it most while maintaining a smooth movement through the water.
It's a versatile choice that performs well in flatwater conditions, as well as more advanced areas like choppy bays.
The iRocker All Around 11 is ideal for people around 5'8" or taller, and it's durable enough for you to use as you advance your skills. This SUP is made with triple-layer military-grade PVC with a drop-stitch core – a surefire sign that this paddle board is built to last.
It's even good for families, or people who want more than one person on board. It can hold extra passengers or even a dog if you're travelling in a group. It's big enough that multiple people can sit or stand on the board while distributing the weight evenly. So, if you're planning on paddle boarding in a group, this SUP is the one you want.
The iRocker All Around 11 costs £749 from iRocker.
2. Itiwit X100: Best budget SUP
Price: £299.99
Size: 305cm H x 81.5cm W
Type: Inflatable
Weight limit: 60-80kg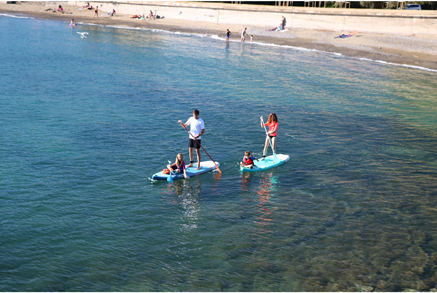 This touring stand-up paddle board from Itiwit by Decathlon is a great and affordable choice for beginners.
The X100 is a wide SUP measuring 81.5cm and 13cm thick for maximum stability. It also has a square-shaped tail designed to enhance balance.
The X100 features a versatile glide performance with a pointed front, meaning it can withstand small waves as well as being perfect for touring.
This paddle board is easy to transport with a compact shape when folded down and EVA foam handles to carry comfortably when it's inflated. Built with a robust, impact-resistant drop-stitch and durable PVC, the Intiwit X100 is one of the best budget SUPs for beginners.
One reviewer said: 'Great product. Easy to inflate and deflate, great fun, and super stable for beginners.'
The X100 is lightweight, weighing 9kg, so it's easy to transport whether you're heading into the water or carrying it in a backpack.
You can purchase the Intiwit X100 from Decathlon for £299.99.
3. Gladiator Light 10'6" Kids SUP: Best for juniors
Price: £360
Size: 320cm H x 71cm W
Type: Inflatable
Weight limit: 90kg
The Gladiator Light 10'6" is an all-rounder that's been built with kids in mind. Its thoughtful design will last your child through to their teenage years if they decide to continue pursuing the sport.
This SUP's lightweight design means that this SUP doesn't compromise on performance. The dedicated shape is perfect for kids and teenagers – a narrow midsection and wider tail give the board a smooth glide with effortless stability. It's ideal for flatwater travelling, but it does well in small waves, too.
This SUP is made with premium materials, with the top and bottom layers constructed with high-quality double laminated high-density drop-stitch for quality stiffness and durability.
The Gladiator Light has front, central, and rear carry handles to ensure it's super easy for a child to transport. The board also features bungee tie-downs to carry extra gear without any hassle. The centre US fin is completely universal, too, so it can easily be changed depending on the conditions you're paddle boarding in.
What's more, this SUP comes with extras, including a Gladiator alloy paddle, backpack, double-action pump, and repair kit. This means any kid who uses it can get straight out onto the water without having to worry about spending on more equipment.
The Gladiator Light 10'6" Kids SUP is available from SUP Inflatables for £360.
4. Fanatic Fly Air Fit: Best for SUP yoga
Price: £859
Size: 320cm H x 86.4cm W
Type: Inflatable
Weight limit: 110kg
You don't need to be a paddle boarding pro to try your hand at SUP yoga. The Fanatic Fly Air Fit is perfect for beginners who want to try sports like yoga or pilates on a stand-up paddle board.
It's been designed using Fanatic's pure Drop Stitch Light Technology, which ensures a lightweight and high-quality construction.
The versatile design means you can practise free-ride and touring paddle boarding. You also have the option to try SUP yoga, Pilates, press-ups, and more. This makes the board perfect for beginners looking to learn various skills and work on different techniques and sports.
The shape of this SUP makes for a smooth glide and increased stability for entry-level paddle boarders in all water conditions. Its soft diamond grooved traction pad provides maximum control and comfort, as well as increased stability and balance.
This SUP is packed with volume to keep you up in the air even during a workout.
What's more, the Fly Air Fit features multi-functional carry handles along the sides and at the nose and tail. You can use them for easier handling in and out of the water, or attach power bands if you want a killer workout.
Finally, it comes with a premium Wheely backpack for effortless transportation. You can even connect your board with those belonging to your training partners through multiple high-quality eyelets.
Whichever area you look at, the Fly Air ticks the boxes – and more than justifies its price tag.
The Fanatic Fly Air Fit is available from SUP.co.uk for £859.
5. Bluefin 18' Mammoth: Best Multi-Person Paddle Board
Price: £1,299
Size: 548.6cm H x 152.4 cm W
Type: Inflatable
Weight limit: 650kg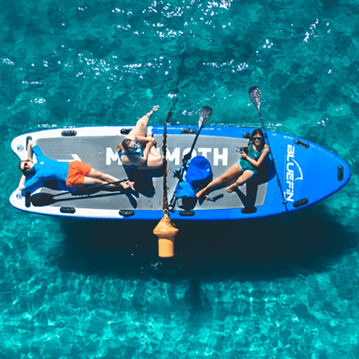 Bluefin has created the largest SUP on the market – the 18-foot Mammoth.
Again, we're stating the obvious, but this is the perfect SUP for beginners who want to share their experiences with other paddle boarders.
Designed for a big family outing or group of friends, the Bluefin Mammoth can handle up to ten people on board.
This huge SUP isn't exactly known for speed, so in that sense it's an ideal choice for first timers who want to go out on the water together.
Because of its size, the Bluefin Mammoth has incredibly high levels of stability. It's 18 feet long and 5 feet wide, so balance won't be an issue on this board, no matter your experience level.
The Mammoth is also designed with a wide tail and five detachable fins to maximise stability on the water. In fact, three people can comfortably do yoga on this board at the same time, making it a versatile choice for groups.
The Mammoth is built with military-grade triple-layer PVC for a rigid and durable design. This multi-person SUP is inflatable to 15 PSI (but it works well at 8 PSI, too) to cut through waves and it can be used in all water types.
Despite its size, it's one of the lighter multi-person paddle boards on the market. It weighs approximately 27kg and has 13 carry handles, so transportation should be easy.
The Mammoth is made with lightweight, hard-wearing materials and can be packed up into the carry bag in no time. There are also several valves to speed up the inflation and deflation process.
Like with the SUP above, this comes at a higher price, but based on its size and features, it's a solid investment for any paddle boarder.
The Bluefin Mammoth is available on Amazon for £1,299.
Specialist paddle board insurance from Insure4Sport
Before you purchase one of these SUPs and start paddle boarding, you need insurance.
There are always risks involved when paddle boarding, whether it's a serious injury or your board being lost, damaged, or stolen.
Find out how our paddle board insurance can protect you against the above by clicking on the link or get an instant quote with us here.