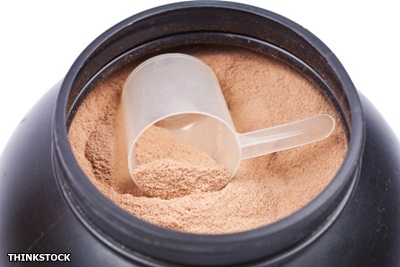 It's no secret that eating well is a key part of any exercise regime, no matter whether you are looking to lose weight or bulk up. For decades, manufactured protein supplements have been a key part of the gymming landscape, but what are they?
Protein
We all need protein in our diet as the amino acids help to build muscle and other tissue. Foods high in protein include meat such as chicken breast, which could contain up to about 40g, or fish including cod, a fillet of which might contain around 30g. Other foods including nuts, dairy products and beans are also good sources. However, it can be difficult, or at least inconvenient, for some people to include enough protein in their diet on a daily basis – which is where products like whey protein shakes come in.
Simplicity in a glass
Today's protein shakes are easy to weigh, easy to mix with water, milk or juice and easy to drink thanks to a huge range of flavours that range from chocolate mint to sticky toffee pudding and even lemon cheesecake.
Growing popularity of protein shakes
A report published by the BBC this week said the worldwide market for protein products will reach £8bn a year by 2017. But the rise in popularity is not due to a huge spike in the number of people heading down to the gym and pumping iron. Rather, these products are being marketed at average consumers who are turning to protein shakes and bars as meal replacements and alternative snacks. Some nutritionists believe this is a mistake, not least because most people in the UK tend to get more than enough protein already from their regular diet.
So what are your feelings on protein shakes? Are they overpriced and overhyped? Or alternatively, should they play a key role in an exercise regime, helping to aid muscle recovery after a workout, encourage muscle growth and definition? Use the 'leave a reply' link at the top of this post to get in touch with a comment.