Your personal trainer business won't get very far without a shrewd marketing strategy. While we're not saying you need specialist help, you'd be surprised how many people make basic marketing mistakes when trying to promote their business.
Here is our list of marketing mistakes to avoid if you want to start attracting more clients and really getting your name out there.
Not creating a compelling website
How painful is it when you search the web and come across a website that looks like it belongs in the 90s? No matter what line of work you're in, when it comes to attracting new customers, the user experience is essential. The last thing you want is potential clients visiting your website and bouncing straight off.
If you're pushed for time, don't feel confident developing a website from scratch and have money to spend, spend it. A simple Google search such as "web design agencies near me" will put you in touch with the right people for the job. (just make sure you read the reviews first!)
Alternatively, if you want to create a website yourself, you can do so for free and easily using the likes of WordPress, WIX, or Squarespace.
Not including relevant content
As well as getting your website looking brand spanking new, you need to ask yourself – what do my audience want to read about? What is most likely to make them contact me for training?
There are several ways to optimise content for your target market. One strategy is to create individual pages of copy to outline the services you provide – look no further than the website of London-based personal trainer Matt Roberts as a perfect example of this.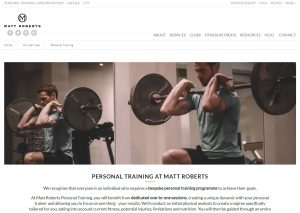 Aside from the slick design, the content is clear, concise, emotive and engaging. You know exactly what services he provides and the bolded words in the 'personal training' page both communicate his business' USPs and improve his website's Search Engine Optimisation (SEO) performance – which we'll come onto later.
Another content marketing strategy is blogging about training; either the training you do on your own or with other clients. There are a few benefits to this:
It proves your expertise.
It gives potential customers invaluable insights into your training methods.
It allows your personality to come through.
It improves the visibility of your website for relevant Google searches.
However, your website shouldn't just be you harping on about how great you are – proof of results, and satisfied customers, is key.
Ask your clients if they'll give you a testimonial which you can use on the homepage, or see if they'll agree to letting you use some before and after pictures of them.
Not focusing on SEO
While regularly updating your website is all well and good, if you don't optimise your content properly you may as well not have bothered, as hardly anyone will see it. This is where Search Engine Optimisation comes in. SEO is all about ensuring your website is as visible as possible for relevant searches in Google and other search engines. For example, if you're a personal trainer in Sheffield and someone Googles "personal trainer sheffield", you want your website to appear on page 1. Think about it this way – how many times have you done a Google search and gone onto page 2? Rarely, if ever, would be our guess.
If someone in your area has a more SEO-friendly website than you, they'll appear higher on Google and are more likely to beat you to clients as a result. Needless to say, focusing on SEO is essential.
There are so many ways you can do this, but here are a few top-level tips:
Include focus keywords across your website, i.e. words and phrases which your target market would search for. Each web page should ideally contain at least one focus keyword relevant to what you're writing about. Striking a balance is important though – don't overdo it with the keywords, otherwise you'll sound like a robot.
Bold and italicise phrases and keywords where necessary. Notice above how Matt Roberts' website contains bolded keywords – this isn't just for fun. Bolding keywords has been shown to have a positive impact on website rankings.
Regularly update your content (this is still arguably the most crucial element).
Create a Google Places page, if you've got your own licensed premises. This will make you more visible to potential customers in your area.
Encourage customer reviews to stand out from the local competition.
This leads us nicely onto one of the biggest marketing mistakes a personal trainer can make…
Not having a strong social media presence
Where better is there to showcase your work and results than on a social media platform which specialises in visual content? Sites like Instagram and YouTube were made for people like you, so make the most of them! Take pictures of you or your clients working out, post some exercise videos, share your top tips and so on. Facebook and Twitter are also useful platforms for sharing news about special offers or new services.
If you're not active on any of the above channels, you can set up a social media page with a few clicks of a button, so there's no excuses not to be on the social media bandwagon! For inspiration on how your page should look, check out these Instagram accounts from some of the world's top fitness professionals to gain inspiration.
Relying on word of mouth alone
As you know only too well, people don't lose weight or build muscle mass by sitting around waiting for positive results – they achieve their goals by being pro-active. The same principle should apply to personal trainers trying to advertise their services.
A common misconception among fitness professionals is that customers will come to them, rather than the other way around. Don't fall into this trap – being pro-active, rather than reactive, will go a long way. Collect email addresses over time and send out exclusive offers and updates to entice new customers. This includes everything from business cards and flyers to branded decals for your car.
Steering clear of the marketing mistakes above will no doubt help you grow your client base. However, if you work with clients, you definitely need specialist personal trainer insurance to prepare for any unexpected incidents.
Insure4Sport offers a range of tailored personal trainer insurance policies, meaning you only pay for the cover you need. Our cover options include Public Liability, Professional Indemnity, Personal Accident, Loss of Earnings and many more. What are you waiting for? Grab your instant quote online and see how affordable peace of mind can be.